An Yixing stoneware 'twin-monkey' teapot and cover. Signed Chen Zhongmei. Photo Bonhams.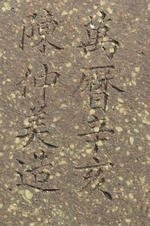 The exquisitely-potted teapot superbly formed as a section of a tree trunk, naturalistically potted and delicately carved in high relief with gnarled branches issuing lush leaves forming the integrated spout and 'C'-shaped handle, highlighting the natural grains and crevices in the trunk, featuring two monkeys clambering on one side, one supported on thick branches and climbing upwards to meet the other looking down whilst seated on the spout, the base finely incised with an eight-character kaishu dated inscription and the name of the potter, the stoneware of a creamy dark brown colour with gold speckles. 15.3cm wide. (2). Estimate HK$ 400,000 - 600,000 (€38,000 - 57,000)
Provenance: Brian McElney collection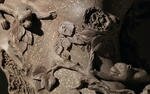 The seventeenth century art historian Zhou Bogao recorded Chen Zhongmei as a native of Wuyuan who began working as a potter in Jingdezhen during the Wanli period (1573-1620). He left to go to Yangxian county to became a Yixing potter after the failure of his business in Jingdezhen. He had great artistry in mixing fine Yixing clay and he made superb copies and adaptations of archaistic shapes. See for example a bamboo-shaped teapot from the K.S.Lo collection, also bearing the signature of Chen Zhongmei, published by the Hong Kong Museum of Art ed. Yixing Purple Clay Wares - The K.S.Lo Collection, Flagstaff House Museum of Tea Ware, Hong Kong, 2002, p.63, pl.12. See another similarly signed Yixing water vessel formerly in the Tan Jing Collection and latterly the collection of Du Yuesheng (1888-1951), sold at Sotheby Parke Bernet, Hong Kong, 24 May 1978, lot 346, and subsequently at Bonhams Hong Kong, 27 May 2012, lot 546.
Bonhams. MASTERPIECES OF YIXING STONEWARE FROM THE MR AND MRS JIMMY SHA COLLECTION. Hong Kong. 24 Nov 2013 13:30 CST