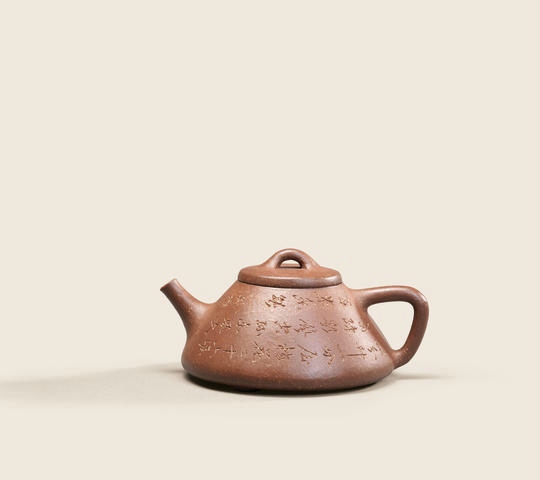 An inscribed Yixing stoneware 'stone-spoon' teapot and cover, Daoguang, Hugong yefu mark, incised by Qu Yingshao. Photo Bonhams.
Finely potted in conical shape rising from three compressed circular feet, flanked at the sides with an angled handle and a pointed spout ending in a lipped rim, the exterior finely carved depicting naturalistic bamboo stems growing from the handle on one side, the other side featuring a series of incised kaishu inscription, surmounted by a flattened cover with an arched knop, the base impressed with a four-character zhuanshu seal mark of the potter, the stoneware of a reddish-brown tone with irregular speckles of gold. 16cm wide. (2). Estimate HK$ 1 million - 1.5 million (€96,000 - 140,000)
The four-character seal mark reading 'Hugong yefu' was very rarely used by Qu Yingshao, among the many seals he would have engraved on the pots commissioned by him. The potter's name however does not appear on the present teapot. Compare a very similar teapot also commissioned by Qu Yingshao, but unsigned by the potter from the Tang Yun collection (fig.1), illustrated by Tang Yun, Zisha hu jianshang, Hong Kong, 1993, p.58. See also two other similar teapots, one made by Yang Pengnian, the other by Shen Xi, both engraved with the same seal mark and with similar decorations, from the K.S.Lo collection, currently in the Flagstaff House Museum of Tea Ware, illustrated by K.S.Lo, The Stonewares of Yixing - From the Ming period to the Present Day, Hong Kong, 1986, p.100, pl.39, and Hong Kong Museum of Art ed. Yixing Purple Clay Wares - The K.S.Lo Collection, Flagstaff House Museum of Tea Ware, Hong Kong, 2002, p.102, pl.57. Another similar teapot but incised with prunus and engraved with a two-character 'Yuehu' seal mark, which was another hao used by Qu Yingshao, was in the Jiansongge collection, illustrated by Huang Hsien-long, jinshipi: wen fang ta ben ji, Taipei, 2011, p.149, pl.237. See also lot 103 and 116 for other teapots commissioned by Qu Yingshao.
Bonhams. MASTERPIECES OF YIXING STONEWARE FROM THE MR AND MRS JIMMY SHA COLLECTION. Hong Kong. 24 Nov 2013 13:30 CST