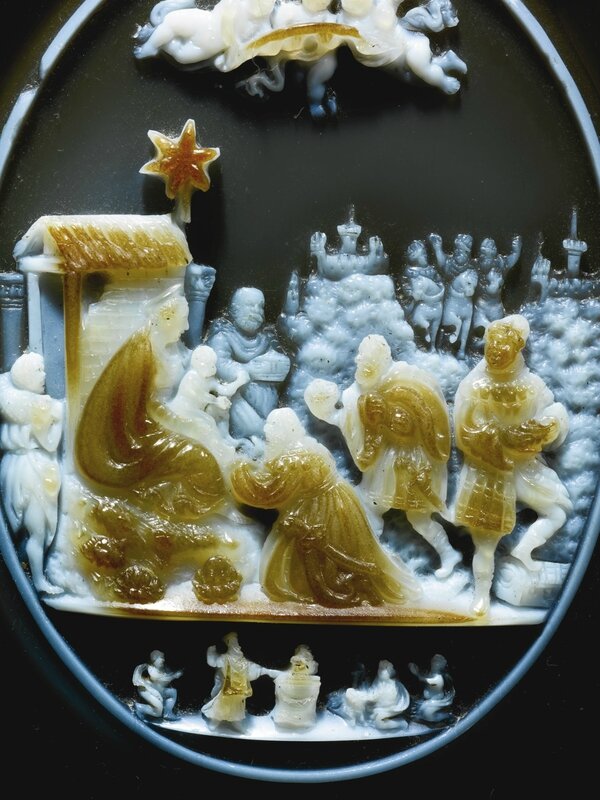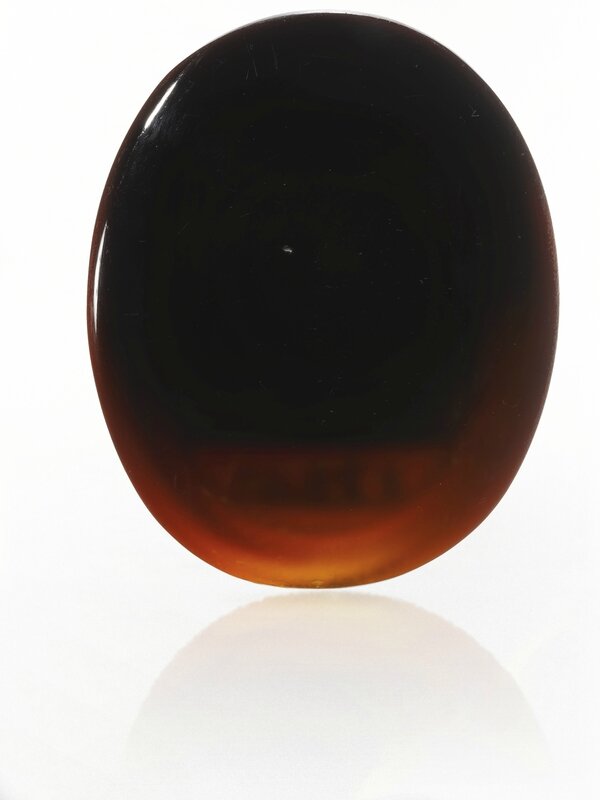 Circle of Alessandro Masnago (Fl. 1575-1612), Italian, Milan, circa 1575, Cameo with the Adoration of the Magi and David on the threshing floor. Photo courtesy Sotheby's
white and brown sardonyx; 73mm., 2 7/8 in. Estimation 50,000 — 70,000 GBP
Provenance: private collection, United Kingdom
Exposition: Hakone, Open-Air Museum and Fukuoka, City Museum, The art of gem engraving from Alexander the Great to Napoleon III, 2008, no. 208
Litterature: J. Boardman et al., The art of gem engraving from Alexander the Great to Napoleon III, exh. cat. Open-Air Museum, Hakone, and City Museum, Fukuoka, 2008, pp. 179 and 349, no. 208 (entry by Diana Scarisbrick)
This superb Renaissance cameo finds its closest comparison in the Hunsdon Onyx, the celebrated Milanese late 17th-century gem representing Perseus and Andromeda, which was reputedly owned by Queen Elizabeth I of England (1533-1603) and is today on loan to the Victoria and Albert Museum (museum no. LOAN:MET.2:5-1998). Technically, the way in which the carver has successfully used four strata of the stone, ranging from a dark caramel tone to blue-white, to create the composition, finds a direct parallel in the Hunsdon Onyx. There are also numerous compositional similarities, including the fantastical castles in the background, which are particularly close to the urban landscape depicted below the flying figure of Perseus. Note also the elaborate 16th-century costume worn by Perseus in the Hunsdon Onyx, which is comparable to the clothing worn by the two standing Magi in the present cameo, particularly Balthazar, who similarly wears a pointed hat.
The frieze-like composition of the central adoration scene is remarkably close to that appearing on a North Italian, 16th-century cameo in the Royal Collection (inv. no. RCIN 65175). As in the present jewel, Mary sits in profile with the Messiah resting on her knee, whilst Melchior kneels to present his gift, Caspar approaches on foot, and Balthazar stands on the right. The figure of Joseph in the Royal Collection cameo is remarkably close to a figure holding a casket behind the Christ Child in the present gem. It seems likely that the two gems were carved after the same source, possibly at a similar time. The present cameo is, however, pictorially more sophisticated. The carver has brilliantly created a clearly legible narrative, with a landscape depicted beyond the central scene, in which the three Magi are seen on horseback, the poses of their horses mirroring those of the celebrated Antique Horses of St Marks. Above, cherubs sing in exaltation, whilst, below, the viewer witnesses another King, David, on the Threshing Floor. This last scene, with its classicising figures centered around an altar in the form of a Roman funerary altar, is a further reference to the Antique past. It is a reminder of the importance of antique prototypes to Renaissance gem carvers, who predominantly worked for Humanist patrons.
The approach of setting mythical or religious scenes within larger natural or urban landscapes was pioneered by the celebrated Milanese-born gem carver to the Holy Roman Emperor Rudolph II, Alessandro Masnago (fl. 1575-1612). Indeed, it is to this carver that the Hunsdon Onyx has been associated. Further works by Masnago and his circle compare with the present gem, both in composition and technique. Note, for example, the cameo representing the Rape of Helen in Vienna (Kris, op. cit., no. 357), which has similar horsemen in the background. Given the aforementioned parallels, it seems likely that the present cameo was carved in Milan by an artist working in Masnago's circle.
RELATED LITERATURE: E. Kris, Renaissance-Kleinkunst in Italian, Leipzig, 1931, no. 357; R. Gennaioli, Le gemme dei Medici al Museo degli Argenti. Cammei e Intagli nelle collezioni di Palazzo Pitto, Milan, 2007, p. 187, no. 80; K. Aschengreen Piacenti and J. Boardman, Ancient and Modern Gems and Jewels, London, 2008, p. 133 and 145, nos. 210 and 231
Sotheby's. European Sculpture & Works of Art. London | 04 déc. 2013, 11:00 AM -www.sothebys.com