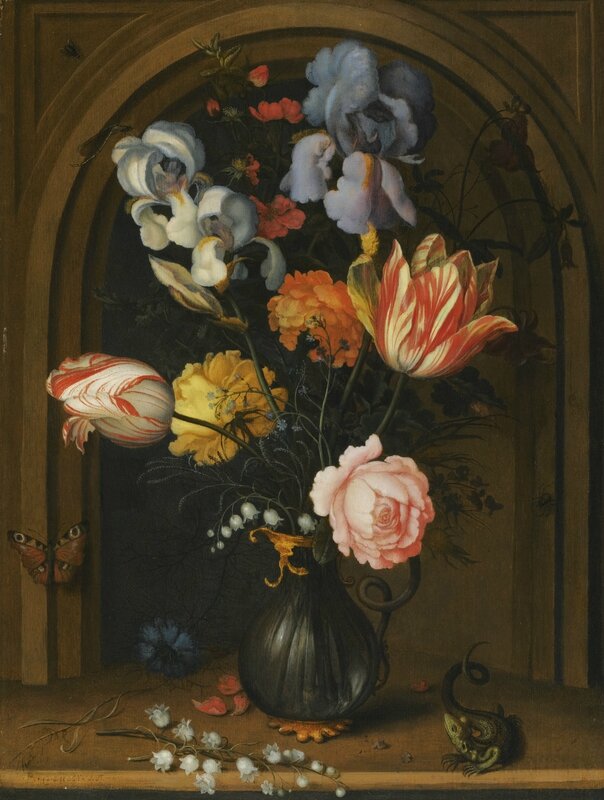 Balthasar Van Der Ast (Middelburg 1593/94 - 1657 Delft), Still life of irises, columbines, tulips, roses and lily of the valley. Photo courtesy Sotheby's
signed lower left, on the ledge: . B . vander . ast .; oil on oak panel; 48.5 by 36.6 cm.; 19 1/8 by 14 3/8 in. Estimation 150,000 — 200,000 GBP
Provenance: Alexander Wheelock Thayer (South Natick, Massachusetts 1817 - 1897 Trieste);
Alice Thayer (according to a label on the reverse);
With Eugene Slatter Gallery, London, 1956;
Anonymous sale ('The Property of a Lady'), London, Sotheby's, 2 December 1964, lot 29, for £5,200 to Leggatt;
With Leggatt Brothers, London, until 1965;
Anonymous sale, New York, Christie's, 10 January 1980, lot 115;
Private Collection, Germany, from 1981 (on loan to the Niedersächsisches Landesmuseum, Hannover from 1999 to 2006);
Anonymous sale, London, Christie's, 5 July 2007, lot 53, estimate £250,000-350,000, unsold.
Exposition: Hannover, Niedersächsisches Landesmuseum, on loan 1999-2006.
Litterature: L. J. Bol, The Bosschaert Dynasty, Leigh-on-Sea 1960, p. 72, cat. no. 20.
Van der Ast infrequently set his flower pieces within, or here just in front of a stone niche framed with architectural mouldings. This device probably stems from the work of his brother-in-law Ambrosius Bosschaert the Elder after the latter settled in Utrecht in 1616, where he no doubt adopted it from Roelandt Savery. As Savery and Bosschaert set their flower pieces within niches, so occasionally did Van der Ast, but in the present work he has adapted this idea by placing his glass vase of flowers on a stone ledge in front of the concave space, which in consequence can be made shallower, requiring less deep shadow and a more even overall lighting.
As Laurens Bol observed, the sinuous lopped tail of the lizard mirrors the curlicue handle of the jug.
PROVENANCE: This painting was formerly in the collection of Alexander Wheelock Thayer (South Natick, Massachusetts 1817 - 1897 Trieste). Thayer was interested in music. He was also a meticulous historian. Whilst working as a librarian at Harvard Law School, he resolved to compile a completely unbiased biography of Ludwig van Beethoven. In his own words: "My sole point of view is the truth." Thayer left for Europe and spent the next two and half years traveling around collecting information about the composer and mastering the German language, all the while barely supporting himself as a journalist. In 1862 he entered the diplomatic service with the help of a fellow Harvard alumnus, and in 1864 was appointed American consul in Trieste (then part of Austria), where he spent the rest of his life completing Beethoven's biography. The result of this labour of love still counts as the standard work on the composer today.
Sotheby's. Old Master & British Paintings Evening Sale including Three Victorian Masterpieces from the Leverhulme Collection. London | 04 déc. 2013 - www.sothebys.com