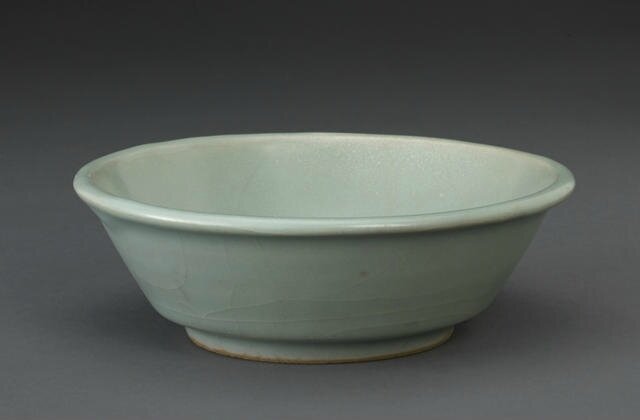 A Longuan celadon brush washer, Southern Song dynasty. Photo: Courtesy of Bonhams.
Carefully molded with a flared rim to the canted walls raised on a set-in foot surrounding the flat, recessed base, the pale gray-green glaze displaying a web of long craze lines and covering all surfaces except the narrow cinnamon-burnt foot pad. 5 1/8in (13.2cm) diameter. Estimate US$ 10,000 - 15,000 (€7,400 - 11,000)
The shallow bowl has been identified as a brush washer in various Chinese archeological publications: see, for example, Longquan Qingci Yanjiu, 1989, illustrated drawing fig 12.4, p. 83 and plate V,3, illustrating an example excavated from a Song period tomb in the Shaoxing district.
In addition to their appearance in Chinese excavations, similar bowls were part of the Song period trade to Southeast Asia: see the Southeast Asian Ceramics Society exhibition, Chinese Celadons and Other Related Wares in Southeast Asia, Singapore, 1979, cat. nos. 68 and 69, pp. 148-149 and pl. 59, 12.5cm diameter.
Two examples were included and discussed in the J. J. Lally & Co. exhibition, Song Dynasty Ceramics: the Ronald W. Longsdorf Collection, Hong Kong, 2013, cat. no. 6 (14.9cm diameter) and no. 7 (9.2cm diameter).
Bonhams. FINE CHINESE WORKS OF ART. San Francisco. 17 Dec 2013