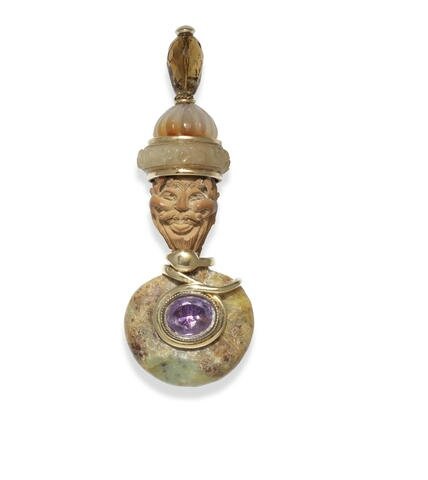 A lava, hardstone, citrine and amethyst brooch, by Hedy Martinelli. Photo courtesy Bonhams.
Designed as a Chinese dignitary with carved lava head, wearing a headdress composed of carved and fluted hardstones and a citrine briolette, his oval hardstone chest inset with foiled amethyst, signed H Martinelli, maker's suede pouch. Estimate £700 - 900 (€840 - 1,100)
"Hedy Martinelli, the Roman jeweller, combined several natural stones to make this unique modern brooch. Stone, carved lava, gold, amethyst and topaz come together to create this unique 'little man's head'. Although his face looks a bit wrinkled, I felt very affectionate toward him and called him Augustus, because Bob bought him for me one August. It was a lovely surprise gift, and also drew lots of comments and questions."
Gift from Robert Bradford.
Bonhams. FINE JEWELLERY INCLUDING SELECTED JEWELS FROM THE COLLECTION OF BARBARA TAYLOR BRADFORD. London, New Bond Street. 5 Dec 2013 - www.bonhams.com