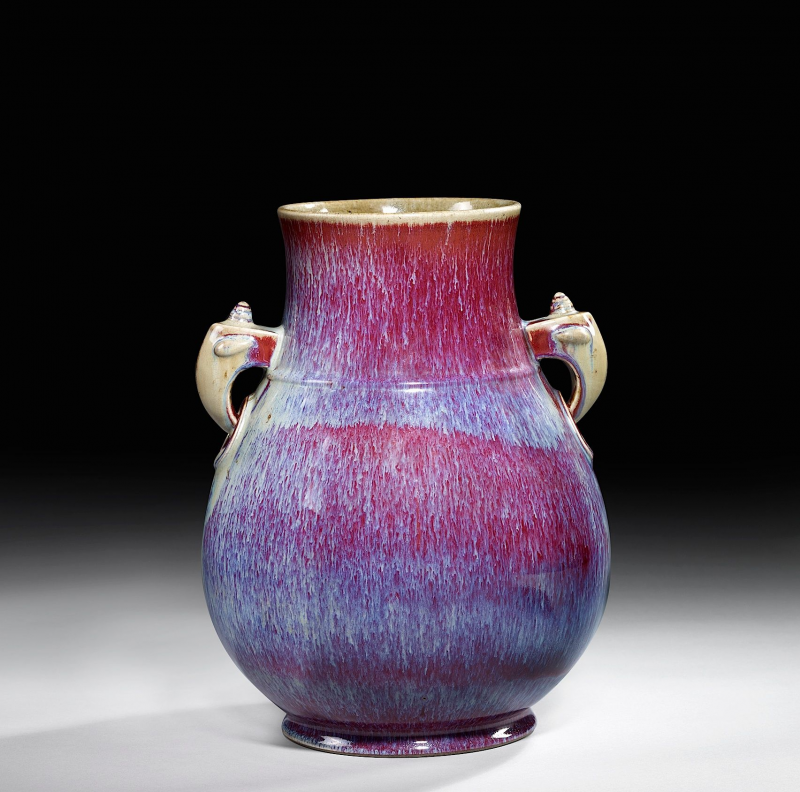 Rare et important vase hu en porcelaine à glaçure flammée, Chine, Dynastie Qing, Marque et Époque Qianlong (1736-1795). Photo Artcurial - Briest-Poulain-F.Tajan.
Le corps piriforme reposant sur un petit pied évasé et surmonté d'un large col rehaussé d'un filet et agrémenté de deux anses en forme de têtes d'animaux stylisées supportant des anneaux en léger relief, le corps recouvert d'une belle glaçure pourpre flammée de bleu tournant au crème sur les arrêtes et les anses, la base émaillée d'une couverte brune et crème portant une marque en cachet incisée à six caractères de l'Empereur Qianlong. Hauteur : 34,3 cm. (13 ½ in.). Estimation : 60 000 / 80 000 €
A RARE FLAMBE-GLAZED HU VASE, CHINA, QING DYNASTY, QIANLONG MARK AND PERIOD (1736-1795)
Les vases flammés Qianlong de cette forme sont très rares. Un vase Qianlong de même forme et même glaçure se trouvant dans la collection F.C. Harrisson, et prêté à l'Ashmolean museum d'Oxford en 1903, a été vendu à Sotheby's Hong-Kong le 29 novembre 1976, lot 568 ; un autre a été vendu dans la même maison le 27 novembre 1973, lot 381. On peut aussi comparer le présent vase avec un plus petit vendu à Sotheby's Londres le 9 novembre 2011, lot 62. Un vase bleu-blanc du même modèle et de la période Qianlong, est illustré dans Treasures in the Royalty, the Official Kiln Porcelain of the Chinese Qing Dynasty, 2003, p.234, de même que le vase Ru à glaçure céladon Qianlong, p.329. Un vase Poudre de thé portant la marque Qianlong a été vendu à Sotheby's Hong-Kong le 10 avril 2006, lot 1523. Ces vases Qianlong sont inspirés du modèle Yongzheng comme l'exemple de vase illustré dans l'ouvrage de Regina Krahl, Chinese Ceramics from the Meiyintang Collection, vol. 2, London, 1994, pl. 834, ce même vase vendu à Sotheby's Hong-Kong le 9 octobre 2012, lot 8; enfin un nouvel exemple Yongzheng vendu à Christie's Hong-Kong le 30 novembre 2011, lot 3299.
Flambé-glazed vases of this form are very rare. For a Qianlong vase of this form and glaze, see one from the F.C. Harrison collection, formerly on loan at the Ashmolean Museum, Oxford, 1903, sold at Sotheby's Hong Kong, 29th November 1976, lot 568; and another was sold in these rooms, 27 November 1973, lot 381. Compare with a smaller example sold at Sotheby's London, 9 November 2011, lot 62. Compare also with a blue and white vase of the same shape from the Qianlong period illustrated in Treasures in the Royalty, the Official Kiln Porcelain of the Chinese Qing Dynasty, 2003, p. 234, see also the Qianlong vase in Ru celadon glaze P. 329. A teadust, Qianlong mark and period, similar vase was sold at Sotheby's Hong Kong, 10 Avril 2006, lot 1523. These Qianlong vases are inspired from Yongzheng examples. Compare the flambé-glazed Yongzheng prototype, published in Regina Krahl, Chinese Ceramics from the Meiyintang Collection, vol. 2, London, 1994, pl. 834 and sold at Sotheby's Hong Kong, 9 October 2012, lot 8, and another example sold at Christie's Hong Kong, 30 November 2011, lot 3299
Artcurial - Briest-Poulain-F.Tajan. Mardi 10 décembre 2013. Hôtel Dassault - 7 Rond Point des Champs-Elysées