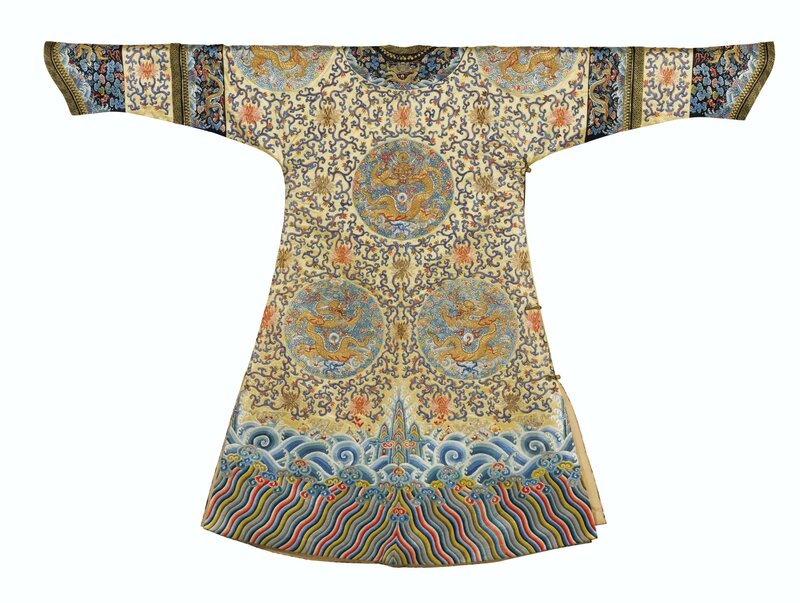 Rare robe impériale aux huit médaillons en soie à fond jaune, Dynastie Qing, XVIIIe-XIXe siècle. Photo Sotheby's
richement brodée sur fond jaune de huit médaillons abritant des dragons, deux représentés de face sur la poitrine et dans le dos surmontant deux autres de profil se faisant face et deux de face sur les épaules, en réserve sur fond de fleurs de lotus parmi les rinceaux bleus et rouges, les manches et le col agrémentés de bandes de dragons sur fond noir et la partie basse de rayures obliques multicolores et vagues stylisées; 141 x 198 cm, 55 1/2 x 78 in. Estimate 8,000 — 12,000 EUR. LOT SOLD. 103,500 EUR
Provenance: Family of Li Hongzhang (1823-1901).
Acquired from the grandson of the above in Shanghai in 1948.
ANCIENNE COLLECTION WILLEM VAN HEUSDEN (1913-2009)
A FINE AND RARE IMPERIAL YELLOW-GROUND 'EIGHT DRAGON MEDAILLON ' WOMAN'S ROBE, QING DYNASTY, 18TH/19TH CENTURY
The eight five-clawed dragon medaillons on the present woman's robe and the additional bands of dragons at the elbows identify it as having been worn by either the empress, the empress dowager or a female member of the emperor's immediate family including the highest-ranking imperial consorts. Only the empress and the empress dowager were allowed to wear full-length coarts, longgua, bearing eight roundels above a lishui or standing water border at the hem. See John E. Vollmer, Silk for Thrones and Altars. Chinese Costumes and Textiles from the Liao through the Qing Dynasty, Paris, 2004, p. 40, and Gary Dickinson and Linda Wrigglesworth, Imperial Wardrobe, London, 1990, pp. 192 ff.
Sotheby's. Arts d'Asie. Paris | 12 déc. 2013 - www.sothebys.com