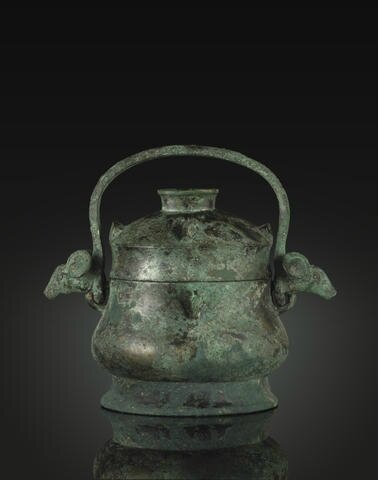 An archaic bronze vessel, you. Early Western Zhou period. Photo Bonhams.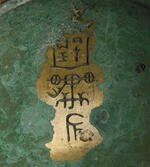 Of ovoid form rising from a splayed foot, the low slung belly tapering inward to projecting loops onto which pivot a horned ram-headed curved handle; the heads repeated on the front and back rim of the vessel and on the cover, where they are set between small wide flanges at either end; the vessel and lid covered in and out with a malachite encrusted patina, partially removed on the cover to highlight the four character inscription reading: 'make this precious vessel for traveling.' 8 1/2in (21.6cm) high. Estimate US$ 60,000 - 80,000 (€44,000 - 58,000)
Provenance: purchased in Shanghai 1941-1944
brought to the United States in 1947
Property from a Pacific Northwest Gentleman, by Descent.
This vessel type existed for a short period in the Late Shang and Western Zhou. The simple decoration argues for an early Western Zhou date; see correlative examples sold by Eskenazi, Ancient Chinese bronzes from an English private collection, 15 November-4 December 1999, no. 9; another in the Museum van Aziatische Kunst, Rijksmuseum, Amsterdam, published in by Jan Fontein and Tung Wu, Unearthing China's Past, Museum of Fine Arts Boston, 1973, no. 12, p. 45; and another in a private collection, published by Christian Deydier, Chinese Bronzes, Switzerland, 1980, p.57, no. 38.
Bonhams. FINE CHINESE WORKS OF ART. San Francisco. 17 Dec 2013 - www.bonhams.com