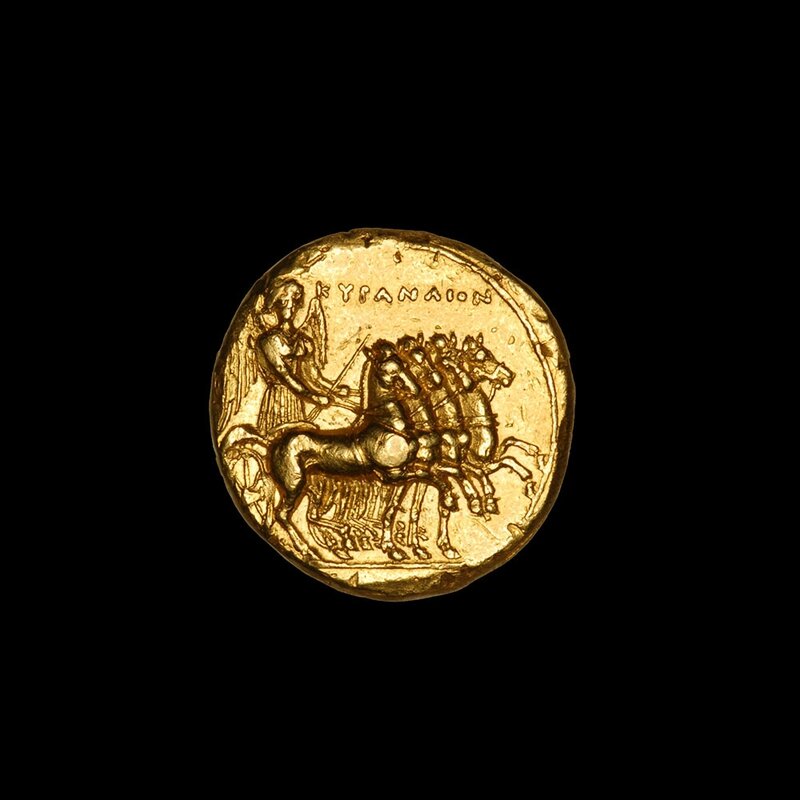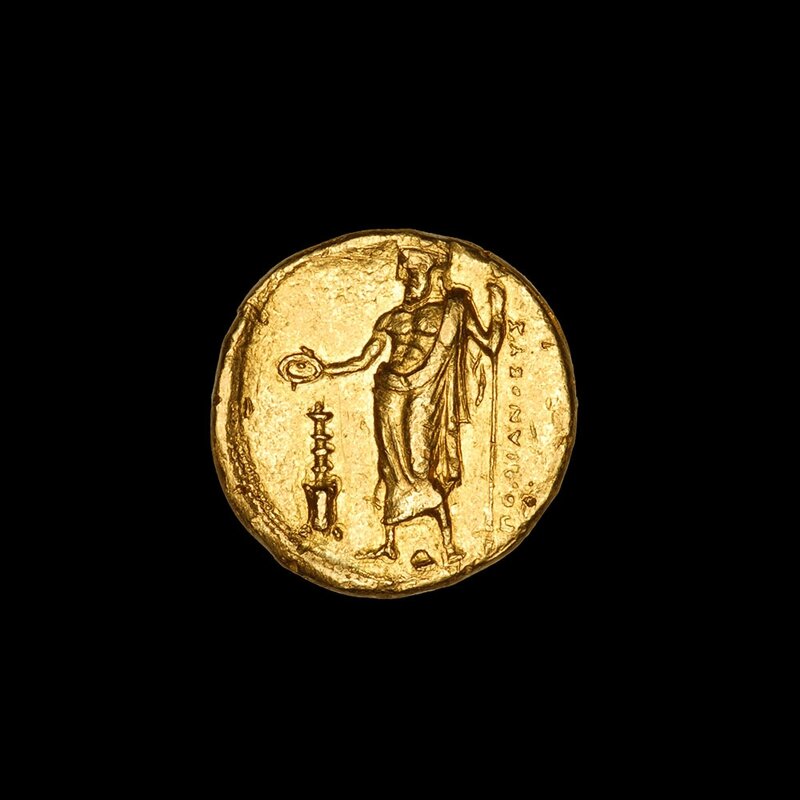 An ancient gold stater from the City of Kyrene, modern day Libya. Minted under one of Alexander the Great's closest friends and allies, Ophellas while acting as governor under Ptolemy I. Struck 322 - 313 B.C.
The obverse with the goddess of Victory, Nike driving slow quadriga (four horse chariot) right holding reins and goad. The legend reading: KYPANAION - "Of the Kyrenians"

The reverse with the god, Zeus-Ammon shown standing left, his robes hanging from his left shoulder and falling down his body in swathes. He rests on a tall scepter with his left hand and holds out a patera with his right hand over a thymiaterion (incense burner). The legend with the name of the magistrate and reading: ΠOΛIANΘEYΣ - "Polianthes"

A boyhood friend of Alexander the Great, Ophellas allied himself with the Satrap of Egypt, Ptolemy, during the fragmentation of Alexander's Empire. Shortly after, in 322 B.C. The duo received an appeal from the people of Cyrenaica who had come under the subjugation of a hugely wealthy Spartan mercenary leader, Thibron. Thibron had captured an enormous treasure of gold, taken from the Babylonian treasury. Ptolemy and Ophellas knew an opportunity when they saw one.

Ophellas met Thibron in battle and utterly defeated him, capturing the treasure and taking control of Cyrene as Ptolemy's governor of the region.

This very rare, pure gold coin was struck shortly after these events and quite possibly from the enormous gold treasure captured from Thibron.

Diameter: 18 mm. Weight: 8.60 g.

Provenance: Ex collection of Parisian Dr L.A. acquired during the 1980's.