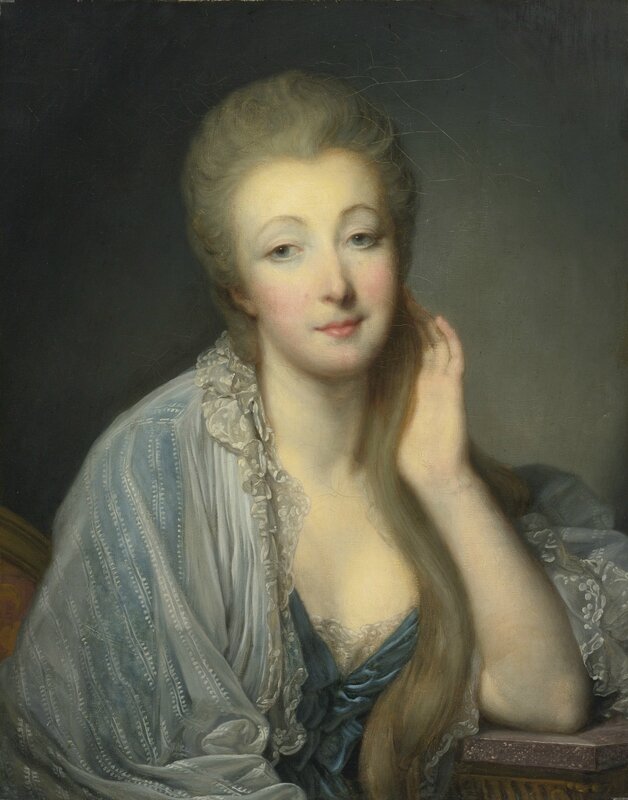 Jean-Baptiste Greuze (Tournus 1725 - 1805 Paris), Portrait of the Comtesse du Barry. Photo Sotheby's.
oil on canvas; 23 1/2 by 18 5/8 in.; 60 by 47.5 cm. Estimation 80,000 — 120,000 USD
Provenance: M. Mainnemare collection, Paris;
His estate sale, Paris, 18 rue de Courcelles, 21 February 1843, lot 15;
John Allan Rolls, 1st Baron Llangattock (1837-1912), The Hendre, Monmouth, Monmouthshire;
Thence by descent to John MacLean Rolls, 2nd Baron Llangattock (1870-1916);
His estate sale, London, Christie's, 28 November 1958, lot 27.
Exposition: Hartford, Connecticut, Wadsworth Atheneum; San Francisco, California Palace of the Legion of Honor, Jean-Baptiste Greuze, 1 December 1976-1 May 1977, no. 74;
New York, Wildenstein & Co., The Winds of Revolution, 14 November 1989-19 January 1990, no. 6.
Litterature: L. Willoughby, "Lord Llagattock's Monmouth Seat: The Hendre and Its Art Treasures," in Connoisseur, vol. XVII, March 1907, p. 153, reproduced, p. 152 (as possibly by François Hubert Drouais);
J. Martin and C. Masson, Catalogue raisanée de l'oeuvre peint et dessiné de J.-B. Greuze, Paris 1908, p. 68, cat. no. 1104;
S. Preston, "The Revaluation of Greuze," in Apollo, CV, No. 180, February 1977, p. 137, reproduced, p. 138, fig. 5;
Greuze & Diderot: vie familiale et éducation dans la seconde moitié du XVIIIe, exhibition catalogue, Clermont-Ferrand 1984, p. 120;
H. Douwes Dekker, "Madame du Barry en haar Portretschilders," in Tableau, vol. IX, No. 2, November 1986, reproduced, p. 43;
P. Rosenberg and M.C. Stewart, French Paintings 1500-1825: The Fine Arts Museums of San Francisco, San Francisco 1987, p. 187;
E. Munhall, "The Fragonard Fracas," in Vanity Fair, LI, No. 3, March 1988, reproduced in color, p. 147;
M.-A. Denis, Madame Du Barry, de Versailles à Louveciennes, exhibition catalogue, 1992, p. 150, reproduced in color;
S. Moehring, L'Original était fait pour les Dieux!: Die Comtesse Dubarry in der Bildkunst, unpublished Ph.D. dissertation, Universtät zu Köln, 1995, pp. 60-3, 231, reproduced, fig. 41.
Born to humble beginnings as the daughter of a seamstress, the Comtesse du Barry (1746-1793), née Marie Jeanne Bécu, rose to become one of the most famous figures in the court of Louis XV. Her influence was born out of her legendary powers of seduction, which she used to gain the title of Maîtresse-en-titre (chief mistress of the King of France), the last to fill the position in the court of Louis XV. Her path to influence began in Paris, where she worked for a time as a shop girl. She would also work as a highly paid courtesan, gaining as clients some of the most influential figures in the court. Her reputation as a seductress helped her catch the attention of the King who, in an attempt to legally receive her in court, first married her off to Jean du Barry so that she could be accepted officially as a lady of title. The formal ceremony of her reception took place in 1769, and over the next five years, as the titular mistress to the King, she was able to exert influence on court culture, as well as state affairs. Madame du Barry's elevated position in the court came to a rather abrupt end upon the death of Louis in 1774, after which time she was exiled to live in the Abbaye du Pont-aux-Dames near Meaux-en-Brie. Though exiled from court, she eventually would be allowed to retire to her country estate, Château de Louveciennes, by Louis XVI. Fatefully, her connection to the court would never completely diminish, and in 1792 she was arrested on charges of conspiring against the French Republic, an accusation for which she would pay by beheading in 1793.
Madame du Barry's support for the arts was also legendary, and she came to amass one of the great collections in France in the 18th century. She had her portrait painted by some of the leading artists of the day, including Louise Élisabeth Vigée Le Brun (Philadelphia Museum of Art), François-Hubert Drouais (Madrid, Museo del Prado), and, of course, Jean-Baptiste Greuze.1
According to Edgar Munhall (see literature, Munhall 1976, p. 156), this portrait of the Comtesse was painted at the pinnacle of her success and influence, circa 1771, the year in which her glorious estate at Louveciennes was completed. She is depicted rather casually, dressed in a night gown, without jewels or other ornamentation, and with her hair hanging down. Her casual pose would suggest that she has suddenly turned from her mirror to engage with the artist.
1. Greuze is known to have painted another portrait of Madame du Barry, of oval format, which was formerly in the collection of Alfred Charles de Rothschild (location unknown).
Sotheby's. The Courts of Europe. New York | 30 janv. 2014 - www.sothebys.com