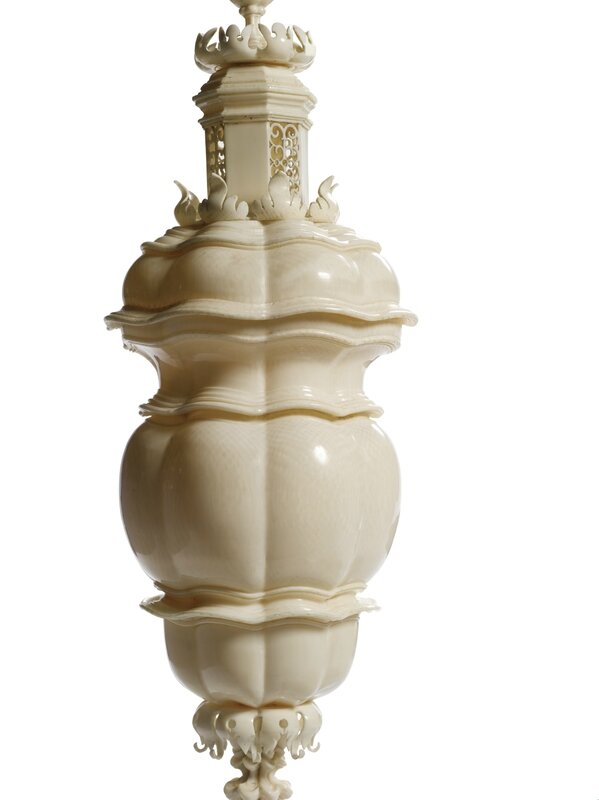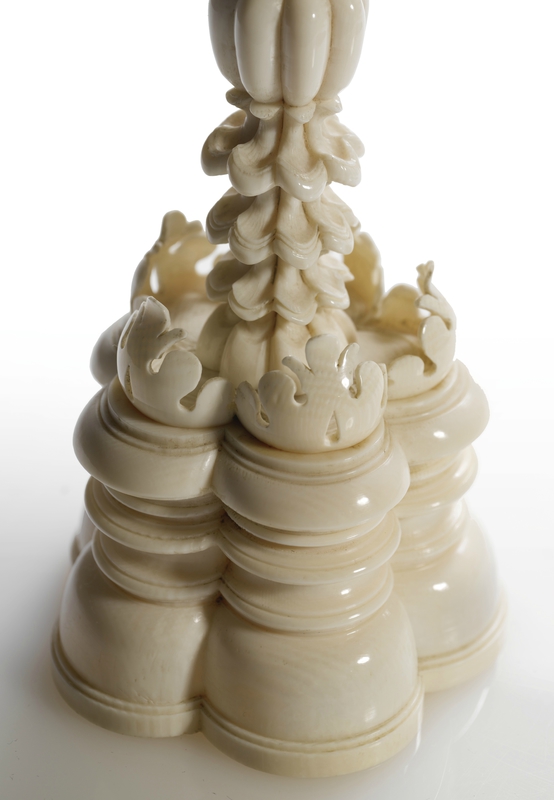 Lot 775. A South German turned ivory cup and cover, probably Nuremberg, first half 17th century; height 17 3/8 in., 44 cm. Estimate 120,000 — 150,000 USD. Lot sold 614,500 USD. Photo Sotheby's 2011
the stepped pentalobed base with a ring of upturned curling foliate points above surrounding the gadrooned double-baluster form stem, interspersed with flared rings, a pierced ring of curled foliate points descending from the base of the octolobed gadrooned cup in three registers defined by flared bands, the conforming lid rising in a bulbous cone below eight curled foliate points echoing those atop the base and surrounding an octagonal chamber with fine open strapwork alternating with undecorated facets, a final ring of upturned curling foliate points above surrounding a thin urn-form finial containing a stack of thinly turned rosette-sectioned discs flaring and then tapering, surmounted by three tapering florettes; an oval paper label with handwritten number "897129" pasted beneath the foot.
Provenance: Axel Vervoordt, Antwerp
See lot 771 for a cup of similar general design. The belfry-like architectural cover of the present lot relates particularly with a covered cup in the Museo degli Argenti, which also features rings of simiarly bulbous pierced foliate points above and below the stem and a stepped lobed foot (Maurice 1985, p. 70, no. 69, see fig. 1). The general sihouette of the cup, as well as details such as the aforementioned foliate points, recall the signed works of Marcus Heiden turned in the second quarter of the 17th century and now preserved in Copenhagen and Florence. Another comparable cup from the Danish Royal Kunstkammer at Rosenborg castle in Copenhagen was first recorded there in the inventory of 1674 (Gundestrup 1991, pp. 262-263, DKK 23.81).
Sotheby's. Property from the Collections of Lily & Edmond J. Safra - Volumes I-VI. New York, 18 Oct 2011