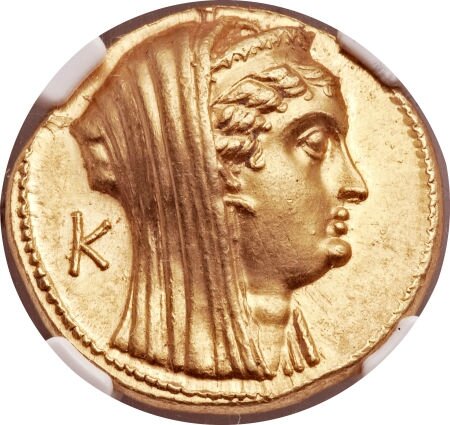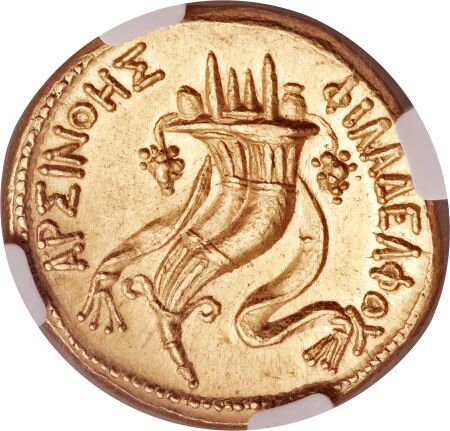 Superb Mnaieion, Ex-Millennia Collection. Photo courtesy Heritage Auctions
PTOLEMAIC EGYPT. Ptolemy VI - VIII (180-117 BC). AV mnaieion (28mm, 27.86 gm, 12h). Alexandria, ca. 170-116 BC. Veiled head of the deified Arsinoë II with ram's horn, wearing diademed stephane, lotus scepter over far shoulder, K behind / ΑΡΣΙΝΟΗΣ ΦΙΛΑΔΕΛΦΟΥ, double cornucopia bound with diadem. Svoronos, 1498. SNG Copenhagen 322. Deeply struck on a broad flan from dies of fine style and possessing deep, mirror-like luster. NGC MS? 5/5 - 4/5. Estimate: $24,000 - $28,000

Ex Millennia Collection (Goldberg Sale 46B, 26 May 2008), lot 21 (realized $27,000).

It has been speculated that the later K-type mnaieions issued during the reigns of Ptolemy VI through VIII feature a disguised portrait of Cleopatra II, who was the sister and later wife of both brothers. If such is the case, the K behind the head could refer to Kleopatra (on the original issues of Ptolemy II-III, from which the later issues were copied, the K was one of several letters used to designate obverse dies). Certainly the portrait on these later issues bears little resemblance to the face of Arsinoë II found on the gold pieces minted closer to her lifetime. Whether or not these pieces do bear portraits of concurrent figures, it is a historical fact that the strongest of the later Ptolemaic rulers invariably were women, including the last of the line, Cleopatra VII.
Heritage Auctions. 2014 January 5 - 6 World & Ancient Coin Signature Auction - New York