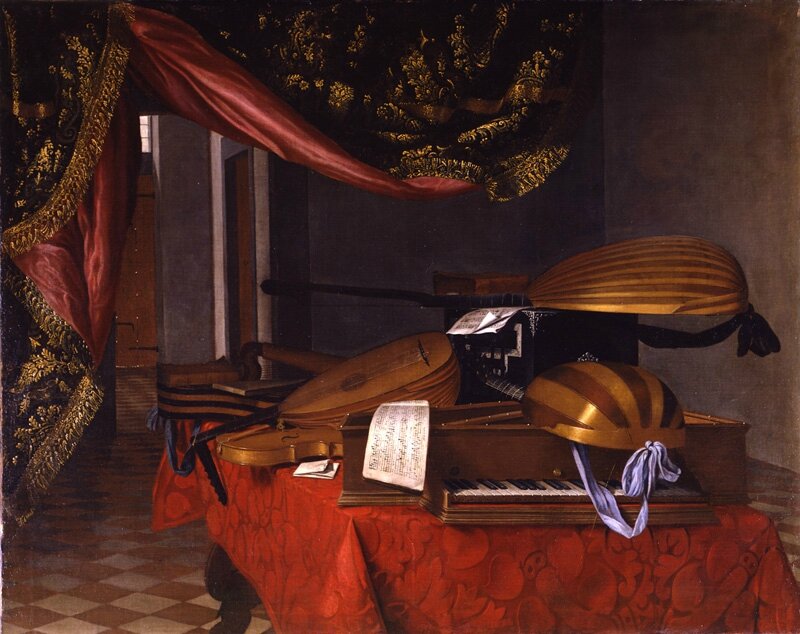 Evaristo Baschenis (1617 - Bergamo -1677), A Still Life with Musical Instruments in an Interior. Signed lower right on the keyboard 'EVARISTO / BASCHENIS'. Oil on canvas; 45 ½ by 57 ¼ in. (115.5 by 146.8 cm.). Photo courtesy Otto Naumann Ltd.
Provenance: Consul H.C. Bodmer (1851-1916), Zurich, and
By descent through
Hans von Schulthess-Bodmer, Schloss Au, Zurich to
Eric von Schulthess, Schloss Au, Zurich, and
By descent to the present owner
This remarkable and unrecorded still life has been in private ownership since the mid-nineteenth century. Baschenis has been the subject of two major exhibitions in the last ten years which have allowed for a thorough critical assessment of the artist's oeuvre (see Baschenis e la nutura morta in Europe, Academia Carrara, Bergamo, 1996-1997; and The Still Lifes of Evaristo Baschenis – The Music of Silence, Metropolitan Museum of Art, New York 2000-2001).
Evaristo Baschenis is universally acknowledged as the inventor of the musical instrument still-life and its most celebrated practitioner. He was himself a practicing musician who clearly had a deep understanding of the instruments that he painted. His highly personal vision evolved from the tradition of concert and musical scenes painted by the likes of Titan and Giorgione in the sixteenth century Venice, and by Caravaggio and his northern followers in the first half of the seventeenth century. Baschenis transformed this theme by completely removing the figurative component, leaving the instrument as the sole protagonists, thus effecting a poetic and entirely original style.
Baschenis' repertory on this theme relied on a series of different instruments, objects and textiles that were re-used again and again in ever more intricate compositions. The dynamic arrangement of the objects in the present work consists of a seemingly casual piling up of instruments are: a theorbo, possibly by the maker Sellas (active in Venice in second half of the seventeenth century); below it a mandolino, notable for its elegant ivory filetted neck; a Venetian lute (datable to the end of the sixteenth century); a pentagonal spinet also likely to be Venetian sixteenth century; a violin; an unusually fine ebony inlaid guitar, and a harp. The ebony casket on which the Theorbo rests is Cremonese and notable for featuring in a picture by Baschenis painted for Abbot Francesco Siperchi in circa 1670 (Venice, Gallerie dell'Accademia). The red damask cloth with a bronconi di cappero pattern appears more regularly in Baschenis' work and can be seen for instance in a canvas in the Accademie Carrara, Bergamo, and in the picture from Silvano Lodi collection recently sold at Christie's, New York, 6 April 2006. The richly embroidered drapery overhead also recurs in other works by Baschenis, as in the aforementioned canvas in Accademia, Venice. The music sheets lying open on the casket and on the spinet are thought to be the parts for a vocal arrangement.
Otto Naumann Ltd. http://www.ottonaumannltd.com/