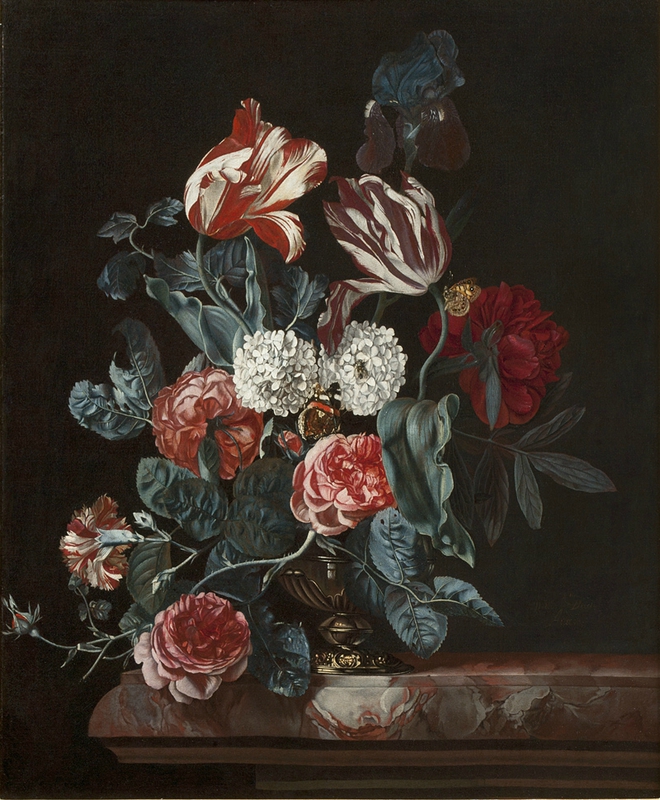 Willem van Aelst (Delft 1627 – 1683), A still life with roses, tulips and other flowers resting on a ledge. Inscription at lower right: Guill[er] mo van Aelst. Oil on canvas;63.5 x 52.7 cm. Photo courtesy Otto Naumann Ltd.
Provenance: Property of William A. Saks, New York.
This elegant arrangement was painted by Willem van Aelst, one of the 17th century's most versatile painters of still lifes. He was born in Delft in 1627, the son of a notary, Jan van Aelst, and his wife, Catharina de Veer. The artist became the pupil of his uncle, an inconsequential still life painter, Evert van Aelst, and joined the local Guild of Saint Luke on November 9, 1643. He entered the tradition of fruit and flower painting, which flourished in Delft during the early 1630s in the work of artists such as Balthasar van der Ast and Gillis de Bergh. The artist's early compositions were simple and intimate; his lines soft and loose. Around 1645 van Aelst left for a decade long sojourn through France and Italy that served to refine his unique style and subject matter, which became increasingly polished and compositionally complex. He left France for Italy in 1649, where he met his fellow countrymen and artists, Matthias Withoos and Otto Marseus van Schrieck. The young Dutchman's precocious talents found favor with his new Florentine clients. Most significantly, he enjoyed the generous patronage of the Medici family. The Grand Duke awarded him a gold medal and chain in recognition of his service. Several of the still lifes of fruit, flowers, and trophies of the hunt produced during his six year stay in Italy remain in the Palazzo Pitti in Florence today.
In 1656 van Aelst left Italy with van Schrieck and settled in Amsterdam the following year where he lived out the rest of his productive and successful career. In 1662, he owned a house on the Bloemengracht, and in January 1679, he married his housekeeper, Helena Nieuwenhuys. He is last mentioned in 1683, when he was living in a house on the Prinsengracht: he probably died in 1683 or 1684. Upon his death, he left a wife and three children. The flower painters Maria van Oosterwijck and Rachel Ruysch were among his pupils and he influenced a number of other artists, including Nicholas Lachtropius, Elias van den Broeck, and Simon Verelst.
The signature on our painting indicates that it was produced in Amsterdam. Van Aelst signed with 'W' for Willem through 1659, subsequently adopting the Italianized version of his name, Guillelmo, usually abbreviated to 'Guill.mo' as in the present example. The elegance, refinement, and technical brilliance cultivated during his formative years abroad are beautifully demonstrated in our work. An exquisite vase is set upon the edge of a marble mantle; cold, hard surfaces contrasting with the soft fluidity of the bouquet. The warm shades of pink and red blooms are set off by the cool tonality of the blue blush of the foliage, which the artist achieved by using expensive aquamarine pigment. The dark background intensifies the crispness and clarity of the arrangement, providing sharp definition to the organic forms. Van Aelst's wonderful attention to naturalistic details such as weathered, insect-eaten leaves and blemished petals enhances the visual interest. Weightless butterflies are poised amongst the flowers, while a fly navigates the lace-like petals of one of the small white hydrangeas. Heavy heads of garden roses weigh down drooping stems at the base of the bouquet, while two arching tulips vie for attention, bending towards each other, unfurled petals nearly touching. Behind the dramatic tulips a dark solitary iris crowns the lovely composition.
Otto Naumann Ltd. http://www.ottonaumannltd.com/