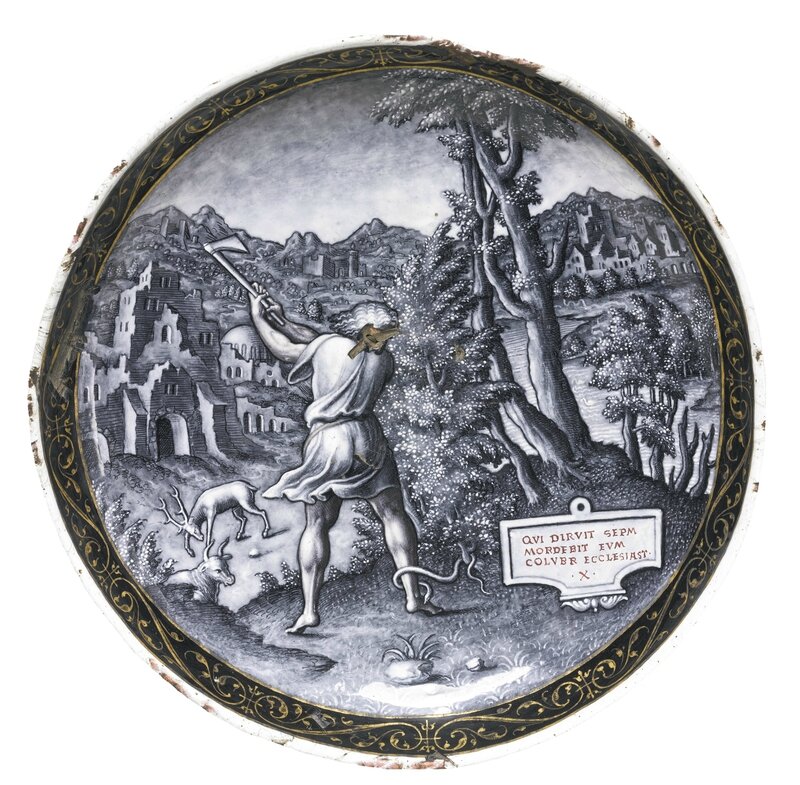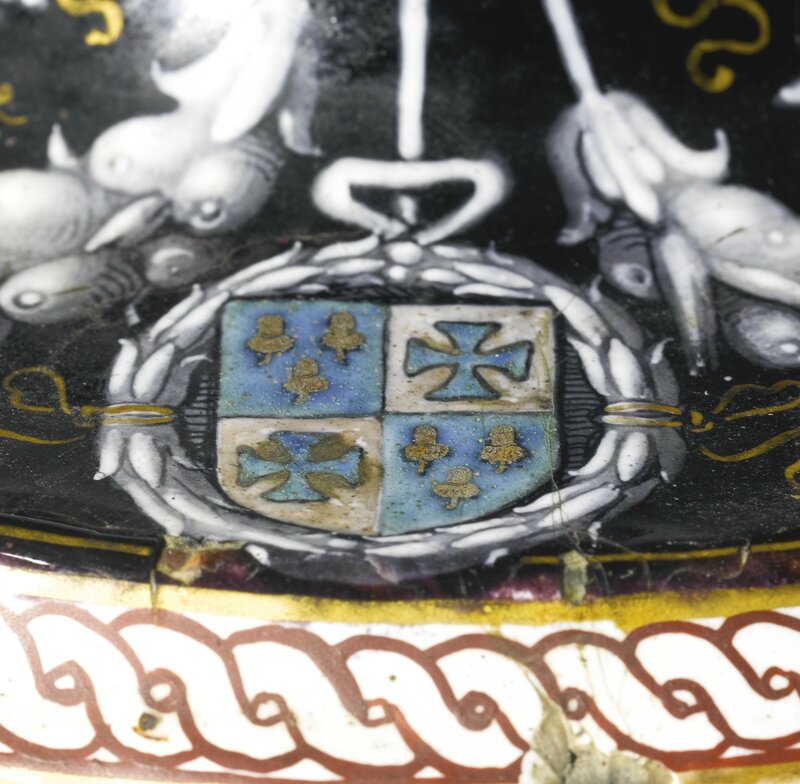 Attributed to Pierre Reymond (1513-1584), French, Limoges, dated 1558, Tazza. Photo Sotheby's.
inscribed with a Bible verse, Ecclesiastes 10:8, in Latin, QVI DIRVIT SEPM MORDEBIT EUM COLUBR ECCLESIAST. X (He who breaks through a hedge will be bitten by a snake). There is a fragmentary 19th century French label on the underside of the foot inscribed in ink ".]e de Mr de [Castel?]nau" followed by in indication of price "...2 sous."; signed with the initials PR, dated 1558; grisaille painted enameled copper. Estimation 8,000 — 12,000 USD
Provenance: The Estate of Mrs. Sidney Trowbridge Miller II, Grosse Pointe Farms, Michigan
Thence by descent
RELATED LITERATURE: Susan L. Caroselli, The Painted Enamels of Limoges: a catalogue of the collection of the Los Angeles County Museum of Art, Los Angeles, 1993
This tazza bears an unidentified coat of arms on the foot featuring two crosses pattée and two groups of three acorns, and was likely part of a commission for a larger group of tableware which was a specialty of Pierre Reymond. The same armorial device appears on two tazze, also by Reymond, illustrating verses from the Book of Proverbs in the collection of the Los Angeles County Museum of Art (op. cit. cat. nos. 9 and 10, pp. 92-97), and on a third tazze by the same hand illustrating Ecclesiastes 10:2 (see 'Als ic can', Masterpieces from the Middle Ages and Renaissance, Bernard Descheemaeker Works of Art, Antwerp, no. 5, January 2010, cat. no. 17, pp. 46 and 47). A dish by Reymond cited by Descheemaker as sold by the Crédit Muncipal de Paris, June 25, 1998, lot 197, also bears this device.
Sotheby's. Important Old Master Paintings and Sculpture. New York, 30 janv. 2014 - www.sothebys.com