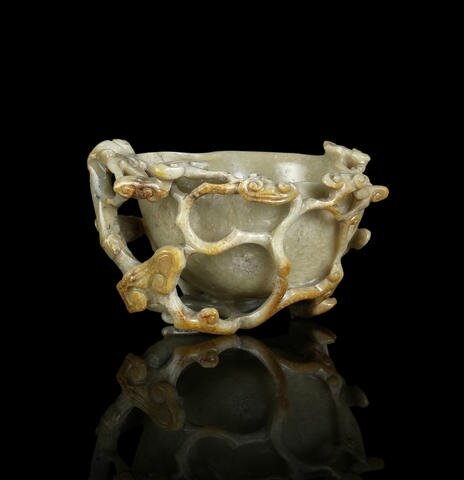 A green and russet jade 'lingzhi fungus' washer, 17th century. Photo Bonhams.
The green stone with some mottled inclusions and retaining areas of the russet skin, the stone carved as a broad opening floral cup surrounded by twisting reticulated branches of lingzhi fungus, wood stand. 15.5cm (6 1/8in) wide (2). Sold for £5,250 (€6,297)
Provenance: Hotel Drouot, Paris, 21 May 1974, lot 154
A European private collection, no.PD 642
The lingzhi fungus has been referred to as the mushroom of immortality and elixir of life. Therefore the lingzhi washer would have represented the wish for long life for the owner of the washer.
Bonhams. FINE CHINESE ART. London, New Bond Street. 7 Nov 2013 - www.bonhams.com