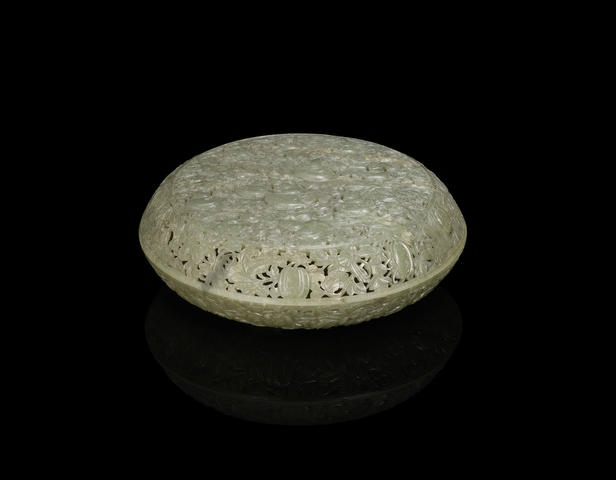 A large green jade reticulated 'gourd' box and cover, 18th-19th century. Photo courtesy Bonhams.
Of compressed circular form, the cover with a flat medallion intricately carved with nine double gourds encircled by dense leafy scrolls, all surrounded by melons amidst undulating foliage, alternating with butterflies, the box similarly decorated. 23.2cm (9in) diam. (2). Sold for £7,500 (€8,996)
Provenance: Palais Galliera, Paris, 2 December 1974, lot 39
A European private collection, no.OA 979.
Double gourds are highly symbolic: its many seeds represent fertility; the homonym for the design of a gourd growing on the vine means 'may you have many descendants' and the wish for continuity; it is associated with Li Tieguai, one of the Eight Immortals, helping people in need to bring them good fortune.
The present large jade box and cover is intricately carved, demonstrating the fine jade craftsmanship during the Qing period. Similar workmanship can be seen in a smaller 'peony design' green jade box and cover, Qing Dynasty from the Qing Court Collection, illustrated in The Complete Collection of Treasures of the Palace Museum - Jadeware II, Beijing, 2008, pl.248 and in a smaller 'lotus design' pale green jade box and cover, Qing Dynasty, illustrated by Zhang Wei, Jade Selections from Yuan, Ming and Qing Dynasties in the Tibet Museum, Beijing, 2005, pl.71.
Bonhams. FINE CHINESE ART. London, New Bond Street. 7 Nov 2013 - www.bonhams.com