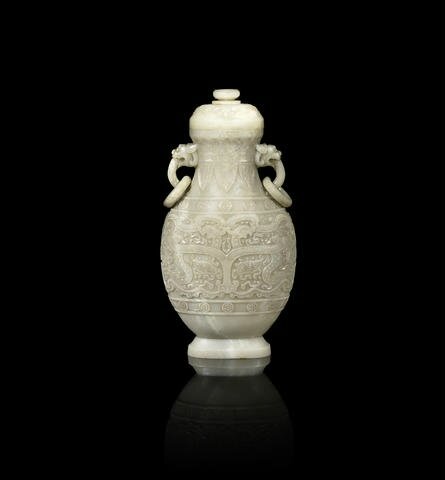 A rare and large archaistic pale green and grey jade archaistic vase and cover, Qianlong fang gu four-character mark and of the period. Photo courtesy Bonhams.
The heavy greyish stone shaped as a flattened baluster vase, carved on each side with a taotie mask beneath a pair of chilong dragon heads amidst archaistic scrolls, all between two bands containing C-scroll medallions, the neck with stiff pendent lappets and flanked by two mythical beast-head loose-ring handles, the cover with a band of linked ruyi heads beneath the stepped finial. 39cm (15 3/8in) high (2). Sold for £326,500 (€391,627)
Provenance: Hotel des Chevau-Légers, Versailles, 12th May 1974, lot 140
A European private collection, no. PD 638
The four-character Qianlong fanggu mark may be translated as 'in imitation of antiquity'. The superb carving skills in the present lot, together with the imitation of the archaic bronze form, is evidence of the Qianlong Emperor's fascination with archaic and ancient objects, at the same time reflecting the zenith of craftsmanship during the Qianlong period. Chang Li-tuan notes in The Refined Taste of the Emperor: Special Exhibition of Archaic and Pictorial Jades of the Ch'ing Court, National Palace Museum, Taipei, 1997, p.49 that the Qianlong Emperor proposed to 'restore ancient ways', suggesting that jade carvers turn to antiquity for models, enabling to imbue their designs with simplicity and honesty, achieving refinement and elegance. The 'ancient ways' referred to the intrinsic values of sincerity, simplicity, and happy exuberance.
The imperial collections in the Palace Museum, Beijing and the National Palace Museum, Taipei, include a number of related examples of jade vases imitating and inspired by archaic bronzes in form and design dated to the Qianlong reign: see Zheng Xinmiao, ed., Compendium of Collections in the Palace Museum - Jade, Qing Dynasty, vol.10, Beijing, 2010, pls.1,2,6,11-13, 20; and in Taipei, Chang Li-tuan, ibid., pl.14.
Bonhams. FINE CHINESE ART. London, New Bond Street. 7 Nov 2013 - www.bonhams.com