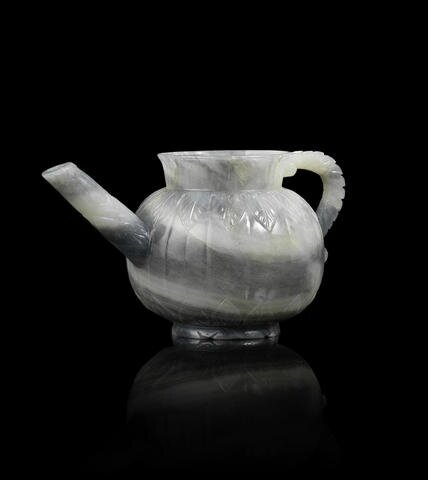 A fine and rare Mughal-style jade ewer, 17th-18th century. Photo courtesy Bonhams.
The thinly-worked globular body surmounted by a ribbed flaring neck resting on a spreading foot, set with a leaf-shaped loop handle and a long, slightly tapering spout, the exterior with evenly-spaced grooves and carved in low relief with borders of petals around the foot and shoulder, the base formed as a floral medallion encircling a star-shaped stamen, the finely-polished semi-translucent stone of striated grey tone. 16.5cm (6½in) long. Estimate £20,000 - 30,000 (€24,000 - 36,000). Unsold
Compare a similar jade ewer in the collection of the National Palace Museum, Taipei, illustrated in Exquisite Beauty - Islamic Jades, Taipei, 2007, pl.97.
Bonhams. FINE CHINESE ART. London, New Bond Street. 7 Nov 2013 - www.bonhams.com