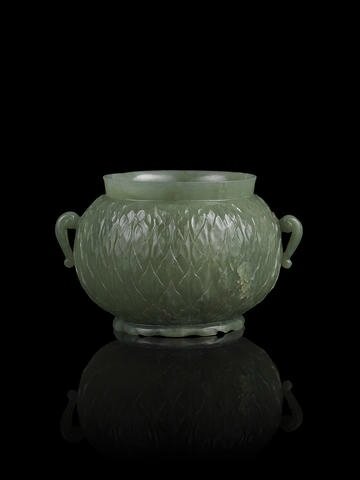 A fine Mughal-style green jade globular jar, 17th-18th century. Photo courtesy Bonhams.
The green stone very finely hollowed to give a soft translucency to the jarlet and delicately carved on the exterior with crisp overlapping petals above a row of stylised leaves at the base, the foot shaped as more petals, two small handles carved as simple scrolls, and an exceptionally crisp and elegant ten-pointed petal motif to the interior. 13cm (5 1/8in) wide. Sold for £12,500 (€14,993)
Provenance: an English Private Collection of Fine Jade Carvings
Spink & Son Ltd., London (label)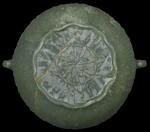 The Mughal style of jade carving is identifiable by the fineness of the vessel, allowing the light to shine through the translucent jade, and the frequent use of the petal and other naturalistic motifs. Such jade carvings (both those from the Mughal empire and others carved in China after this style) were highly treasured, as exemplified by the number and variety of examples extant in the Imperial collections in the National Palace Museum, Taipei and in the Palace Museum, Beijing.
Compare a similar green jade lidded globular jarlet, carved with a rose with overlapping petals, in the collection of the National Palace Museum, Taipei, illustrated in Exquisite Beauty - Islamic Jades, Taipei, 2007, pl.197. For a related example from the Qing Court Collection, attributed to the Qing Dynasty, see The Complete Collection of Treasures of the Palace Museum: Jadeware (III), Hong Kong, 1995, pl.237.
Bonhams. FINE CHINESE ART. London, New Bond Street. 7 Nov 2013 - www.bonhams.com