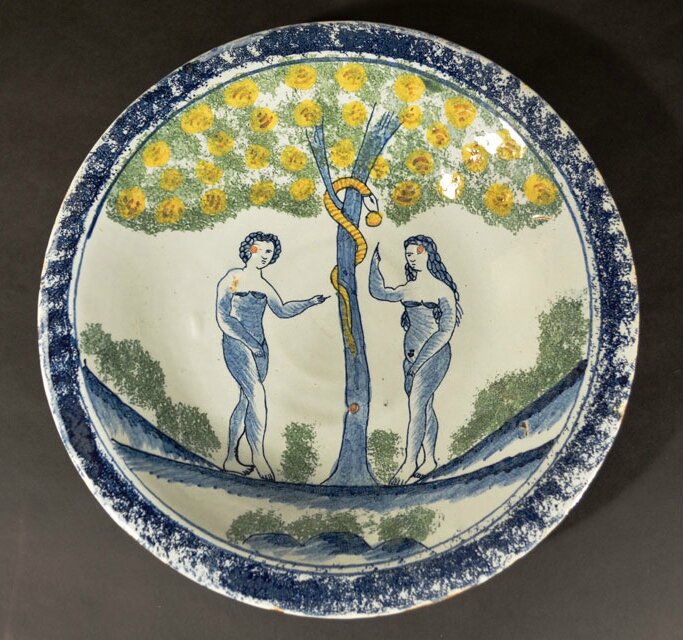 A Large English Delftware Adam & Eve Dish, Bristol, Circa 1700-20. Photo: Earle Vandekar of Knightsbridge.
NEW YORK, NY.- The fifteenth edition of New York Ceramics Fair promises not only a dazzling array of traditional and contemporary treasures to entice the eye, but also thought-provoking lectures, panel discussions with top interior designers, and an exhibition called The Bacchanalistas: Passions + Pleasures, curated by Leslie Ferrin, the contemporary ceramics specialist.
The Bacchanalistas: Passions + Pleasures, curated by Leslie Ferrin of Ferrin Contemporary, will present an overview of contemporary ceramics by living artists whose art draws inspiration from ceramic history. Themes of passion, eroticism, sexuality, abundance and excess of food and wine will be shown through figural sculpture, animated painted vessels and still life from the 16th century through today. To convey her theme, Ms. Ferrin invited the participating dealers at the New York Ceramics Fair to submit historic objects to juxtapose with the contemporary artists.
"Bacchanalia, the Roman festival of Bacchus, the Greco-Roman god of wine, freedom, intoxication and ecstasy were attended by a secret society and became legendary," says Ms. Ferrin. "Ancient ceramic objects were in use during these parties and then later created to commemorate such events. Today a generation of artists draw their inspiration from those objects and create their own for celebratory experiences. Decorative arts and fine art worlds collide with references to feast, sexuality and over the top pleasures. While not exactly a mystery cult, our contemporary art scene appears to some to operate today as the Bacchanalia did during Roman times, wild parties and excess in the name of pleasure and culture."
The fair has designated Friday as their Designer Day featuring Alexa Hampton, Kitty Hawks, and David Scott on a panel called Porcelain Perfect: How Top Decorators Accessorize with Ceramics in cooperation with the New York School of Interior Design, and moderated by Judith Gura, noted author and member NYSID. Mario Buatta, the highly acclaimed interior designer, will entertain his audience with If You Can't Hide It, Decorate It, followed by a book-signing of his best-seller "Mario Buatta: 50 Years of American Style and Decoration," published by Rizzoli.