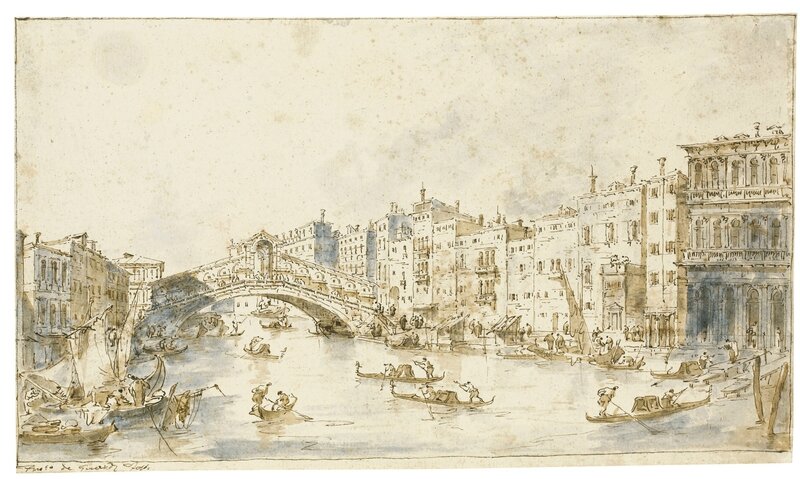 Francesco Guardi (Venice 1712 – 1793), View of the Grand Canal with the Rialto Bridge and the Riva Del Vin. Photo Sotheby's
Pen and brown ink and brown and gray wash within brown ink framing lines; signed in pen and brown ink, lower left: Fra.co de Guardi Fec.; 246 by 422 mm; 9 11/16 by 16 5/8 in. Estimation 150,000 — 200,000 USD
Provenance: Sale, Paris, Hotel Drouot, 10 June 1908, lot 59;
Sale, Paris, Hotel Drouot, 14 November 1919, lot 20;
Sale, Paris, Etude Tajan 3 April 1998, Lot 91;
with Colnaghi, London 1998;
with Richard Green, London 1999;
Private European collection.
This quintessential Venetian view by Francesco Guardi, showing the Ponte di Rialto and the Riva del Vin, is the only currently known drawing of this view signed by the artist. The composition is enclosed within freely drawn framing lines, in pen and ink, surely suggesting this finished sheet was intended to be a work of art in its own right. The subtle use of the pen and ink, skilfully defining the complex architectural setting, is embellished and enriched by the vibrant use of wash. The same view of the Grand Canal can be seen in a slightly smaller painting, on panel, in a private collection, Geneva (fig. 1). The present drawing shares with the above panel a similar staffage, see for instance the cargo vessels on the Riva del Vin to the left, with their highly decorative wide sails, the latter a wonderful touch to animate and contrast with the rest of the composition. Neither of the other two known drawings depicting the Rialto bridge from a similar viewpoint, one of which is in the Musée Départemental des Vosges and the other in the Musée du Petit Palais, Paris,1 is comparable in quality with the present sheet; indeed, Morassi suggested the intervention of Giacomo could be detected in the first, and described the second as 'piuttosto debole'.
When the present drawing first came to light in 1998, Dario Succi proposed a late dating of circa 1780.2
1. A. Morassi, Guardi Tutti i Disegni di Antonio, Francesco e Giacomo Guardi, Venice 1975, nos. 366 and 368, reproduced figs. 366, 367
2. Succi also noted, according to the 1998 sale catalogue, that the other versions in the Musée du Petit Palais, Paris, and the Musée Départemental des Vosges are, in his opinion, entirely the work of Giacomo Guardi.
Sotheby's. Old Master Drawings. New York | 29 janv. 2014 - www.sothebys.com