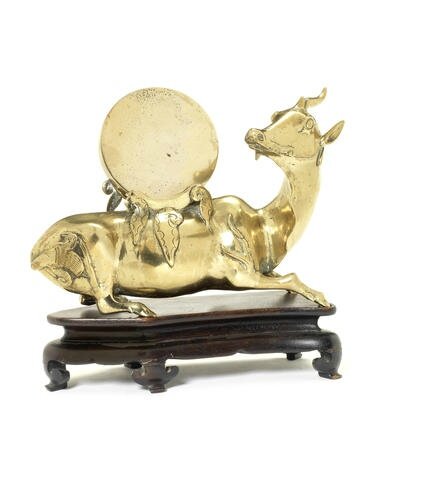 A gilded bronze mirror and stand, Qing Dynasty. Photo Bonhams.
Modelled as a recumbent deer, its back designed with a crescent moon shaped stand for the circular mirror with central boss, wood stand, 20cm long (3). Estimate £500 - 700 (€600 - 840)
For a similar design of mirror stand, see the parcel-gilt example in The Victoria and Albert Museum, dated to the Song or Yuan era (Salting Bequest. V.& A. No.M.737-1910.).
Bonhams. BRITISH & EUROPEAN CERAMICS, GLASS & ASIAN ART, INCLUDING THE TATTON HEWETSON COLLECTION PART II. Oxford. 29 Jan 2014 - www.bonhams.com