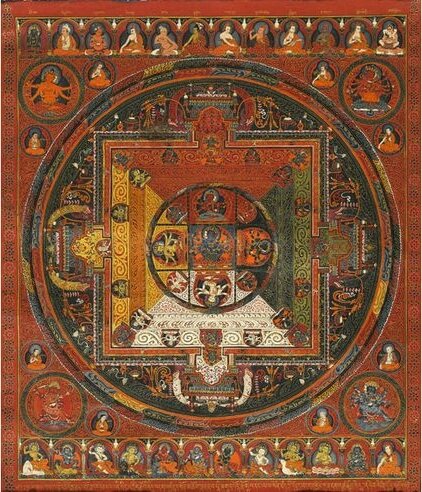 A thirty-two-deity Guhyasamaja Mandala. Tibet, circa 1520. Distemper on cloth. Image: 20 x 17½ in. Est. $400,000-600,000. Photo: Courtesy of Bonhams.
NEW YORK, NY.- Bonhams sale of Indian, Himalayan & Southeast Asian Art on March 17 will feature extraordinary Himalayan works of art from a Private American Collector. Presented during Asia Week in New York (March 14-22), the group's pinnacle is the stunning and near pristine Tibetan thirty-two-deity Guhyasamaja Mandala from the famed Ngor monastery painted between 1520-30 (est. $400,000-600,000). The painting, according to the inscription, was commissioned by Kunga Sonam (1485-1533), the 22nd Sakya Tridzin, in the fulfillment of the wishes and aspirations of Ngorchen Konchog Lhundrub (1497-1557), the 10th Ngor Khenchen, one the most influential masters of the Ngorpa tradition. Not seen in the market for over forty years, the mandala is expected to draw international attention.
From the same collection comes a sensuous casting of the extremely rare deity Yogambara, representing the high point of sculptural mastery achieved by the artisans of Nepal in the early Malla period of 13th century (est. $150,000-250,000). Imagined in almost human form, Yogambara and his consort Jnanadakini are in union while seated on a lotus platform. According to the legend, it is said that the divine couple manifested themselves in the form of Yaksha and Yakshani, and worship of this powerful pair is believed to reward devotees with great influence as well as material and spiritual wealth. One of only a small number of examples of the sculpture known to scholars, this jewel-like bronze is set to ignite strong competition.
Additional highlights from the collection include a grand 12th/13th century Western Tibetan figure of Padmapani, representing the local adaptation of the great Northeast Indian Pala style of casting (est. $300,000-500,000). Standing at an imposing 19½ in. (49.53cm) the supreme bodhisattva of compassion is elegantly rendered with abundant jewels, a dramatic crown and a serene face. Large scale standing figures of this period and school are especially rare.
"It is an honor to be entrusted with this important collection that is fresh to market and is almost entirely unknown to the scholarly world. The offering of these works will present collectors and institutions with the opportunity to vie for works of exceptional quality and rarity." Says Edward Wilkinson, Bonhams senior consultant and specialist for the sale.
He further notes, "Bonhams has made a firm commitment to the field of Indian, Himalayan Art and Southeast Asian Art and continues to capture an ever increasing market share. The most recent exceptional results achieved in our fall sale in New York show our team's depth of expertise and ability to reach a global audience of private collectors and institutions alike."
Bonhams will offer Indian, Himalayan & Southeast Asian Art on March 17 in New York. The sale will preview at Bonhams from March 14-17.