Blue and White dish painted with two seated figures of Persian, China, Transitional Period, 1640, diameter 32.5 cm. Photo courtesy Duchange & Riché.
Provenance: French Collection
Reference: The Percival David Foundation in the British Museum: "OrientalCeramics.The world's Great Collections – Vol 7 pl 194"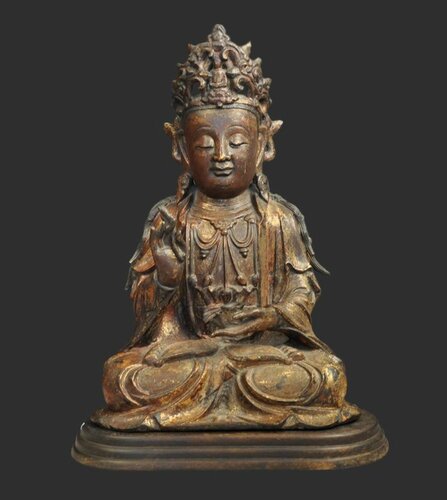 Gild-Bronze figure of Guanyin seated in Dhyanasana, China, Ming Period, XVI° XVII° century. Bronze. Height: 46 cm. Photo courtesy Duchange & Riché.
Provenance: Belgium Collection.
Anne Duchange and Philippe Riché's gallery at the heart of the Sablon gives pride of place to the 14th to 19th century Arts of China and Japan.

This is a family tradition which began in Paris in 1965, and which Anne and Philippe are now continuing in Brussels. Anne worked with her father for many years, and now shares her enthusiasm with her husband, Philippe, a member of the Oriental Ceramic Society.

On display are porcelains from Japan, China, and the East India Company, objets d'art of Canton enamel, cloisonné enamels, lacquer, jade, ivory and bamboo… The Ming and Tsing dynasties are particularly well represented by museum quality pieces, some of which have counterparts in the Musée des Pagodes at Laeken, or the Musée du Cinquantenaire.
Duchange & Riché. Arts de la Chine et du Japon. Rue Ernest Allard 45, B-1000-Brussels-Belgium. Tel: +322 512 42 18 - Mob: +32 479 833 703 - Email: info@aabru.com - Website: www.aabru.com. Art in Brussels. 4 to 8 June 2014