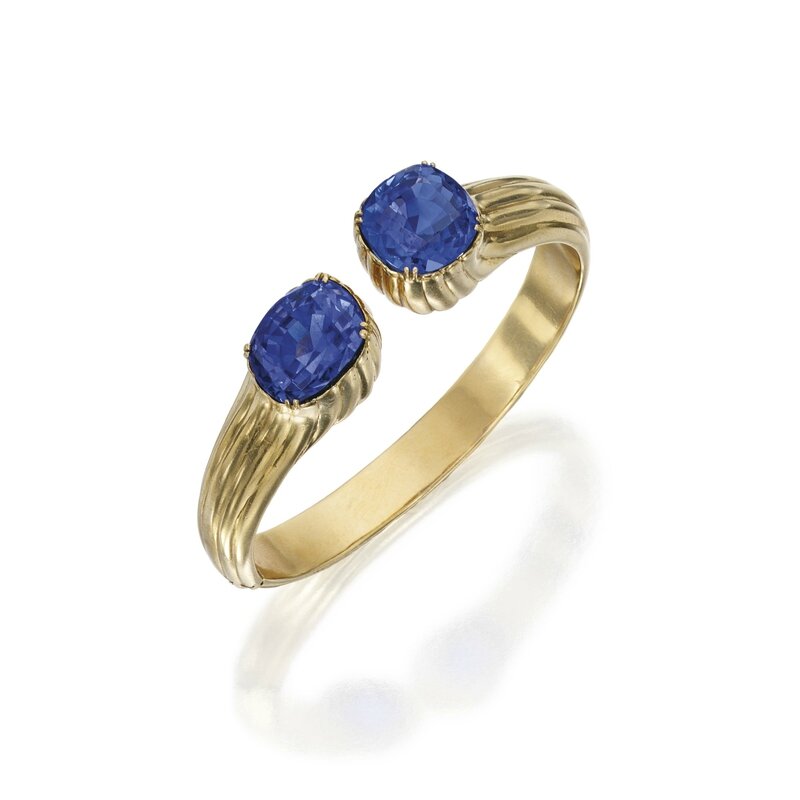 Gold and sapphire bangle-bracelet, France. Photo Sotheby's
The fluted gold bangle-bracelet set at the terminals with two cushion-cut sapphires weighing 18.65 and 12.92 carats, internal circumference 6¼ inches, with French assay and maker's marks. Estimate 50,000 — 70,000 USD
PROPERTY FROM THE ESTATE OF JEAN TENNYSON DREYFUS BOISSEVAIN
Accompanied by AGL report no. CS 57848 A and B stating that the sapphires are of Ceylon origin, with no indications of heating.
Jean Tennyson Dreyfus Boissevain performed as an opera singer under the name Jean Tennyson with several leading opera companies throughout Europe and America including La Scala in Milan, The Chicago Civic Opera and the San Francisco Opera Company in the 1930s. Later during World War II, she was a well-known radio personality, most notably on the CBS Radio Program 'Great Moments in Music.'
Born in Chicago in 1903, she married Camille Dreyfus, founder of Celanese Corporation of America. Upon his death, Jean served as the president of the Camille and Henry Dreyfus Foundation and went on to be a bold supporter of music education, veterans' causes and the Philharmonic Society of New York.
Sotheby's. Important Jewels. New York | 06 Feb 2014 - www.sothebys.com