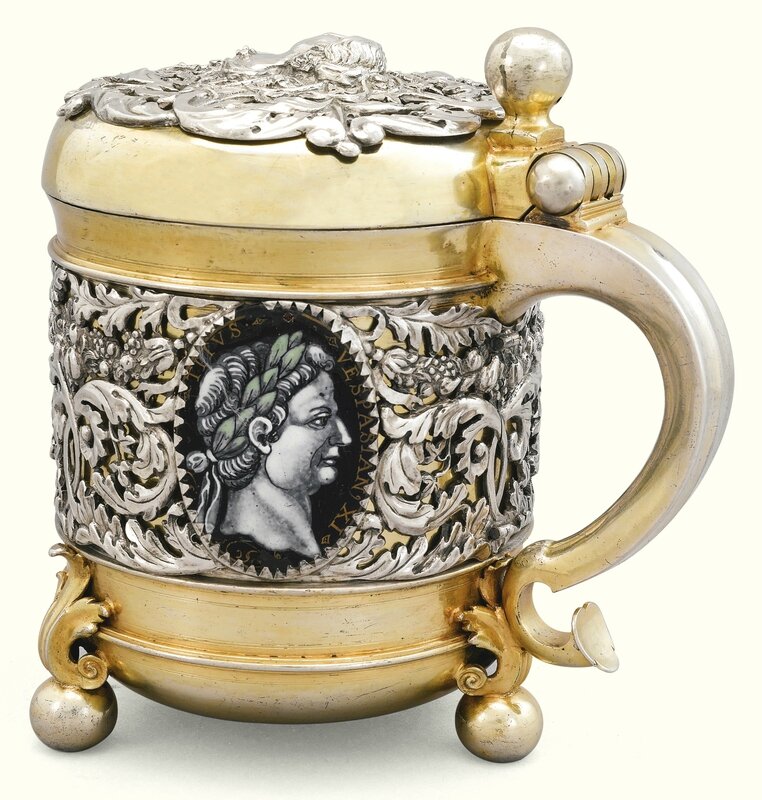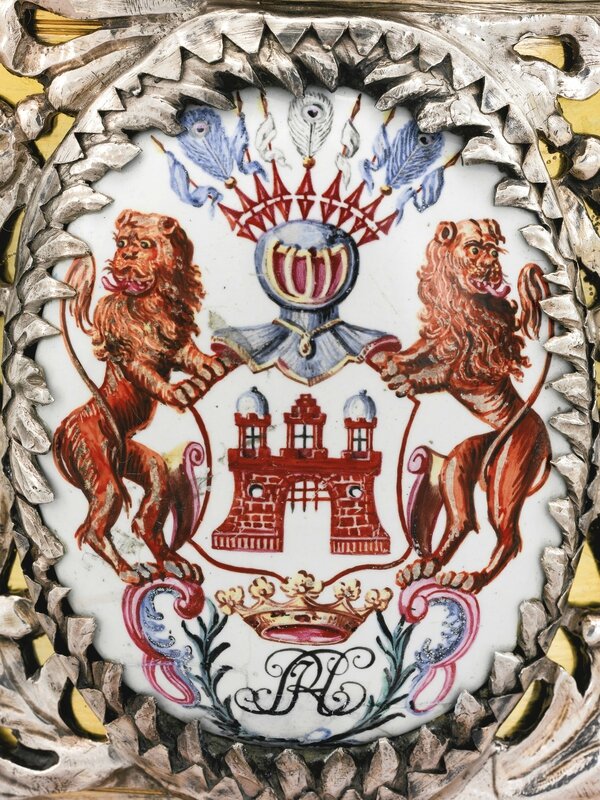 A German parcel-gilt silver peg tankard, Dieterich Thor Moye, Hamburg, 1617-35. Photo Sotheby's.
the body and cover fitted circa 1700 with pierced ornament incorporating Limoges enamel profiles of Roman emperors SER GALBA VII and TITUS VESPASIAN XI, centred by a further enamel with the arms of the Free Imperial city of Hamburg, under the cover applique engraved accollee armorials dated 1673, underside with scratchweight Vog 109 Lod; 21cm. high; 8¼in.; 1870 gr all in, 60oz 4dwt; Estimate 15,000 — 20,000 GBP
Literature: Erich Schliemann et al, Die Goldschmiede Hamburgs, Hamburg, 1985, vol II, no. 177 (2), illus. 248
Wolfgang Scheffler, Goldschmiede Niedersachsens, Berlin, 1965, p. 446
Marc Rosenberg, Der Goldschmiede Merkzeichen, Frankfurt a.M., 1923, no. 2405(b),
Note: The Limoges enamel emperors are from the workshop of Jacques I Laudin (1627-1695). For a complete set of 12 such profiles from the Laudin workshop see: Sothebys, European Sculpture and Works of Art, London, 9 July 2008, lot 102. Servius Galba was the first of four emperors, who ruled in Rome during one year, 69 A.D, culminating in Titus Vespasian (Vespasian) the 10th emperor. The Titus Vespasian (Titus) depicted on this tankard is the 11th emperor and son of the 10th. There is a great contrast between Galba and Titus. The former was assassinated, the latter deified by the Roman senate.
The engraved arms on the cover under the applique are those of Ratlow of Holstein with probably those of Reinick of Nassau and Hesse.
Sotheby's. Of Royal and Noble Descent. London | 23 Jan 2014 - www.sothebys.com