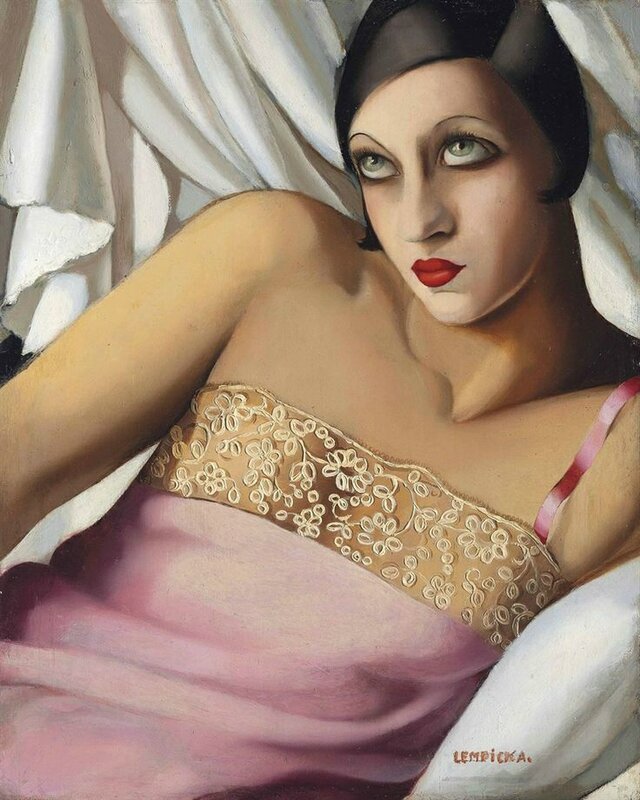 Tamara De Lempicka (1898-1980), La chemise rose II. Photo Christie's Image Ltd 2014
signed 'LEMPICKA' (lower right), oil on panel, 16¼ x 13 in. (41.3 x 33 cm.). Painted in 1928. Estimate £2,500,000 – £3,500,000 ($4,140,000 - $5,796,000)
Provenance: Pierre de Montaut, Paris, by whom acquired directly from the artist in 1975.
Acquired in 1987, and thence by descent to the present owner
PROPERTY FROM A PRIVATE EUROPEAN COLLECTION
Literature: T. de Lempicka, Annotated Photo Albums, Houston, 1923, no. 63.
Die Dame, Berlin, April 1929 (illustrated).
L. Chiarelli, 'Tamara de Lempiska', in La Donna, April 1930 (illustrated p. 36).
M. Vaux, Fonds Lempicka, Paris, 1972.
K. de Lempicka-Foxhall & C.L. Phillips, Passion by Design, the Arts and Times of Tamara de Lempicka, New York, 1987, p. 110 (illustrated).
E. Thormann, Tamara de Lempicka, Kunstkritik und Künstlerinnen in Paris, Berlin, 1993, no. 58 (illustrated p. 189).
A. Blondel, Tamara de Lempicka, Catalogue raisonné, 1921-1979, Lausanne, 1999, no. B.105, p. 183 (illustrated).
Exhibited: Tokyo, Seibu Gallery, Tamara de Lempicka, 1981.
Notes: Painted in 1928, La chemise rose II dates from the apogee of Tamara de Lempicka's career. Portraying a female model framed by the intimate drapes of a bed, the picture returns to a composition the artist had first explored in 1927. If La chemise rose I depicted a more overtly sensuous and aggressive model, La chemise rose II revisited the theme in more submissive terms. Directing her imploring, large green eyes to someone hovering above her, a woman seems to retreat with a combination of awe and candid seduction. In this regard, La chemise rose II offers a rare emotional counterpart to Lempicka's earlier work, illustrating the artist's talent for imbuing the seemingly impenetrable, monumental figures of her work with psychological depth.
The long straight nose and large green eyes of the model in La chemise rose II may identify her as Ira Perrot, one of Lempicka's closest friends and favourite models in the 1920s. Ira's portrait ranks indeed among the earliest paintings Lempicka ever executed (A. Blondel, Tamara de Lempicka, Catalogue raisonné 1921-1979, Lausanne, 1999, no. B.7) and when in 1922 the artist launched herself on the Parisian art scene, participating in the Salon d'Automne, she exhibited that very portrait. Throughout the 1920s, Ira played a central role in Lempicka's paintings, adopting various roles and poses: besides an official portrait (Portrait d'Ira P., Blondel B.143), Ira seems to have modelled for Sa tristesse (1923, Blondel B.30), Femme à la robe noire (1923, Blondel B.31) and La Musicienne (1929, Blondel B.117). Intimate and sensual, La chemise rose II appears to be a more personal depiction of the artist's close friend, an insight into their private world.
Although during the 1920s Ira had been a constant presence in the life of Lempicka, the two friends lost contact in the late 1930s. The artist's biographer Laura Claridge documented the depth and importance of their relationship nevertheless, hinting at the idea that Ira might at some point have been Lempicka's lover. Alexander Chodkieweitz, an acquaintance of the artist during the early 1920s, recalled how 'Tamara spoke almost worshipfully of Perrot's lithe figure and beautiful full breasts' (L. Claridge, Tamara de Lempicka: A Life of Deco and Decadence, New York, 1999, p. 121). According to Claridge, moreover, the artist's daughter Kizette 'has at times acknowledged that the two women were lovers, though she has sometimes insisted "they were best friends, nothing more"'. Claridge continues: 'But no friend or family member, including Kizette, appears as often in Tamara's paintings as Ira does. After Tadeusz [Lempicka's first husband], Ira Perrot was possibly the major romantic attachment of Tamara's life. The depression that Tamara battled episodically over the next years, and which nearly bankrupted her emotionally by 1935, was surely aggravated by the loss of Ira during the same period that Tadeusz departed' (ibid., p. 174).
In 1928 – the same year in which Lempicka painted La chemise rose II – the artist took the decision to divorce her husband Tadeusz, even though his portrait, on which she was working, was not yet finished. Her career, however, was at its peak: the year before, Lempicka had met Docteur Boucard and in no time she was commissioned to paint a series of portraits depicting his entire family. Soon afterwards, Lempicka would move into a fashionable flat in rue Méchain, designed by the architect Robert Mallet-Stevens. There, in a space fashionably and attentively decorated by her sister, Adrienne Gorska, Lempicka would organise her own exhibitions, attracting Paris's socialites and cultivating a persona of flamboyant glamour and eccentric charm. La chemise rose II, with its stylised vision of its subject, appears to prefigure the glamour and aesthetic of that period.
Christie's. IMPRESSIONIST/MODERN EVENING SALE. 4 February 2014. London, King Street - www.christies.com