An Antique English Victorian Moonstone and Diamond Brooch. Circa 1890. Photo courtesy S.J. Shrubsole.
Silver over 15K gold, formed by two moonstone hearts, each in a rose cut diamond surround and surmounted by a bow set with rose cut and Old European cut diamonds, with original box.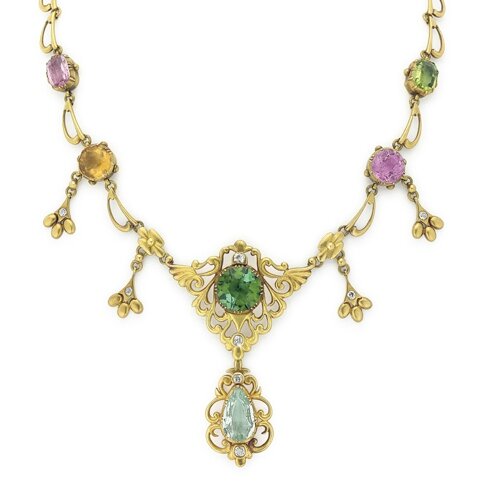 An Antique English Victorian Colored Stone Necklace by Giuliano, London, circa 1900. Photo courtesy S.J. Shrubsole.
Of openwork 18k gold, set with round, cushion-shaped and pear-shaped tourmalines, aquamarines, pink topazes and citrines as well as with old-mine cut diamonds, the front supporting gold pendants simulating pearl drops, signed "C& A.G".
Provenance: Messrs Hancocks
Philip Riley Esq.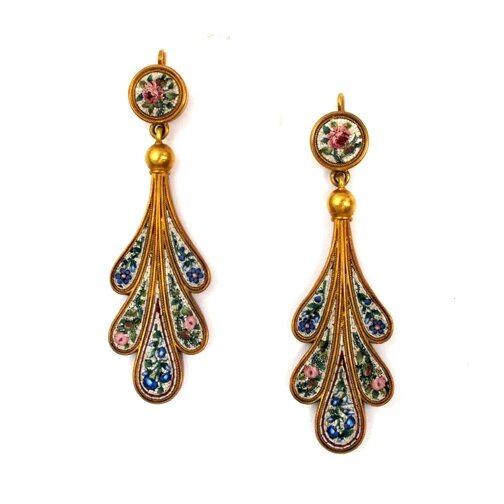 A Pair of Antique Micromosaic Earrings, Circa 1865. Photo courtesy S.J. Shrubsole.
Each of 18k yellow gold, the leaf-shaped drop and circular surmount set with floral micromosaic on a white ground, shepherd's hook ear wires, marked with illegible maker's mark and 18k.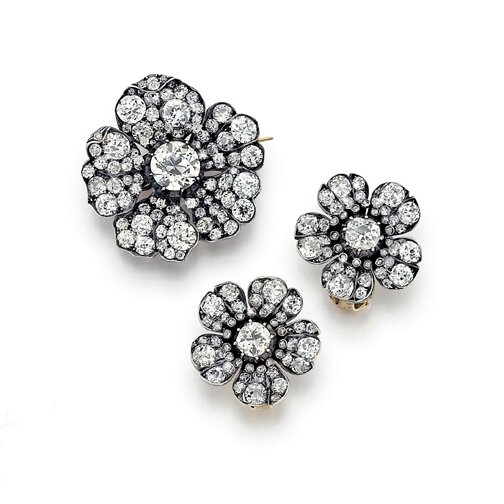 A Rare and Fine Suite of Victorian Diamond Jewelry, Circa 1870. Photo courtesy S.J. Shrubsole.
Consisting of a pair of earrings and a brooch, each of flower design, the mount silver over 15K yellow gold, set with Old European, antique cushion and rose cut diamonds (187 diamonds approximately 17ct total weight), with removable backing on brooch and later clip backs on earrings.
The center stone in the brooch is approximately 2.65ct.
A Superb Antique Italian Etruscan Revival Bracelet, Circa 1875. Photo courtesy S.J. Shrubsole.
18K gold, the wide band framing applied grapevines and tendrils on the front and applied Gothic style wirework on the back, the two halves linked with cylindrical posts with shaped finials, marked twice at the hinge.
Available at S.J. Shrubsole. 60th Annual Winter Antiques Show. Park Avenue Armory. New York. January 24-February 2, 2014