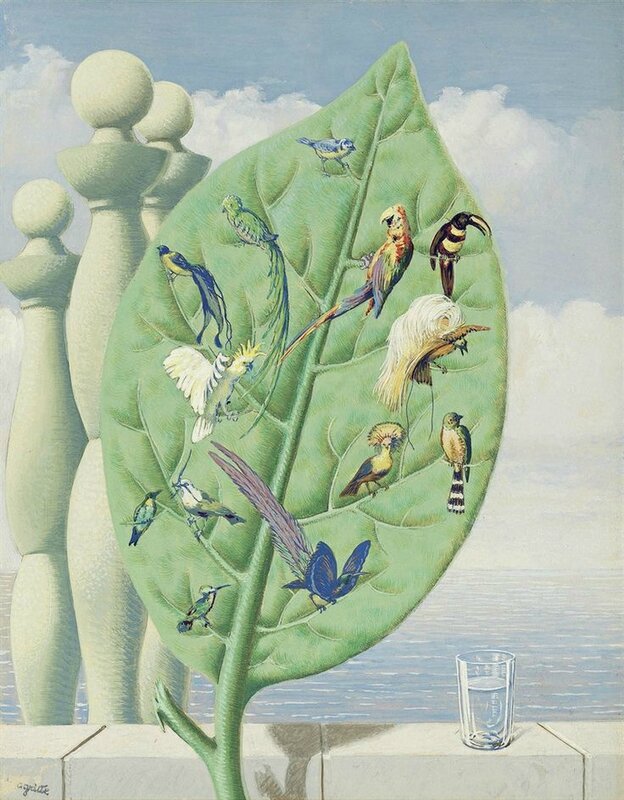 René Magritte (1898-1967), Le regard intérieur (The inner gaze). Photo Christie's Image Ltd 2014
indistinctly signed 'Magritte' (lower left); signed 'René Magritte' and titled (on the reverse); gouache on paper, 18 x 14 in. (45.8 x 35.6 cm.). Executed in 1949. Estimate £500,000 – £700,000 ($831,000 - $1,163,400)
Provenance: Mr P. Demaerel and Mrs M.L. Demaerel, Belgium; their Estate Sale, Sotheby's, London, 27 June 1995, lot 36.
Acquired at the above sale by Mrs T. S. Eliot.
PROPERTY FROM THE COLLECTION OF THE LATE MRS. T.S. ELIOT
Literature: Letter from Magritte to Iolas, 24 October 1949.
Letter from Iolas to Magritte, 12 December 1949.
Letter from Iolas to Magritte, 16 December 1949.
H. Torczyner, Magritte, Ideas and Images, New York, 1977, no. 333, p. 269 (illustrated p. 162; titled "La grande feuille aux oiseaux" and dated circa 1948).
D. Sylvester, ed., S. Whitfield & M. Raeburn, René Magritte: Catalogue raisonné, vol. IV, Gouaches, Temperas, Watercolours and Papiers Collés, 1918-1967, London, 1994, no. 1305, p. 127 (illustrated).
Exhibited: New York, Brooklyn Museum, International Water Colour Exhibition: Fifteenth Biennal, May - June 1949, possibly no. 26c (titled "The Inner Eye").
Notes: In Le regard intérieur, a host of exotic birds sit perched in a plant - only this plant, instead of being a tree, is one of René Magritte's iconic tree-leafs. These had emerged in his paintings in 1935, first making their appearance in La géante, and had subsequently been a recurring motif, often going through variations and juxtapositions that gave this poetic invention new energy. Here, the tree-leaf's impossibility is made vivid by the addition of this aviary, which appears to tap into the legacy of Flemish and Netherlandish paintings by Old Masters such as Frans Snyders, bringing to the fore Magritte's irreverent attitude towards the revered artists of the past. Not only do the birds add flashes of rich colour to the composition, but they also serve to illustrate the paradoxical 'depth' of the picture: the birds are arranged on 'branches' which are in fact the veins of this giant, essentially flat, leaf. Thus, in Le regard intérieur, Magritte has managed to play with the entire nature of painting, disrupting the perspective of the picture by presenting the 'tree' as a flat surface upon which the birds are sitting. Considering this deceptively complex play of perspective, it seems only too appropriate that an earlier exploration of the birds on a tree-leaf was entitled La troisième dimension. That work was lent from the Theo Wormland collection to the Staatsgalerie moderner Kunst, Munich, which since became a bequest.
Another related picture from 1948, only a year before Le regard intérieur was created, was given the title Le rendez-vous, perhaps reflecting the addition of stormy sea in the background. Where La troisième dimension had featured the leaf shown almost in silhouette against a background of pure sky, leaving it effectively without context, in Le regard intérieur, there is a wall leading to the sea; meanwhile, monumental bilboquets are standing in a huddle to the left of the composition. Upon the wall is a glass of still water, a continuation of the fluid theme of the sea, adding to the interplays and resonances that vibrate throughout this picture, enhancing its discreet lyricism.
Magritte's vision depended on unusual and unexpected associations that brought about a deeper understanding of the mysteries of our own existence. La géante had been one of the first works in which Magritte had begun to explore his 'elective affinities'. In his earlier works, prompted by the epiphany he had experienced when he had seen Giorgio de Chirico's masterpiece Le chant d'amour, Magritte had presented mysterious juxtapositions of unlikely objects or impossible landscapes. Suddenly, inspired in part by a vision in which he saw the bird in a cage in a room in which he stayed replaced by an egg, he understood that it was by exploring the relationships between the elements of our universe that he could tap into their inherent mystery. So it was that the tree-leaf had come into existence, a solution to the 'problem' of the tree. In Le regard intérieur, he has added a new dimension to that 'problem', by showing the impossibly exotic range of birds roosting upon a giant leaf. Meanwhile, he has also added another 'elective affinity' between the water in the glass and in the sea. While there is nothing 'impossible' about the juxtaposition of these two items, Magritte has nonetheless managed to present them in such a way that they become all the more expressive of the mystery of the world. In this way, he is stripping away all the assumptions about our surroundings that we are too apt to make, encouraging us to view our universe afresh.
For Magritte, perhaps because trees so often serve as a natural habitat for birds, the association between flora and avian fauna was one that he explored in a number of ways. Indeed, as well as showing birds perching impossibly within giant leaves, he also create a chimeric hybrid, the 'Leaf/Bird', as opposed to the 'Bird/Leaf' of Le regard intérieur. In those images, for instance L'île au trésor of 1942, it was the capacity of flight for the birds that Magritte disrupted, rooting them to the ground and changing their feathers for leaves.
The year after Magritte had painted Le regard intérieur, his friend, the poet Louis Scutenaire had written a commentary upon Le rendez-vous which equally applies to this picture: 'To make sure of killing them in the hunt, man would shoot showers of arrows into the animals he painted on the walls of caves. Today, he restores life to the leaf by showering it with birds' (Scutenaire, quoted in D. Sylvester (ed.), S. Whitfield & M. Raeburn, René Magritte Catalogue Raisonné, vol. II, London, 1993). This commentary appears to play with both the notion of the three-dimensionality of the motif and also with the sheer vivacity embodied in the firework-like display of colours of the exotic birds in Le regard intérieur.