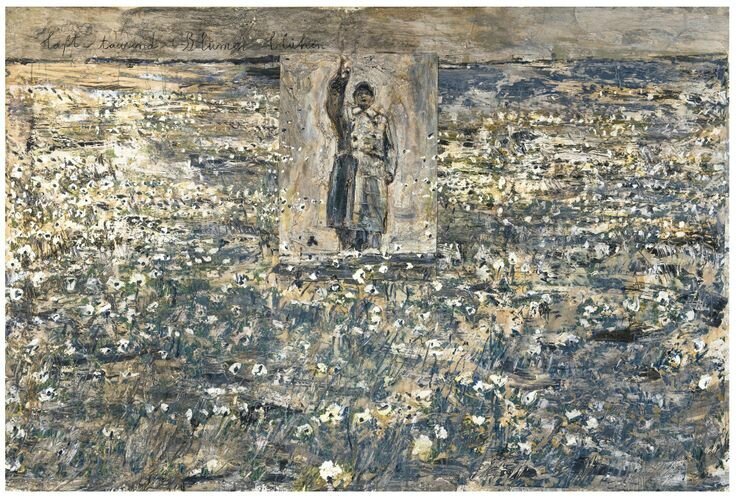 Anselm Kiefer (B.1945), Lasst tausend blumen blühen. Photo Sotheby's
titled; signed on the reverse, mixed media on canvas, 190 by 280cm.; 74 3/4 by 110 1/4 in. Executed in 1998. Estimation 600,000 — 800,000 GBP
Provenance: Anthony d'Offay Gallery, London
James Cohan Gallery, New York
Acquired directly from the above by the present owner
Executed in 1998, Laßt Tausend Blumen Blühen delivers a monumentally solemn manifestation of Anselm Kiefer's powerful trans-historical dialectic. Belonging to the body of work inspired by the artist's travels in China during 1993, the present panoramic painting confronts the tyrannical legacy of China's communist regime within a wider mythological allusion to Pagan folklore and the Romantic dualism of eternity and transience. Echoing the artist's intrepid scrutiny of Germany's Nazi heritage – and thematically reprising the subversive early body of work, the Occupations– Kiefer turns his critical attention to Mao Zedong and the Cultural Revolution. Crowning the composition and hovering like a deific icon distinct from the surrounding expanse, the imposing figure of Mao Zedong dressed in a long heavy coat presides over a confettied landscape of flowers, simultaneously in bloom yet stark, overgrown, and moribund. Based on photographs Kiefer took of the colossal propagandist statues that populate the Chinese capital, the Communist leader appears middle-aged and benevolent, arm raised in an ambiguous gesture, the symbolic value of which lies ambiguously between magnanimous wave and Fascist salute. Very closely aligned to further works from this corpus housed in The Metropolitan Museum of Art, New York, and the Tate Collection, London, this work calls upon the austere iconography of Mao's emblematic visage with specific allusion to the infamous period within the People's Republic of China, known as the Hundred Flowers Movement.
In 1956 Chairman Mao famously proclaimed: "The policy of letting a hundred flowers bloom and a hundred schools of thought contend is designed to promote the flourishing of the arts and the progress of science". This liberal dogma was disingenuous and short lived: though encouraging freedom of expression and a healthy culture of outspoken dissent and grievance, Mao's ostensible tolerance was a covert ploy to entice "the snakes out of their caves". By 1957, the intellectuals that dared take his word literally and speak out against his regime were promptly incarcerated and sent to work in labour camps. Kiefer's motives are far from didactic or morally proscriptive. Mao is an antinomous figure, at the turn of the century his icon is overrun by a landscape grown wild in Kiefer's painting. Regarding these works, Thomas McEvilley writes: "As the age grows old, Mao grows stale, the icon grows more and more ambiguous, the future more and more murky" (Thomas McEvilley, 'Let a Thousand Flowers Bloom' in: Exhibition Catalogue, London, Anthony d'Offay Gallery, Anselm Kiefer: Let a Thousand Flowers Bloom, 2000, p. 18). Painted almost half a century after Mao's despotic first decade – one of the worst tyrannies in twentieth-century world history – this painting confers the waning of a revolution and the stymied culture it tyrannically engendered. The false promise of 'letting a hundred flowers bloom' is amplified by Kiefer to the count of a thousand, an intervention that furnishes a wider interrogation of recent history within a deeper pantheistic and rhizomatic-global dialectic.
This particular icon of Mao recalls Kiefer's breakthrough 1969 Occupations, a body of work that directly confronted a national sense of inherited cultural trauma. In this series Kiefer was photographed in military regalia positioned in front of various European landmarks and locations subversively re-enacting the notorious Fascist salute. Though echoing Kiefer's bold artistic statement and its infamous gesture, the present work and the series to which it belongs is less imprisoned by the need to work through a kind cultural penance. Rather, detached from a sense of native immediacy, Kiefer utilises the symbolic value of Mao as a vehicle through which East meets West and myriad strands of mythological, cultural and historical dialogues are interwoven. Meaning is thus more fluid and all at once Kiefer overlays Ancient Greek myth, Romantic concepts of heaven and earth, and Rosicrucian mysticism onto Mao's displaced and free-floating iconicity.
Mao's icon is de-contextualised: presented here within a planar flowering field, Kiefer recalls the flower-maidens of Ancient Greece and the myth of Persephone, who was snatched away from her flower gathering by Hades and dragged to the underworld; the symbol of the mystical rose whose cosmic totality is central to the Rosicrucian order; and the duality of beauty and decay at the core of vanitas symbolism. Furthermore, articulated in a ragged painterly manner Kiefer strikes an accord with Van Gogh's psychologically charged landscapes in their deeply furrowed and impastoed rural depiction of Arles. Herein, Kiefer, to cite McEvilley, "has incorporated [Mao] into a different more complicated spirituality that contains elements Mao himself probably would not have approved of" (Ibid., p. 20). Within the myriad strands of interconnection that constitute the present work, Kiefer embroils the viewer in a complex matrix of signifiers alchemically and morally balanced between good and evil. Beyond the sardonic parody of Warhol's congruous scrutiny of Mao's iconicity from 1972, Kiefer's body of work operates on a heightened spiritual level. By esoterically dissolving historical and cultural boundaries and hinting at the linkages between the deepest reaches of myth and the most sensitive and recent of collective traumas, Kiefer's Laßt Tausend Blumen Blühen is an atemporal and dreamlike universal response to sacrifice, suffering and loss. Broadcasting a unique conflation of China's brutal communist regime overlaid by a host of archaic referents, the present work implores the viewer to deconstruct and unravel a complex yet gloriously poetic painterly topography.
Sotheby's. Contemporary Art Evening Auction. London | 12 févr. 2014 - www.sothebys.com