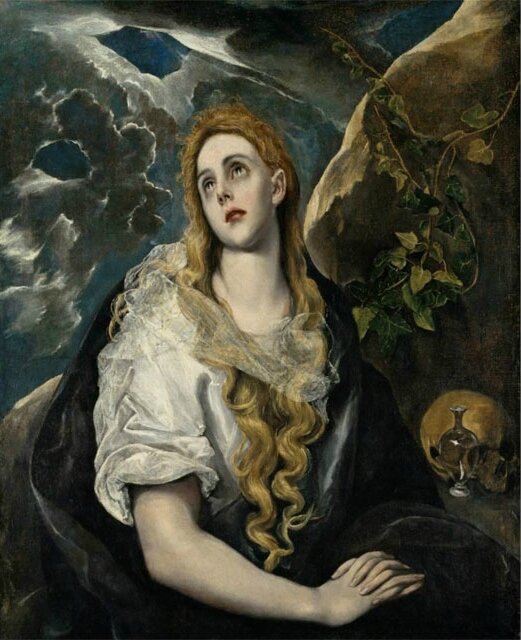 Domenikos Theotokopoulos, called El Greco. Spanish, 1541–1614. The Penitent Magdalene, ca. 1580–1585. Oil on canvas. Purchase: Nelson Trust, 30-35.
KANSAS CITY, MO.- Bank of America has announced that it will provide funding, through its global Art Conservation Project, to conserve The Penitent Magdalene, which is among the artist El Greco's most precious works, at The Nelson-Atkins Museum of Art in Kansas City. This conservation work is one of 25 projects in 17 countries around the world that was selected for grant funding in 2013. The program has funded conservation at Musée d'Orsay in Paris, the Guggenheim in New York, the Tokyo National Museum, and the Johannesburg Art Gallery. The painting was last restored in 1949.
"We are delighted to be able to restore this important painting with the generous support of the Bank of America Art Conservation Project grant," said Julián Zugazagoitia, Director & CEO of the Nelson-Atkins. "This funding makes it possible for future generations to learn from and enjoy this El Greco masterpiece, and also allow it to travel to Toledo, Spain in 2014, when the 400th anniversary of El Greco's death will be celebrated."
After careful examination of the painting and the study of comparable paintings by El Greco, the conservation work was begun in Spring 2013 by Scott Heffley, Senior Conservator, Paintings, at the Nelson-Atkins.
"The Penitent Magdalene needed some careful attention and repair, with lots of over-paint covering damages that occurred to the painting perhaps hundreds of years ago," said Heffley. "I've been able to remove various campaigns of past restoration work down and am now down to the remaining original painting. Much of this cleaning involved the carefully scratching off of old restoration using a microscope and a scalpel. I will soon begin the process of rebuilding the damaged parts so that El Greco's original intent can resurface."
That process is expected to take months.
"As art conservation consumes ever greater portions of tightened museum budgets, the need for private arts funding has become even more critical," said Jack Ovel, Kansas City Market President, Bank of America. "We are honored to support the Nelson-Atkins and help preserve The Penitent Magdalene."
Including this year's recipients, the Bank of America Art Conservation Project will have funded the conservation of more than 58 projects in 26 countries. The program was introduced in 2010 in Europe, the Middle East and Africa and expanded to the Americas, Asia and Australia in 2012. All of these global regions will continue to receive grant funding in 2013.
"Art has a unique ability to connect people and communities and to help economies thrive," said Rena DeSisto, Global Arts and Culture Executive at Bank of America. "The works of art we have selected as part of the 2013 Art Conservation Project can provide a lasting reflection of people and history. As a company with clients in over 100 countries, we are funding the preservation of these important works to contribute to the cultural enrichment and advancement of future generations."
Bank of America's support for the arts is diverse and global, and includes loans of art to museums at no cost, sponsorships, grants to arts organizations for arts education, and the preservation of cultural treasures.