Johannes Vermeer, La ragazza con l'orecchino di perla, circa 1665
BOLOGNA (AFP).- Dutch Master Johannes Vermeer's "Girl with a Pearl Earring" is going on show in the city of Bologna in Italy next month but the arrival of the celebrated painting of a young beauty is already causing a stir.
"There is an incredible fever surrounding this painting," the director of the exhibition, Marco Goldin, told AFP-TV at a press presentation.
"Clearly we are expecting a big success. In just a few weeks we have already sold 100,000 tickets," he said -- for an exhibition opening on February 8.
The masterpiece is considered one of the most famous paintings in the world along with Leonardo da Vinci's "Mona Lisa" and Edvard Munch's "The Scream".
The show on the Golden Age of Dutch painting at Palazzo Fava in Bologna is being organised together with the Mauritshuis museum in the Hague and runs until May 25. Mauritshuis, which is under restoration, is also loaning Vermeer's "Diana and Her Companions" and works by Rembrandt, Frans Hals, Ter Borch and Claesz.
"Girl with a Pearl Earring" is finishing up a world tour after being taken to Japan in 2012 and the United States in 2013. Bologna will be its only stop in Europe, before it is returned to the Mauritshuis.
"This is the first time it comes to Italy," Goldin said.
He explained that thanks to his relationship with Mauritshuis he had "managed to capture the painting against competition from many other museums".
The painting's fame has grown in recent years after it inspired a book and a film starring Scarlett Johansson. Goldin warned it should not be seen as a "pop icon" but as "a sublime representation of beauty in art". © 1994-2014 Agence France-Presse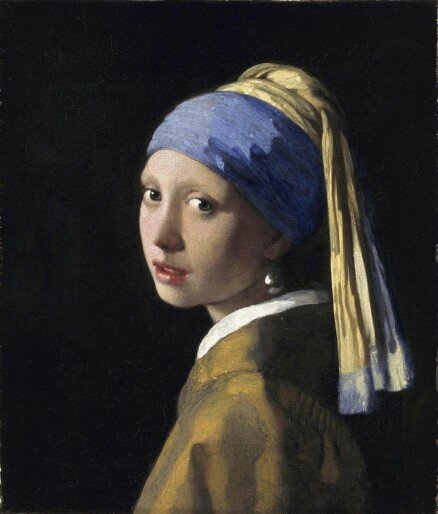 Johannes Vermeer, La ragazza con l'orecchino di perla, circa 1665.
Girl with a Pearl Earring. Few titles conjure up such a sense of something immediately recognizable, of a familiar face, of a supreme, enigmatic beauty. The instant reference for everyone is to an image. The bestselling novel and movie have brought even greater worldwide renown. Together with the Mona Lisa and The Scream, it is now one of the best-known and most loved paintings in the world. With these works there is not even any need to mention the artist, because the title already acknowledges their names and ineffable fascination. Housed in one of the most refined galleries in the world, the Mauritshuis in The Hague, Vermeer's painting attracts huge numbers of beauty lovers to the Dutch city. They all have only one idea in mind – go and meet the Girl with a Pearl Earring.
Just like the Mona Lisa in Paris, or The Scream in Oslo. All three are symbols and emblems even before they are masterpieces – worlds of beauty and secret fascination. It's as if the image comes out of the work and take the form of an emblem even before being seen as a painting. This only happens to what lives eternally.
For a couple of years the Mauritshuis – a treasure trove of a superb masterpieces by artists from Vermeer to Rembrandt – has been closed for major restoration and extension work. It is due to reopen in early summer 2014. The extraordinary new wing will combine an intense attachment to the past with a vision of the future.
For this long period of closure the museum management decided to move part of the collection to the Gemeentemuseum, also in The Hague, so that visitors who came from all over the world did not lose the habit of traveling on to there from Amsterdam. But in an unprecedented move, a large group of stunning works from the collection has gone on tour round the world. And the group includes the Girl with a Pearl Earring.
Five highly select venues, two in Japan and three in the United States, have hosted, are hosting or will host this remarkable exhibition. The content of the exhibition actually varies from venue to venue with the total works on show ranging from fifteen to thirty. Thus, after Tokyo and Kobe in 2012, the timeless face of Vermeer's masterpiece will be seen in 2013 in San Francisco (Fine Arts Museum), Atlanta (High Museum of Art) and lastly another legendary gallery – almost a mirror image of the Mauritshuis – the Frick Collection, just a few blocks away from the Metropolitan on Fifth Avenue in New York. In all these locations, people have been flooding into the galleries to enjoy the unique, enthralling experience of seeing firsthand the Girl with a Pearl Earring.
Before going home to the Netherlands for good and never again moving from the Mauritshuis, the possibility arose that the painting could be seen in one last venue after New York. This time in Europe. On the grounds of a reputation for reliable collaboration and trustworthiness that I myself personally and Linea d'ombra have enjoyed in our dealings with all the Dutch museums for at least a decade, the Mauritshuis management offered us the unique opportunity in Europe to stage the exhibition featuring the Girl with a Pearl Earring. We had already discussed the possibility some time back, when the world tour was being prepared, but nothing had come of it. Then, starting in December 2012, we engaged in intense, complex talks for two months. Moving this kind of masterpiece, an icon for whole of the history of art, is obviously far from easy and not something you do every day. Indeed it's a once in a lifetime occurrence. Now and never again.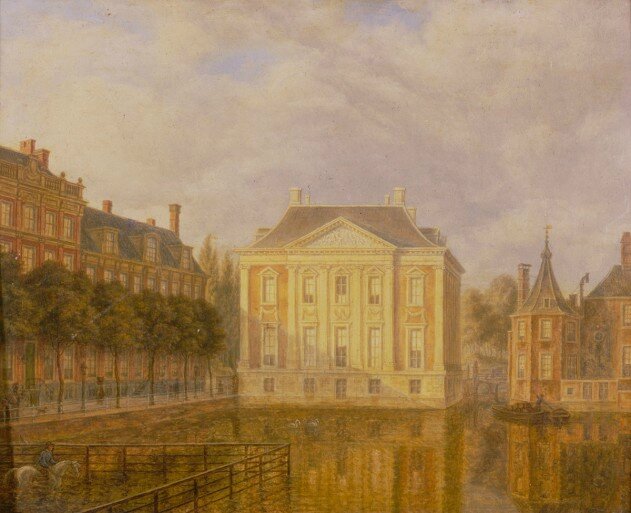 Augustus Wijnantz, Veduta del Mauritshuis, 1830 (?)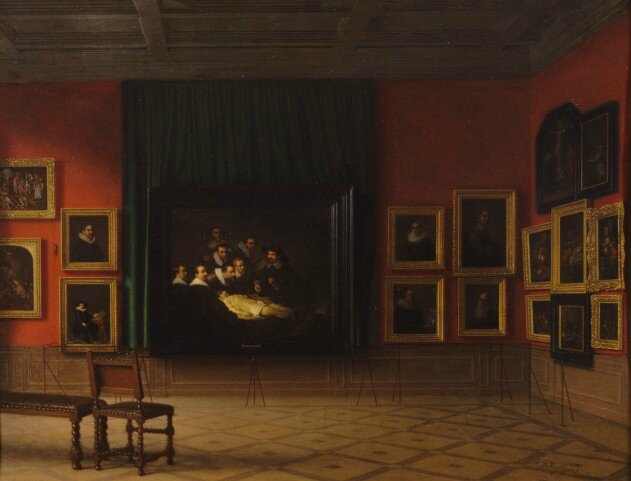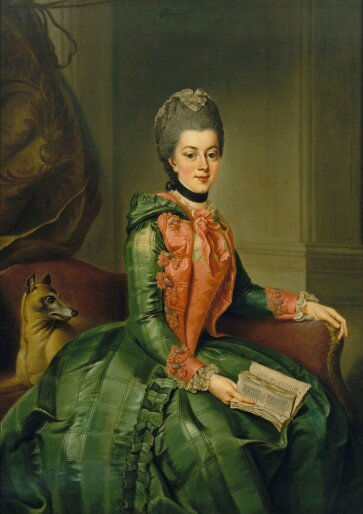 Johann Georg Ziesenis, Ritratto della principessa Federica Sofia Guglielmina (1751-1820), circa 1768-1769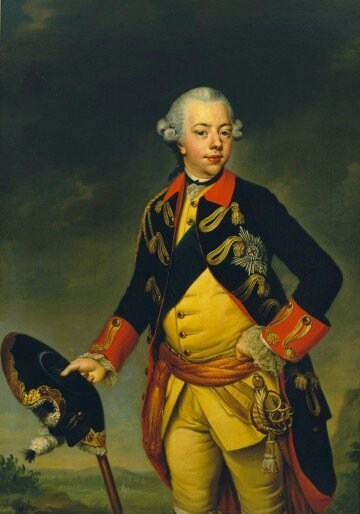 Johann Georg Ziesenis, Ritratto dello stadholder Guglielmo V (1748- 1806), circa 1768-1769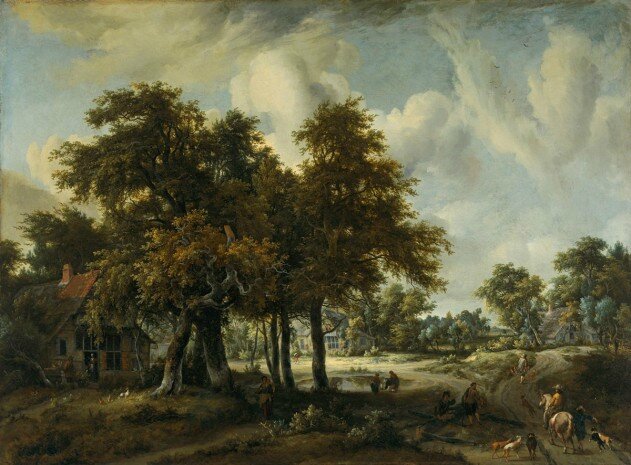 Meindert Hobbema, Paesaggio boschivo con casolari, circa 1665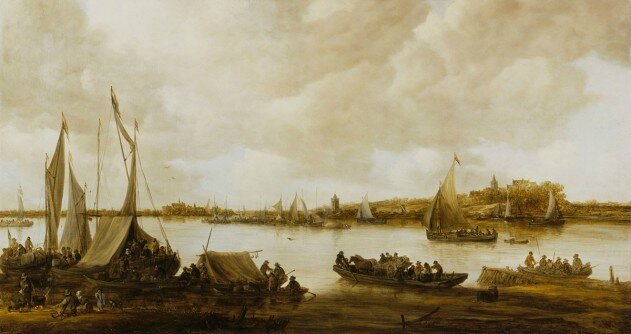 Jan van Goyen, Veduta del Reno vicino a Hochelten, 1653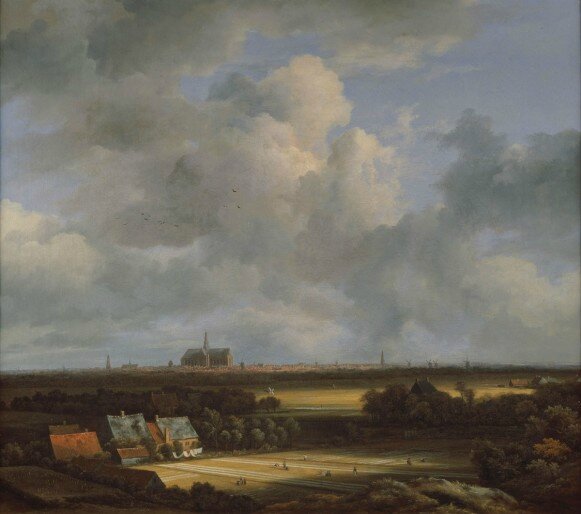 Jacob van Ruisdael, Veduta di Haarlem con campi di candeggio, circa 1670-1675
Salomon van Ruysdael, Veduta di un lago con imbarcazioni a vela, circa1650-1651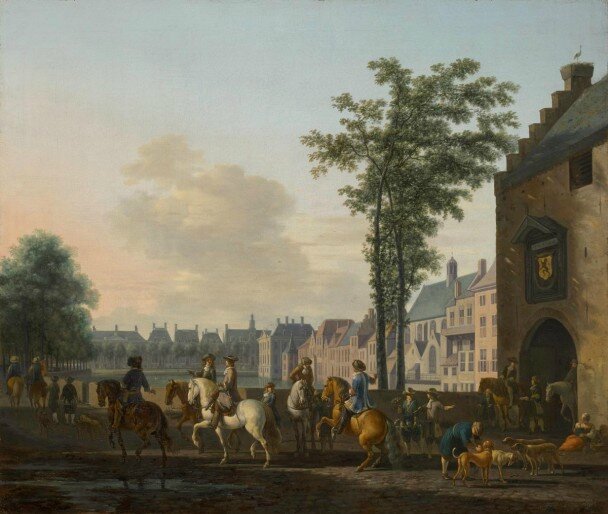 Gerrit Berckheyde, Battuta di caccia nei pressi dell'Hofvijver all'Aia, vista dalla Plaats, circa 1690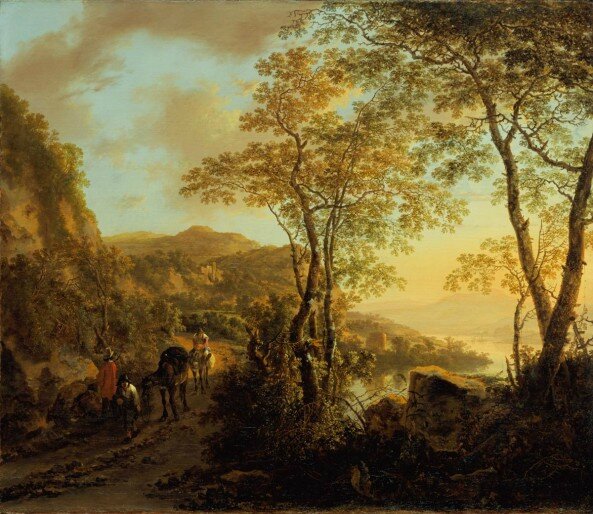 Jan Both, Paesaggio italiano, circa 1645
Paulus Potter, Mucche in un prato, 1652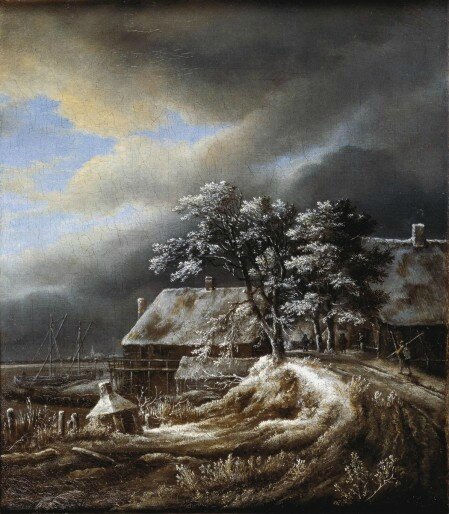 Jacob van Ruisdael, Paesaggio invernale, circa 1660-1670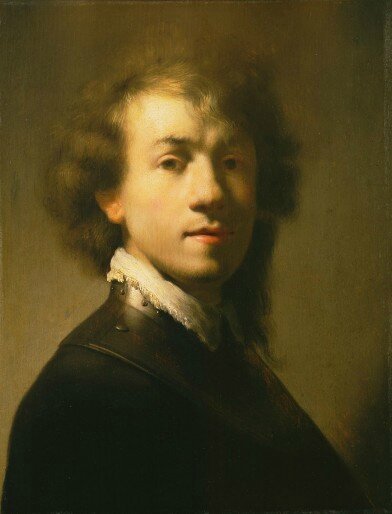 Harmenszoon van Rijn Rembrandt (atelier), Ritratto di Rembrandt con goletta, dopo il circa 1629
Frans Hals, Ritratto di Jacob Olycan (1596-1638) , 1625.
Frans Hals, Ritratto di Aletta Hanemans (1606-1653) , 1625.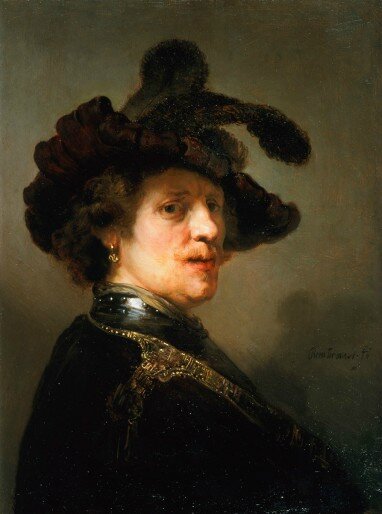 Harmenszoon van Rijn Rembrandt, Ritratto di uomo con cappello piumato, circa 1635-1640.
Harmenszoon van Rijn Rembrandt, Ritratto di uomo anziano, 1667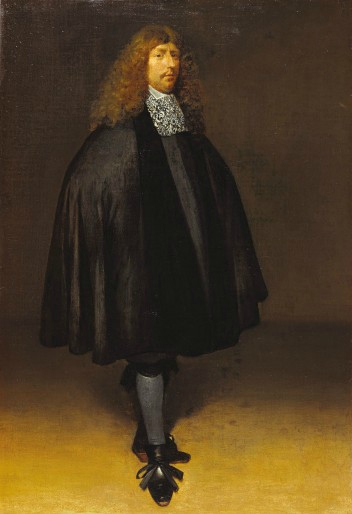 Gerard Ter Borch, Autoritratto, circa 1668.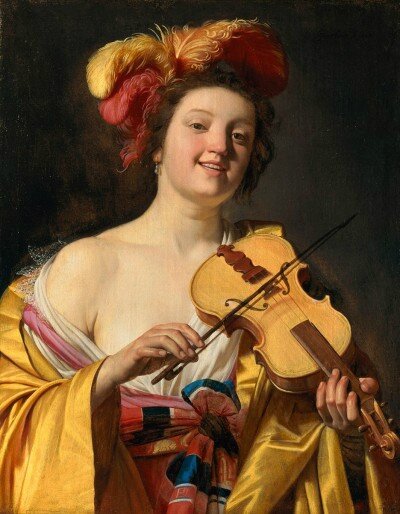 Gerrit van Honthorst, Suonatrice di violino, 1626.
Govaert Flinck, Bambina accanto al seggiolone, 1640.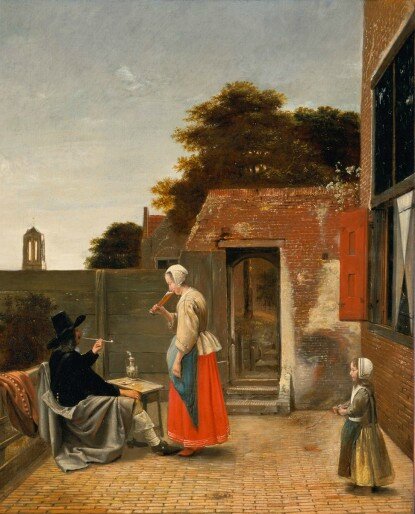 Pieter de Hooch, Uomo che fuma e donna che beve in un cortile, circa 1658-1660.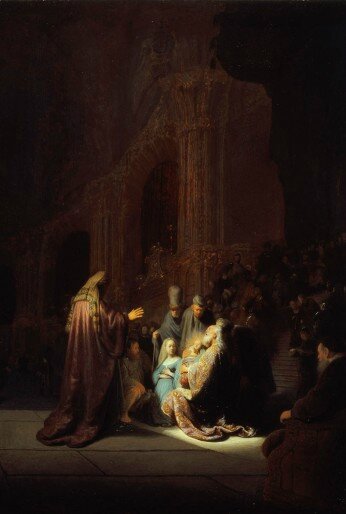 Harmenszoon van Rijn Rembrandt, Canto di lode di Simeone, 1631.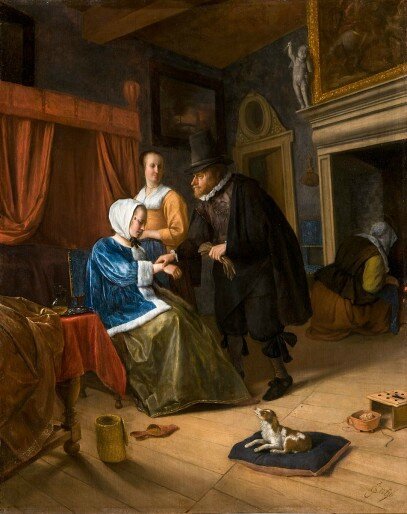 Jan Steen, Ragazza malata, circa 1660-1662.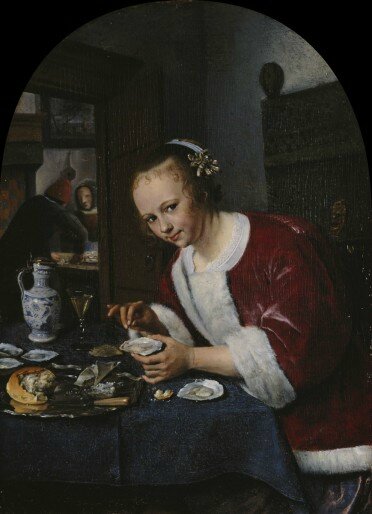 Jan Steen, Ragazza che mangia ostriche, circa 1658-1660.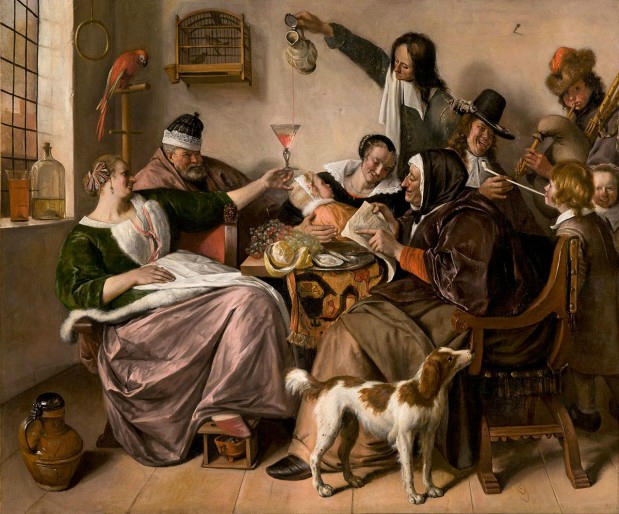 Jan Steen, Al vecchio che canta il giovane fa eco, circa 1665.
Gerard Ter Borch, Donna che scrive una lettera, circa 1655.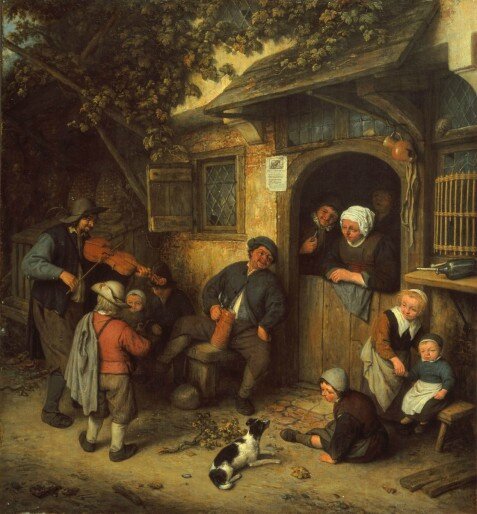 Adriaen van Ostade, Il violinista, 1673.
Johannes Vermeer, Diana e le sue ninfe, circa 1653-1654.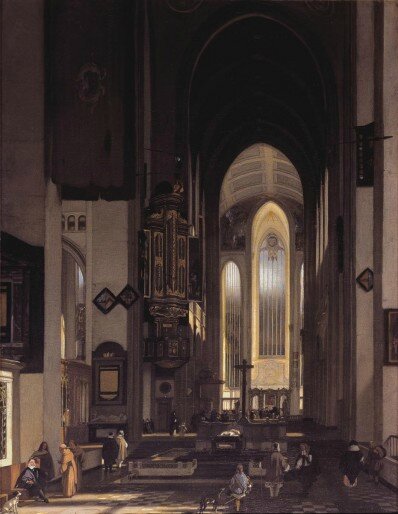 Emanuel de Witte, Interno di una chiesa cattolica immaginaria, 1668.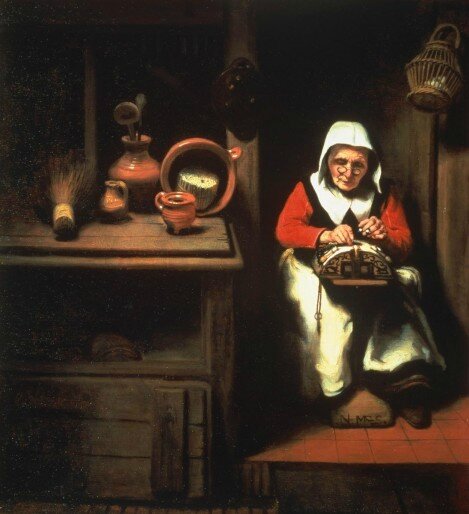 Nicolaes Maes, La vecchia merlettaia, circa 1655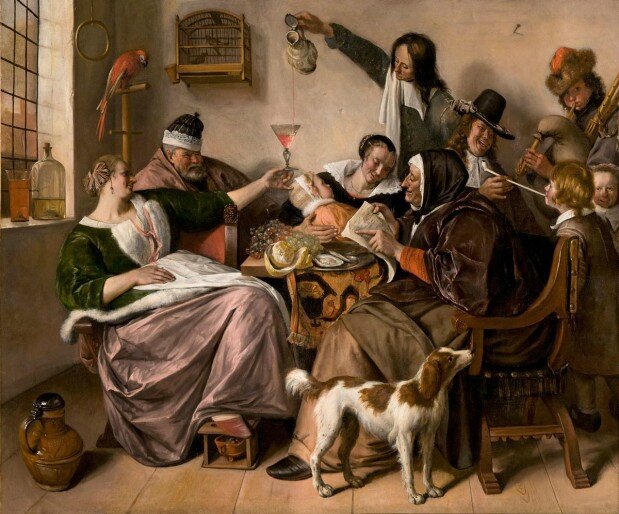 Jan Steen, Al vecchio che canta il giovane fa eco, circa 1665 .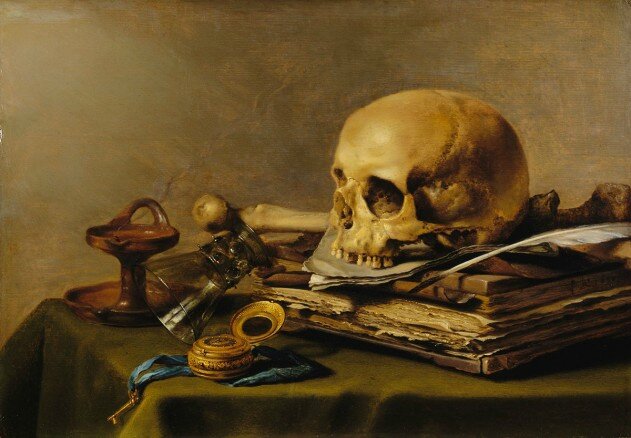 Pieter Claesz, Vanitas, natura morta, 1630.
Pieter Claesz, Natura morta con candela accesa, 1627.
Adriaen Coorte, Natura morta con cinque albicocche, 1704.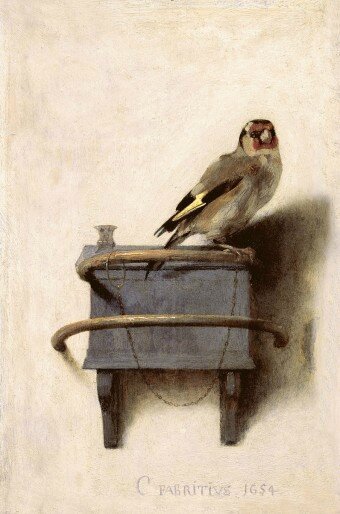 Carel Fabritius, Il cardellino, 1654.
Willem Claesz Heda, Natura morta con bicchierone e orologio, 1629.
GIRL WITH A PEARL EARRING. THE MYTH OF THE GOLDEN AGE. FROM VERMEER TO REMBRANDT, MASTERPIECES FROM THE MAURITSHUIS. Bologna, Palazzo Fava. 8 February – 25 May 2014