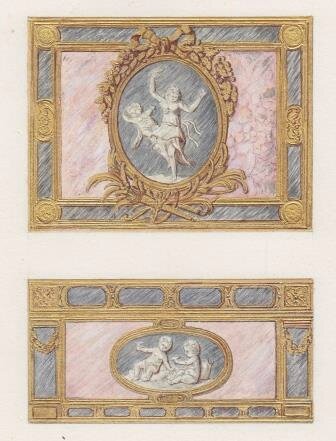 Dessins préparatoires pour une boîte de style Louis XVI, Paris, vers 1900.
Fausse tabatière, Rijksmuseum, Amsterdam.
La Galerie Kugel est heureuse de vous convier à une conférence en anglais donnée par Alexis Kugel dans l'auditorium de la Wallace Collection de Londres
18th-century gold boxes: TWO FAKERS UNMASKED
Le lundi 3 mars 2014 à 18h, ouverture des portes dès 17h30, suivi d'un cocktail.
Les tabatières, comme la plupart des objets précieux avidement collectionnés au XIXe siècle, ont été copiées par des faussaires de talents, mais jusqu'à présent aucun fond d'atelier de faussaire ne nous était parvenu. Alexis Kugel a découvert des éléments provenant de deux ateliers distincts. Leur étude lui a permis de reconsidérer l'authenticité de nombreuses tabatières au sein de collections publiques et privées. Cette découverte est similaire en importante à celles de Reinhold Vasters et Alfred André pour les bijoux Renaissance, et sera d'un grand intérêt pour tous les collectionneurs, conservateurs, marchands et amateurs de boîtes en or.
The Galerie Kugel is delighted to invite you to a conference in English by Alexis Kugel in the auditorium of the Wallace Collection in London:
18th-century gold boxes: TWO FAKERS UNMASKED
On Monday 3rd March 2014 from 6 pm to 7 pm, followed by a drink.
As with most precious objects that were so avidly sought after by 19th-century collectors, 18th-century gold boxes have been copied by talented fakers, but until now no material from a faker's workshop has come to light. In this talk, Alexis Kugel will share his discoveries surrounding two independent workshops that allow him to identify numerous gold boxes in private and public collections that are not by whom they purport to be. This finding is of similar importance to the discoveries around Reinhold Vasters and Alfred André in the field of Renaissance jewels, and will be of enormous interest to collectors, curators, dealers and amateurs of gold boxes.
Réservation obligatoire. Reservation required with Carmen Holdsworth-Delgado - carmen.holdsworth@wallacecollection.org - 044 (0)207 563 9515
The Wallace Collection. Hertford House, Manchester Square, Londres W1U 3BN, United Kingdom