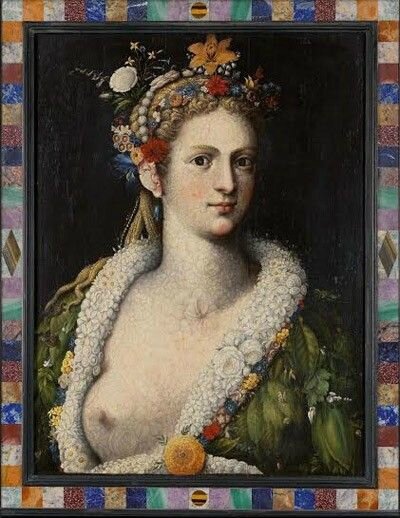 Giuseppe Arcimboldo, Flora, 1589. Private collection.
Giuseppe Arcimboldo, Flora meretrix, ca. 1590. Private collection.
MADRID.- The Fundacion Juan March opened the exhibition Giuseppe Arcimboldo. Two Paintings of Flora, which is the first public display of two magnificent oils on panel by the Italian artist Arcimboldo, one dating from 1589 and the other from around 1590. Both come from private collections and although they are referred to in the relevant literature they have not been included in the most recent major exhibitions on the artist.
The imagination and ingeniousness that characterise the work of Arcimboldo, a painter in demand from emperors and praised by intellectuals and poets, fascinated his contemporaries but, as Miguel Falomir points out in his essay, after his death Arcimboldo's work fell into an obscurity from which it was rescued only in the 1930s when Alfred H. Barr Jr, the founder and first director of the MoMA in New York, championed him as a forerunner of the Surrealists and Dadaists and showed his work alongside theirs in the celebrated exhibition Fantastic Art, Dada, Surrealism (1936–37). Since then, art historians and experts have rediscovered Arcimboldo's highly individual style, elevating him to the rank of one of the great sixteenth-century artists.
Flora and Flora meretrix, the works in this exhibition, were celebrated as masterpieces in their own time. They are two examples of the so-called teste composte, or "composite heads", painted by Arcimboldo with the exceptional virtuosity of a miniaturist and one possessed of a detailed scientific knowledge of flora and fauna. The artist created these two heads and busts from flowers, small animals and other natural elements, carefully chosen and relating to the subject depicted but recognisable only when seen close up. The "Floras" in the exhibition respectively represent the two traditions that derived from the myth of Chloris: made pregnant by the wind god Zephyr, she turned into the nymph Flora and brought colour to a previously monochrome world. The two Floras are thus the nymph Flora, the embodiment of spring and a symbol of harmony and nature's fecundity, and the worldly, sensual Flora meretrix.
The paintings' present frames were designed by the eminent Italian art historian Federico Zeri (1921–98) who made use of the traditional technique of pietre dure, which was widely employed at the time of Arcimboldo. The rich colours emphasise and echo those in the paintings.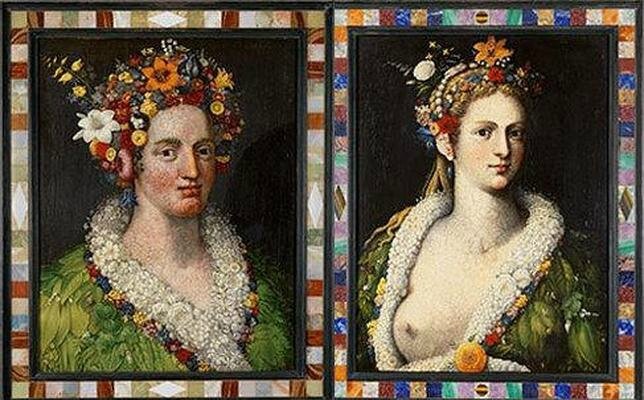 Giuseppe Arcimboldo, Flora meretrix & Flora. Private collection.