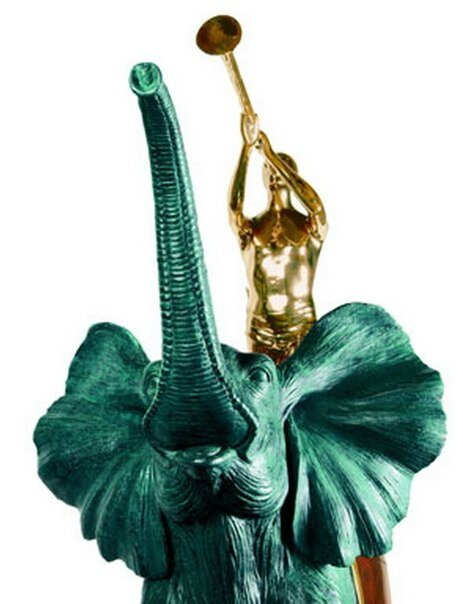 New world record price for a bronze sculpture by Salvador Dali set at Bonhams Impressionist and Modern Art sale. Photo: Bonhams.
LONDON.- Bonhams Impressionist and Modern Art sale yesterday (4th February) has set a new world record for a Salvador Dali bronze sculpture among a number of outstanding results. A frenzy of international interest from the packed saleroom, online and on the telephones drove seven of the top ten lots to double, or even triple, their estimates. A great buzz from the telephone bidders set the tone:
Elephant de Triomphe by Salvador Dali (Spanish, 1904-1989) triumphed today as it sold for a staggering £446,500 setting a new world record price for a bronze by the artist. The previous record (£313,000) was blown out of the water by the colossal cast bronze emerald elephant which stands at almost 3metres in height. Elephants were used by Dalí as a symbol of the future recurring atop mosquito-like legs in many of his paintings. A golden angel lands on the elephant's jewelled saddle – a shining fanfare promising a future with great fortune.
Salvador Dali (Spanish, 1904-1989), Eléphant de triomphe. Photo: Bonhams
inscribed 'Dali' and numbered '4/8' (on the side of the base); bronze with green and brown patina, 265cm (104 5/16in) (height). Concieved in 1975 and first cast in 1984. This work was cast at a later date by Perseo foundry in a numbered edition of eight plus four épreuves d'artisteand two épreuves de fonderie. Sold for £446,500 (€536,529)
PROVENANCE: Important Private Collection, Switzerland
EXHIBITED: London, County Hall Gallery, The Dalí Universe, 2000-2010.
Lavardens, Chateau Lavardens, L'Univers de Dalí, 2004.
Mexico City, Soumaya Museum, Game and Desire, 2008.
Bahrain, Opera Gallery, Awaken your imagination in Bahrain, 2011.
Dubai, Opera Gallery, Treasures of Dali, 2011.
Cannes, Galeries Bartoux, 2011.
Florence, Palazzo Medici Riccardi, The Dalí Universe Florence, 2013.
LITERATURE: R. & N. Descharnes, Dalí: The Hard and the Soft, Sculptures & Objects, catalogue raisonné of Dalí Sculpture, Paris, 2004, p. 252, fig. 651 (another cast illustrated).
B. Levi, et al., Dalí in the Third Dimension, The Stratton Foundation Collection, Turin, 2010 pp. 154-155 (another cast illustrated).
Awaken your imagination in Bahrain, exh. cat., Dubai, Opera Gallery, 2011, p. 18 (another cast illustrated).
The Dalí Universe Florence, exh. cat., Florence, Palazzo Medici Riccardi, 2013, pp. 52-53 (another cast illustrated)
The elephant first appeared in Dalí's work in the 1944 painting Rêve causé par le vol d'une abeille autour d'une grenade, une seconde avant l'éveil in which a tall mammoth on delicately elongated legs walks sedately and gracefully through the background, seemingly distant from the violent dream playing out in the foreground. The elephant carries an obelisk on its back in an elegant reimagining of Bernini's Pulcino della Minerva which stands in front of the Santa Maria sopra Minerva in Rome.
The majestic mammal was then embodied as a Dalínian symbol in the 1946 canvas La Tentation de saint Antoine (fig. 1) in which the legs of the processing elephants appear ever more lengthened and fragile in striking contrast to their strong bodies and the burdens they carry. With their heads in the clouds yet their feet on the ground, Robert Descharnes identifies the elephants as a link between the physical world and the spiritual:
'[La Tentation de saint Antoine] is of great importance in Dalí's work. It marks the point in his creative life when intermediates between heaven and earth became important – in this case, the elephants with their spindly legs' (R. Descharnes and G. Neret,Salvador Dalí 1904-1898, The Paintings, Part I,Cologne, 2001, p. 411).
This bridge between heaven and earth can be linked to Dalí's persistent exploration of the spiritual, and his quest for eternal life. His very experimentation with the medium of sculpture, holograms and the third dimension would, Dalí believed, allow him to move into the fourth dimension and from there into immortality.
Despite the many religious subjects he painted, the artist remained characteristically evasive when asked ''If you would meet Jesus Christ, what would you say?' 'Nothing,' replied Dalí, 'because I don't know him.' [...] When asked if he believed in God, his answer was always nuanced: 'Not too much, no. At the beginning, I didn't believe in anything; my father was an atheist and a free thinker, and that influenced me a lot throughout my life. What has happened is that because I meet frequently with scientists, I know that sciences prove each time more, naturally, the immortality of the soul and existence of God. For me, however, grace still has not touched me'' (R. and N. Descharnes, Dalí, The Hard and the Soft: Spells for the Magic of Form; Sculptures and Objects, Azay-le-Rideau, 2004, p. 92).
By 1948, the celestial elephants form the main focus of Les Eléphants. Still bowed and bearing obelisks, the mammals stand either side of an otherwise sparse landscape and anticipate the later Eléphant de triomphe in which the pachyderm stands proud as the subject, his load not now an obelisk but rather a jubilant herald whose trumpet is echoed by the elephant's exultantly raised trunk.
In the present work, Dalí subverts our long-held associations of strength and power with the elephant by placing the mammal on incongruously long, spindly and insubstantial limbs. The bony legs with pronounced joints are smooth in contrast to the striations and folds of the elephant's body and remind the viewer of the crutches which appear in so many of the artist's compositions.
Dalí explained in his 1942 autobiography that he first conceived of the crutch as a means of 'making society people come to my support. It was childishly simple. I was going to succeed by having them come and lean on me [...] I inaugurated the 'pathetic crutch', the prop of the first crime of my childhood, as the all-powerful and exclusivist post-war symbol – crutches to support the monstrous development of certain atmospheric-cephalic skulls, crutches immobilise the ecstasy of certain attitudes of rare elegance, crutches to make architectural and durable the fugitive pose of the choreographic leap, to pin the ephemeral butterfly of the dancer with pins that would make her poised for eternity. Crutches, crutches, crutches, crutches.' (S. Dalí, The Secret Life of Salvador Dalí, New York, 1942, pp. 260-261.)
Crutches morph into stilts in a sketch which illustrates a later page of Dalí's autobiography. Inscribed 'Vertical Infantry, as against horizontal infantry; means of winning a battle by the unexpected use of stilts of the Landes country', the pen and ink drawing from 1940 depicts towering figures on stilts brandishing spears and effortlessly defeating the insignificant figures below them. Imbued with associations of stability and strength, it is easy to see how the Dalínian crutch may have morphed into a stilt and then into the very legs of the elephant in the present work. No longer leaning on or merely attached to these supports, the mammal's own limbs are spindly stilts of towering presence and might.
Elevated then both physically and spiritually, Dalí's elephant becomes a symbol of hope. The trumpeter who rests so lightly on the mammal's back has been identified by Benjamin Levi as a 'flying angel', a motif which also figures large in Dalí's oeuvre. Announcing the dawn of a new and wealthy era (indicated by the bejewelled saddle), Eléphant de triomphe trumpets 'success and prosperity. Dalí's elephant exemplifies every individual's hope for abundance and good fortune in the future' (B. Levi et al, Dalí in the Third Dimension – The Stratton Foundation Collection, Turin, 2010, p. 155).
Another highlight in the sale was Almen im Marz, Alfons Walde's wintery work showing an Austrian chalet in the snow which sold for £278,500 – triple its estimates. Bids flew in a continuous stream as multiple telephone bidders and bidders in the room pulled the auctioneer's attention in all directions.
Other top lots were two works by Joan Miro (Spanish, 1893-1983). Femme, étoile, which translates as 'Woman, Star', realised £212,500. Femme, oiseau, étoile (Woman, bird, star) was another work in high demand from bidders in the room. A lengthy stand off between two telephones took the final price to £91,300 – three times higher than its estimates.
A necklace by the surrealist artist and photographer Man Ray (American, 1890-1976) La jolie Pendant realised an incredible £47,000 after an impressive battle between three persistent parties.