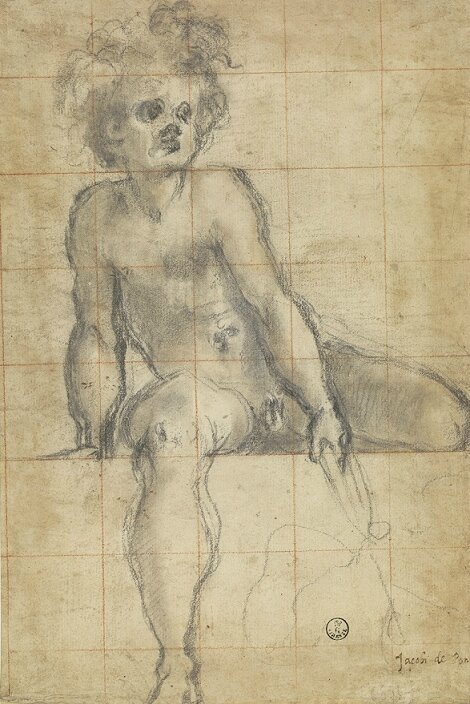 Jacopo Pontormo, Amorcillo sentado. Lápiz negro y sanguina con realces de albayalde. Cortesía del Istituti museali della Soprintendenza Speciale per il Polo Museale Fiorentino © 2013 Polo Museale Fiorentino.
MADRID.- From 12 February to 11 May 2014, Fundacion Mapfre's exhibition halls (Paseo de Recoletos 23, 28004 Madrid) hosts an exhibition dedicated to the drawings of Jacopo Carucci (1494-1557), better known in art history as Pontormo and considered one of the greatest exponents of Mannerism.
The show features a carefully chosen array of 70 drawings—the majority loaned by the Galleria degli Uffizi in Florence, though other prestigious European museums such as the Staatliche Graphische Sammlung in Munich and the Vienna Albertina have also contributed to this selection—which document every stage in Pontormo's career and all the different drawing media he used.
The exhibition consists of 60 drawings by Pontormo as well as nine drawings by other great artists such as Dürer, Lorenzo di Credi, Poussin and Tiepolo, which have been included so that visitors can compare and contrast their different approaches to draughtsmanship and appreciate the originality of the Florentine artist's style.
The selected drawings also are accompanied by a rare gem: Pontormo's Diary, held at the Biblioteca Nazionale Centrale in Florence, which has never been shown outside Italy until now. This journal contains writings and small sketches by the artist, created during the last two years of his life, about his obsessions, his routines and his desire to draw in seclusion, and as such it is a unique testament to the legend of Pontormo as an artiste maudit.
This show of Pontormo's work is organised to coincide with the 520th anniversary of the artist's birth. Meanwhile, in March the Palazzo Strozzi plans to inaugurate an exhibition about Pontormo and his friend Rosso Fiorentino that will focus on his paintings. Thus, Florence and Madrid have joined forces to celebrate this singular commemorative year.
This exhibition is further proof of the particular importance that FUNDACIÓN MAPFRE attaches to drawing, as the only Spanish institution whose art collection is dedicated exclusively to works on paper and which regularly organises shows featuring this genre.
Pontormo ranks among the most extravagant and extraordinary artists in the his-tory of art. His obsessive, neurotic personality and wild mood swings, document-ed by Vasari, soon earned him a reputation as an artiste maudit or "tortured art-ist". Pontormo's astoundingly prolific corpus of drawings, primarily held in the Prints and Drawings Department at Galleria degli Uffizi, has contributed to the aura of legend surrounding this artist, as many consider his works on paper to be the ex-pression of the painter's prima idea, concentrating the essence of his tortured soul. It seems undeniable that Pontormo used the paper format to explore ideas and work out his goals for more ambitious undertakings; however, he also turned to drawing as a pleasurable outlet for pent-up emotions, a kind of relaxing treat for the spirit.
With regard to technique, Pontormo primarily used black and red pencil, almost always with white chalk, but he also experimented with ink, bistre and washes, and for more detailed drawings he preferred to use sanguine crayon.
The fact that Pontormo trained alongside great Italian Renaissance masters allowed him to experiment with different ways of drawing. His early apprenticeship to Leonardo da Vinci taught him to appreciate drawing as an exercise in private creativity, where an artist could express himself more freely. Pontormo's contact and later empathy with Piero di Cosimo encouraged the artist to develop his powers of imagination and fantasy. During his time at the Certosa di Galluzo, while still absorbing the drawing techniques of his masters, Pontormo came across the prints of Albrecht Dürer, which his friend Rosso Fiorentino had already discovered, and the influence of this German master would become apparent in his preparatory studies for The Crucifixion. Andrea del Sarto, with whom Pontormo completed his first major public commissions, later became the greatest influence on his work. During his final years, while working on the project for the Church of San Lorenzo, Pontormo's drawings acquired a grandiose spirituality reminiscent of the style of Michelangelo.
The drawings in this exhibition cover every stage in the artist's career, from his work as an apprentice at Poggio a Caiano (1519-1521) to his final creations for the Church of San Lorenzo in Florence (1545-1556). Exemplary illustrations of Pontormo's early and late styles are present in his preparatory drawings for the works at the Certosa di Galluzo (1522-1525), and his designs for the Capponi Chapel in the Church of Santa Felicità (1526-1530).
The most important drawings in the show are those related to the Church of San Lorenzo in Florence. Pontormo worked almost exclusively on the project for this religious building from 1545 until his death in 1556. Cosimo I de' Medici commis-sioned him to devise eight scenes, seven from the Old Testament and one from the New, to decorate the architecture designed by Brunelleschi. Throughout this project, Pontormo eschewed a temporal presentation of the scenes, striving in-stead to create symbolic contrasts that reinforced his ideas about faith.
His drawings from this period portray different versions of the same story and were treated as isolated compositions. Thanks to this approach, we can see how the scenes developed and matured in the artist's mind, and how drawing gradually became the channel through which Pontormo expressed different views of these intensely spiritual subjects.
In terms of their plastic quality, the San Lorenzo drawings illustrate the extreme Mannerism that characterised Pontormo's final years. Nowhere is his use of the S-curve and mind-boggling distortions more striking or glorious than in his studies for the Flood and the Resurrection. These works are the silent screams of a deeply spiritual, seriously misunderstood artist, a "tortured" painter who strove to express his anguish, dissatisfaction and constant quest for God.
While preparing this final commission, between 1554 and 1556 Pontormo kept a detailed diary in which he jotted down his daily routines, meals, aches and pains and other mundane information. However, the Diary also records his fear of death, his deep-seated spiritual convictions and the desire to find release for his soul through pencil and paper. The critical fortune of this Diary has always been linked to the perception of Pontormo as an artiste maudit. Now, for the first time, it is leaving Florence to appear in an exhibition.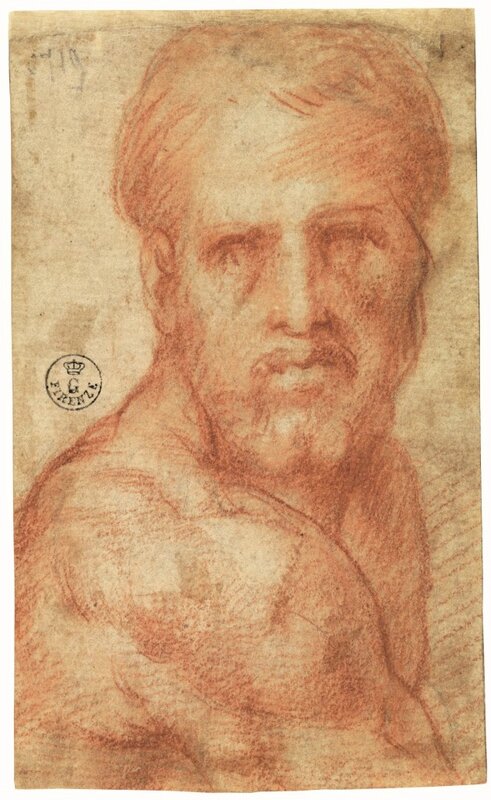 Jacopo Pontormo. Busto de hombre con barba, posible autorretrato de juventud del artista. Sanguina sobre papel blanco. 118 x 71 mm. Gabinetto Disegni e Stampe degli Uffizi, Florencia (Inv. 6719 Fr). © 2013 Polo Museale Fiorentino
MADRID - Du 12 février au 11 mai 2014, la FONDATION MAPFRE accueillera une exposition de dessins de Jacopo Carucci (1494- 1557), connu dans l'histoire de l'art sous le nom de PONTORMO et considéré comme l'un des représentants les plus importants du maniérisme. À travers un choix rigoureux de 70 oeuvres, provenant pour la plupart de la Galerie des Offices de Florence mais également d'autres prestigieux musées européens, dont la Staatliche Graphische Sammlung de Munich et l'Albertina de Vienne, l'exposition retrace toutes les étapes de la vie de Pontormo et tous les supports graphiques qu'il a utilisés.
L'exposition réunit 60 dessins de Pontormo qui seront mis en regard de 9 dessins d'autres grand artistes, tels Dürer, Lorenzo de Credi, Poussin et Tiepolo, afin d'établir un dialogue entre leur manière de dessiner et celle de Pontormo et de faire ainsi ressortir l'originalité du style du grand artiste florentin.
À côté de ce corpus de dessins, l'exposition présentera exceptionnellement, et pour la première fois hors d'Italie, le Journal de Pontormo, conservé à la Biblioteca Nazionale Centrale de Florence. Dans ce journal qu'il tient pendant les deux dernières années de sa vie, l'artiste consigne, en les accompagnant de petits dessins, les faits et gestes de sa vie quotidienne, ses obsessions et son désir de s'enfermer pour peindre, faisant ainsi apparaître le mythe de l'artiste maudit qui entoure Pontormo.
Cette exposition, la première consacrée à Pontormo en Espagne, coïncidera avec le 520 ème anniversaire de la naissance de l'artiste. Parallèlement, le Palazzo Strozzi présentera, à partir de mars, une exposition autour de l'œuvre picturale de Pontormo et de son ami Rosso Fiorentino. Florence et Madrid s'unissent ainsi pour célébrer cet anniversaire. Fundación Mapfre montre, une fois de plus, l'intérêt particulier qu'elle porte au dessin, s'agissant de la seule institution espagnole dont les collections artistiques sont constituées exclusivement d'œuvres sur papier et qui organise régulièrement des expositions consacrées au dessin.
A PROPOS DE L'EXPOSITION
Pontormo est l'un des artistes les plus extraordinaires et les plus extravagants qui ont traversé l'histoire de l'art. Sa personnalité obsessionnelle, cyclothymique et névrosée, que décrivait déjà Vasari, a contribué à lui conférer de son vivant une aura d'artiste maudit.
Le très riche corpus de dessins de Pontormo, conservé pour l'essentiel au Cabinet de Dessins et des Estampes de la Galerie des Offices, a contribué à nourrir la légende autour de l'artiste, son œuvre sur papier étant considérée comme répondant à la prima idea du peintre et comme renfermant l'essence de son âme tourmentée. S'il semble indéniable que, sur le papier, Pontormo explorait des idées et cherchait des solutions pour des œuvres plus ambitieuses, il recourait aussi à la graphie pour le seul plaisir d'exprimer ses sentiments, l'utilisant comme une sorte de détente de l'esprit.
Concernant sa technique, Pontormo se sert essentiellement du crayon noir et du crayon rouge, et presque toujours avec de la craie blanche. Il expérimente aussi le bistre et la gouache et utilise de préférence la sanguine pour ses dessins les plus achevés. Sa formation auprès des grands maîtres de la Renaissance italienne permet à Pontormo d'expérimenter différentes manières de dessiner. Sa première formation auprès de Léonard de Vinci lui apprend à apprécier le dessin comme un exercice de création privé, qui permet à l'artiste de s'exprimer avec une plus grande liberté. Le contact avec Piero di Cosimo, et la sympathie qu'il éprouvera pour lui, incitera l'artiste à exercer son imagination et sa fantaisie. Parallèlement à cette connaissance du dessin qu'il acquiert auprès de ses maîtres, et alors qu'il travaille à la chartreuse de Galluzo, Pontormo découvre les gravures de Dürer, que son ami Rosso Fiorentino connaissait déjà et qui expliquent l'influence du maître allemand également sur ses études préparatoires pour La Crucifixion. Par la suite, c'est Andrea del Sarto qui exercera la plus grande influence sur son œuvre et c'est avec lui qu'il exécutera ses premières grandes commandes publiques. Dans ses travaux pour l'église San Lorenzo, qu'il réalise durant la dernière période de sa vie, Pontormo assimile à travers le dessin la spiritualité et la monumentalité de Michel- Ange.
L'exposition présente des dessins de toutes les périodes de l'artiste, depuis les travaux de ses années d'apprentissage autour de Poggio a Caiano (1519-1521) jusqu'à ses dernières œuvres pour l'église San Lorenzo à Florence (1545-1556). Entre ces deux extrêmes, ses dessins préparatoires pour la chartreuse de Galluzo (1522-1525) et ses travaux autour de la chapelle Capponi, à l'église de la Santa Felicità (1526-1530), occupent une place particulièrement importante.
Parmi les dessins montrés à l'exposition, l'ensemble le plus riche concerne l'église San Lorenzo de Florence. Les travaux qu'exécuta Pontormo pour cette église occupèrent quasiment tout son temps de 1545 jusqu'à sa mort, en 1556. Cosme Ier de Médicis lui commanda une décoration représentant sept scènes de l'Ancien Testament et une scène du Nouveau Testament pour couvrir les murs de l'édifice conçu par Brunelleschi. Dans ces œuvres, Pontormo renonce à la représentation temporelle des scènes pour chercher des oppositions symboliques qui renforcent ses réflexions sur la foi.
Les dessins de cette période présentent des versions différentes de la même histoire et sonttraités comme des compositions isolées. Ils semblent ainsi montrer comment ces scènes murissent dans l'esprit de l'artiste et comment le dessin devient pour Pontormo un moyen d'exprimer ses différentes conceptions de ces questions chargées de spiritualité. Du point de vue plastique, les dessins témoignent du maniérisme poussé à l'extrême auquel parvient Pontormo à la fin de sa vie. La ligne serpentine et les distorsions extravagantes auxquelles il a recourstrouvent leur plus belle expression dans les études pour le Déluge et pour la Résurrection. Ces œuvres sont comme le cri silencieux d'un artiste profondément spirituel et incompris, d'un peintre maudit qui a cherché à exprimer son angoisse, son insatisfaction et sa quête incessante de Dieu.
Parallèlement à la préparation de ses derniers travaux, Pontormo tient, entre 1554 et 1556, un journal détaillé où il note les faits et gestes de sa vie quotidienne, ses repas, ses douleurs et autres anecdotes banales, mais aussi sa peur de la mort, sa profonde spiritualité et son désir de laisser son âme s'exprimer au moyen du crayon et du papier. La fortune critique qu'a connue ce Journal a toujours été liée à la perception de Pontormo comme un artiste maudit. Pour la première fois, le Journal de Pontormo quittera Florence pour être présenté dans une exposition.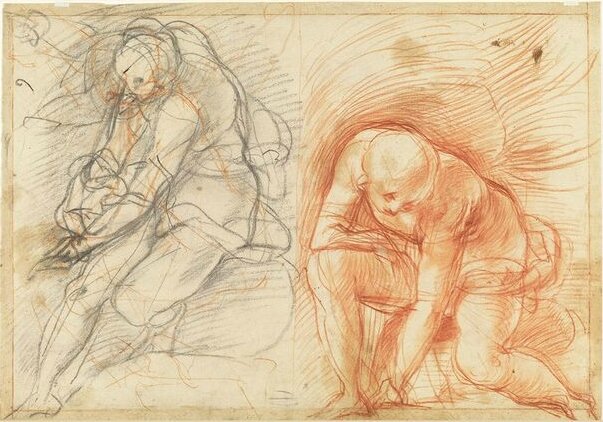 Jacopo Pontormo, Two studies of a leaning figure, preparatory work for St John the Baptist in the wilderness. Black pencil and red chalk on white paper, 285 x 409 mm. Gabinetto Disegni e Stampe degli Uffizi, Florencia © 2013 Polo Museale Fiorentino.
Jacopo Pontormo. Cuatro estudios para la Pala Pucci. Lápiz negro y sanguina sobre papel blanco. 328 x 220 mm. Gabinetto Disegni e Stampe degli Uffizi, Florencia (Inv. 92201 r) © 2013 Polo Museale Fiorentino.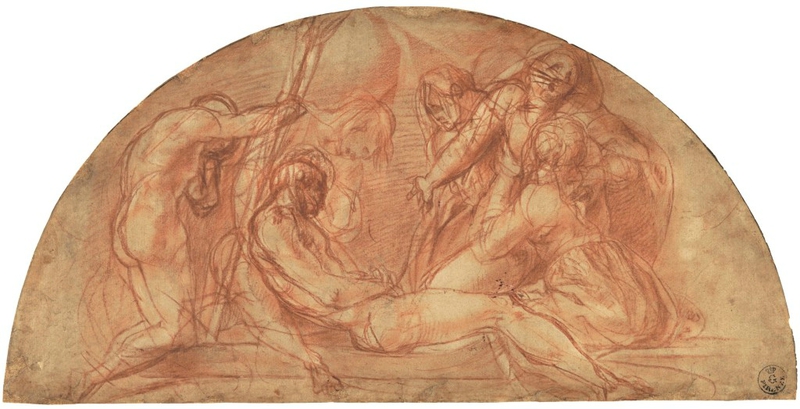 Jacopo Pontormo, Studio per la Deposizione di Cristo.Sanguina su carta bianca. 167 x 333 mm. Gabinetto Disegni e Stampe degli Uffizi, Firenze. No. Inv. 300 Fr © 2013 Polo Museale Fiorentino.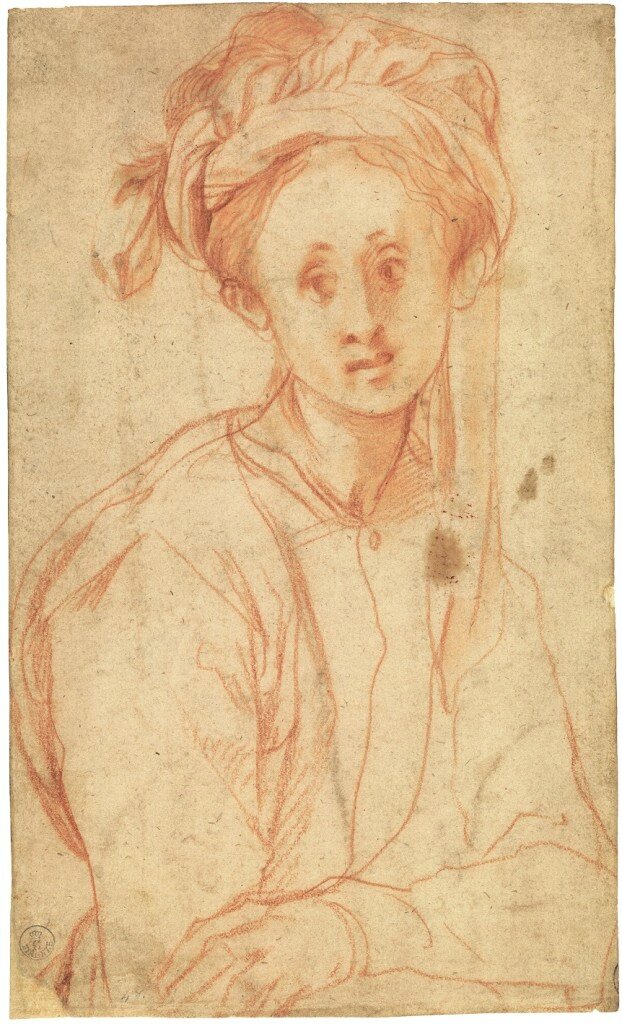 Jacopo Pontormo. Joven con turbante. Sanguina sobre papel blanco ligeramente oscurecido. 247 x 149 mm. Gabinetto Disegni e Stampe degli Uffizi, Florencia (Inv. 449 Fr) © 2013 Polo Museale Fiorentino.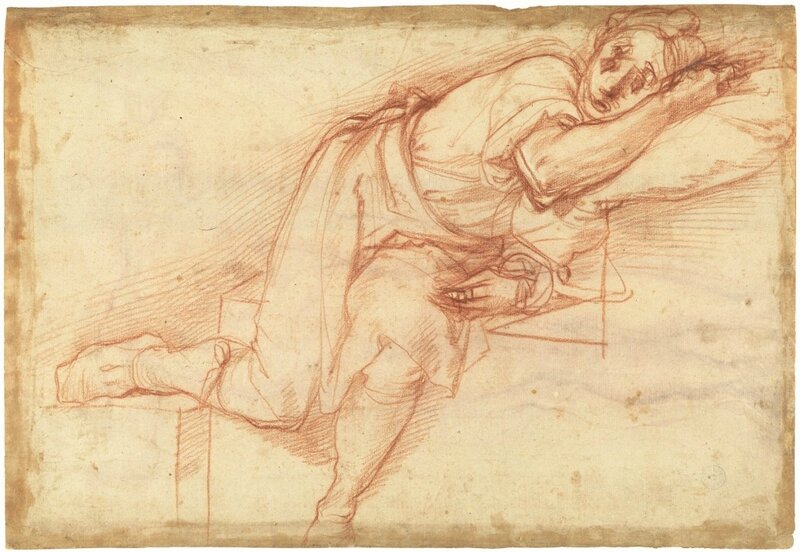 Jacopo Pontormo, Giovane stradiato su una scala, gesso su carta bianca, 278 x 404 mm. Gabinetto Disegni e Stampe degli Uffizi, Florencia (Inv. 449 Fr) © 2013 Polo Museale Fiorentino.
Jacopo Pontormo, Journal (MAGL Cod.. codex VIII, 1490). Biblioteca Nazionale Centrale, Firenze.
Jacopo Pontormo, Journal (MAGL Cod.. codex VIII, 1490), 330 x 240 x 650 mm (chiuso). Biblioteca Nazionale Centrale, Firenze.