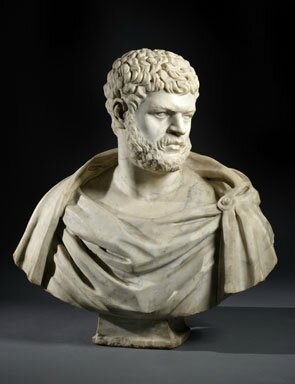 Imposant buste de l'empereur romain Caracalla (211-217 ap. J.-C.) en marbre blanc veiné de gris. Estimate: 10.000-15.000. Photo courtesy Hotel des Ventes
GENEVA.- This March, Hôtel des Ventes will have the privilege of auctioning the entire contents of a large Genevan townhouse with no reserve prices! Recently discovered by Bernard Piguet in a 19th century abode situated in the centre of Geneva, the interior had remained virtually unchanged for over 60 years. The collection reflects an eclectic taste varying from Archaeology, Oriental art, the Middle Ages, 17th and 18th century furniture with some pieces of Modern art as well. « Even if some exceptional pieces reach high prices, the fact remains that this sale - having no reserve prices – offers many opportunities to collectors to strike a deal », comments Bernard Piguet, CEO and Chief Auctioneer at Hôtel des Ventes.
This collection is integrated into the sales taking place on 11th, 12th and 13th March 2014, along with other specialist sections, notably Antiquarian books, Classical Archaeology, Icons and Scandinavian furniture. The Spring Sales consist of 2,800 lots with a global estimation of approximately 2 million Swiss francs. Over 900 lots of jewellery, watches, paintings, furniture and decorative objects have an estimate below CHF 300 which allows Hôtel des Ventes to continue in its quest to make auctions more accessible to a wider audience.
The contents of a large townhouse sold without reserve prices!
At the end of the 1940s, a couple of young newlyweds set up their home in a large townhouse in the Tranchées district of Geneva. This 19th century troubadour style building became the keeper of a surprising collection. Oriental Art stood alongside objects from the statuary Middle Ages as well as furniture, paintings and works of art from the 17th and 18th centuries.
For 60 years, the interior of this dwelling remained unchanged until Bernard Piguet opened the doors to the luxurious ground floors rooms. Shut away inside were treasures from the Italian and French Renaissance such as a rare pair of 15th century chairs bearing the Strozzi family coat of arms – of which a similar example resides at the Metropolitan Museum in New York (lot 898 opposite estimated at CHF 6,000-8,000). Archaeological objects of found include an important marble bust from the Roman era (lot 635 below estimated at CHF 10,000-15,000). During the 1970s, the collection was enriched with modern works of art such as signed lithographs by Miró and engravings by Dalí.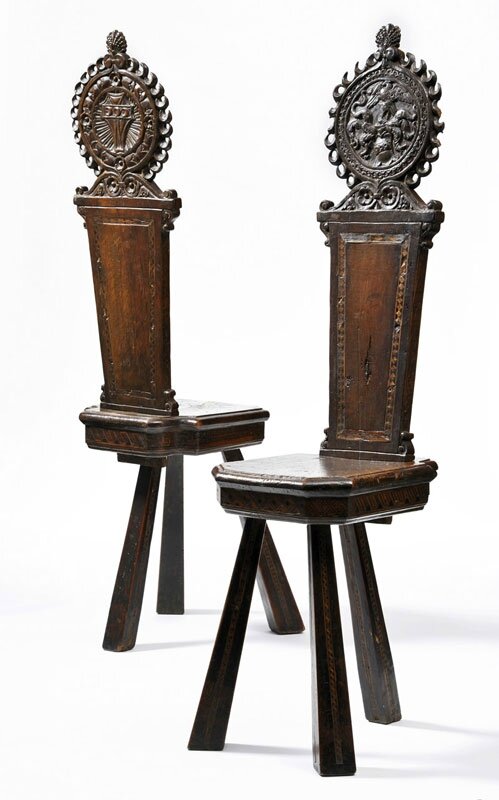 Rare paire de chaises ou sgabelli aux armes de la famille Strozzi attribuées à l'atelier de Giuliano da Maiano (1432-1490) et Benedetto da Maiano (1442-1497). Italie, Florence, circa 1490. Estimation CHF 6000-8000. Photo courtesy Hotel des Ventes
en noyer et incrustations selon la technique en intarso, d'érable, bois noirci et bois fruitier formant des encadrements de filets de chevrons et motifs géométriques, assise octogonale reposant sur 3 pieds en biais à section rectangulaire, dossier trapézoïdal surmonté d'un médaillon rond double faces encadré de croissants de lune sculpté au dos, du blason des Strozzi sur un fond rayonnant et au-devant, du faucon perché sur le heaume de chevalier surmontant ces mêmes armes.
Provenance : hôtel particulier genevois, collection privée de M. et Mme Edmond Mottier, sans prix de réserve
« Une perle de la collection, une pièce unique de renommée internationale, un chef d'œuvre d'un réel enchantement, un des plus beaux exemples de mobilier florentin. Qui ne peut penser à Benedetto da Maiano en admirant le profil, les incrustations élégantes de bois fruitier, la sculpture magnifique des médaillons qui couronnent le dossier ? ». C'est par ces mots que M. F. Schottmuller décrit dans son ouvrage « Wohnungskultur und Mobel der Italienischer Renaissance » publié en 1921, la chaise Strozzi conservée aujourd'hui au Met. Acquise par le musée en 1930, elle faisait partie de la collection du Dr Albert Fidgor et avant lui provenait du Palais Strozzi lui même. Elle ressemble en tous points à celles que nous présentons en vente et nous laissent à penser que nos chaises auraient cette même provenance prestigieuse ou fait partie d'une commande de l'un des membres de la famille Strozzi.
Giuliano et Benedetto da Maiano
Formés à la peinture et à la marqueterie, ils travaillent pour des frises et des bas-reliefs à la nouvelle sacristie du dôme de Florence, de 1463 à 1465 et aux plafonds à caissons du Palazzo Vecchio. Ensemble, ils mènent plusieurs projets de sculptures et autres travaux d'architecture à San Gimignano, Arezzo, Rome ou Florence avec notamment le Palais Strozzi dont la construction débute le 16 juillet 1489 d'après les plans de Benedetto poursuivi en 1491 par Simone Pollaiulo. Les 2 frères Maiano restent les représentants les plus illustres du procédé d'incrustation de marqueterie dit aussi Intarso.
En 1955, le Philadelphia Museum of Art, par une lettre signée de son directeur M. Fiske Kimball, propose d'acheter cette paire de chaises pour la somme de $8000 de l'époque, mais M. Mottier décline cette offre.
Buste d'empereur romain en marbre cristallin beige, Gaule Narbonnaise, IIe s. ap. J.-C. Estimation CHF 10'000-15'000.Photo courtesy Hotel des Ventes
porte une curasse musculaire dite lorica décorée d'une tête de gorgone sous l'encolure, lambrequins sur les épaules, fixation des épaulières terminée par un anneau sur le pectoral droit, porte également le paludamentumimpérial accroché sur l'épaule gauche par une fibule ronde, arrière dégrossi au ciseau, monté sur piédouche, h. 38 cm

Provenance : hôtel particulier genevois, collection privée de M. et Mme Edmond Mottier, sans prix de réserve
From 11th to 13th March 2014, Hôtel des Ventes de Genève has to honour of auctioning the entire contents of this townhouse with no reserve prices! In other words, no minimum price has been set for the 162 lots from the collection. Even though the prices of certain more important pieces may skyrocket, the auction does offer other opportunities to strike a good deal with 18th century chalet furniture or perhaps more unusual objects such as a Therma cooker (lot 3563 estimated at CHF 100-150) which is accompanied by a photograph showing it in situ in the kitchen towards 1950.
The specialist sessions in the March 2014 sales: Antiquarian books, Classical Archaeology and Icons…
For some years now the specialist sales of Antiquarian books and Classical Archaeology have had ever increasing success at Hôtel des Ventes. This Spring, these two specialities will again be presented, this time alongside a beautiful collection of Icons.
The Antiquarian and modern books session on Tuesday 11th March consists of antique publications with fine 18th century bindings and modern works with signed bindings. A chapter is dedicated to books and maps as well as Swiss publications. Four lots stand out from this selection: a first edition from 1632 Dialogues de Galilée (lot 24 estimated at CHF 4,000-6,000), an early printed book from 1492 (lot 25 estimated at CHF 2,000-3,000), Les Fables de La Fontaine illustrated by the great Jean-Baptiste Oudry (lot 67 estimated at CHF 3,000-5,000) and finally Les Œuvres de Molière in their first edition from 1682 (lot 28 opposite estimated at CHF 10,000-15,000).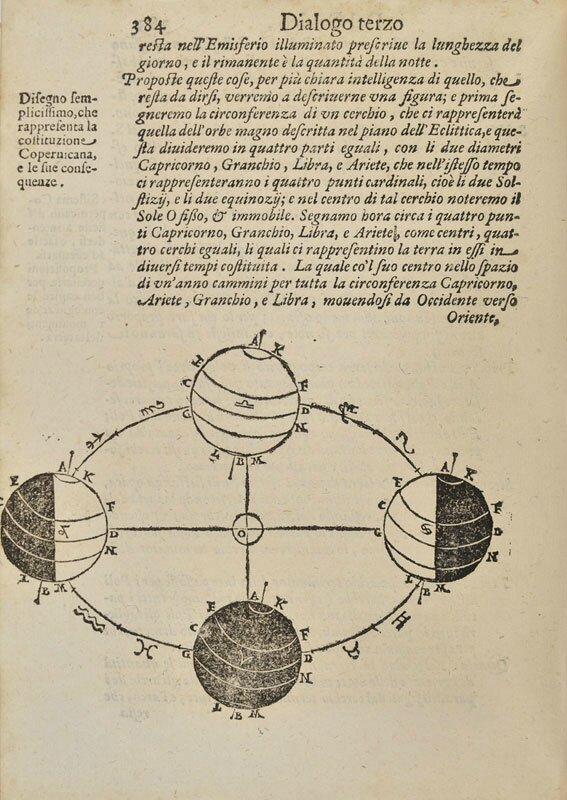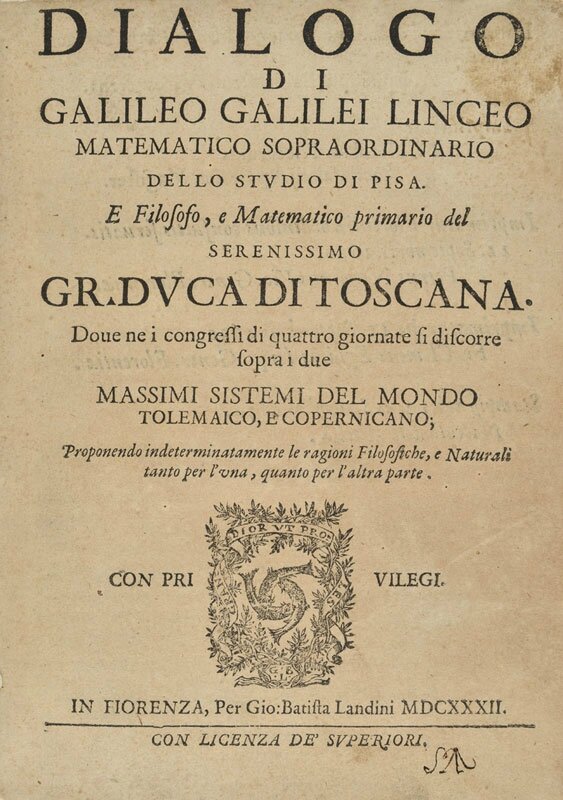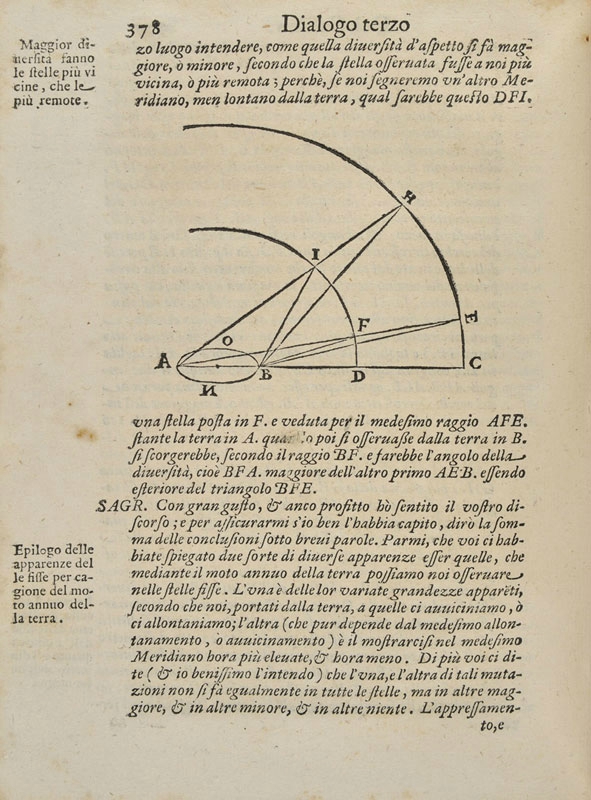 GALILÉE. Dialogo di Galileo Galilei Linceo matematico sopraordinario dello studio di Pisa... sopra i due massimi sistemi del mondo, Tolemaico e Copernicano. Florence, Giovanni Batista Landini, 1632. Estimation CHF 4'000-6'000. Photo courtesy Hotel des Ventes
In-4°, vélin doré, dos à faux-nerfs. Reliure ancienne. Édition originale extrêmement rare, de ce texte fondamental de la physique moderne. Publiée en février 1632, elle est ornée d'un beau frontispice d'après un dessin de Stefano della Bella et de 31 figures gravées sur bois, dans le texte. Le dialogue s'articule entre 3 personnages Salviati, Sagredo et Simplicio, conversant sur les deux grands systèmes du monde, le ptoléméen, prônant l'hypothèse géocentrique, et le copernicien, défendant la thèse héliocentrique. Le pape Paul V Borghese, en 1624, avait interdit à Galilée d'enseigner la théorie copernicienne; Galilée fut autorisée, huit ans plus tard, par le nouveau pape, Urbain VIII, à publier un ouvrage dans lequel il comparerait, de façon objective et impartiale, cette théorie comparée au système ptoléméen approuvé par l'Église. Dédicacé au grand-duc de Toscane, Ferdinand II de Médicis, l'ouvrage parut avec une préface imposée par le pape contre le système de Copernic, que Galilée finit par défendre implicitement dans son dialogue. On connait les conditions du procès alors intenté à Galilée et sa réponse. Le frontispice manque; ex. court de marges, quelques tâches et rousseurs. Exemplaire dérelié. La Lande, p. 198. Haskell F. Norman Library, n° 858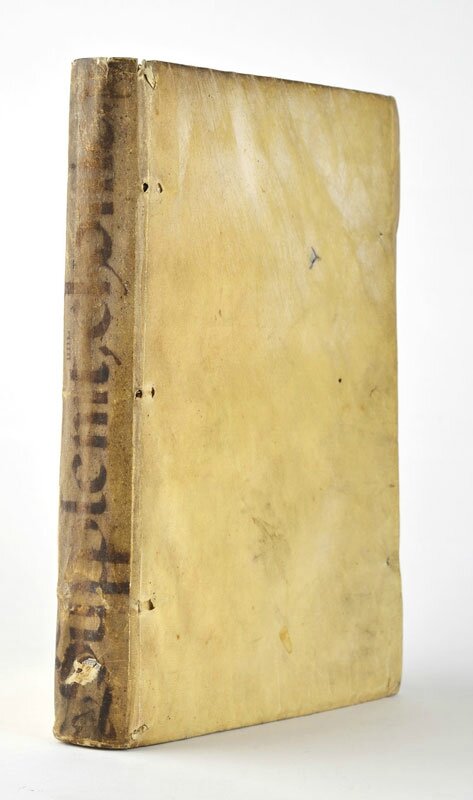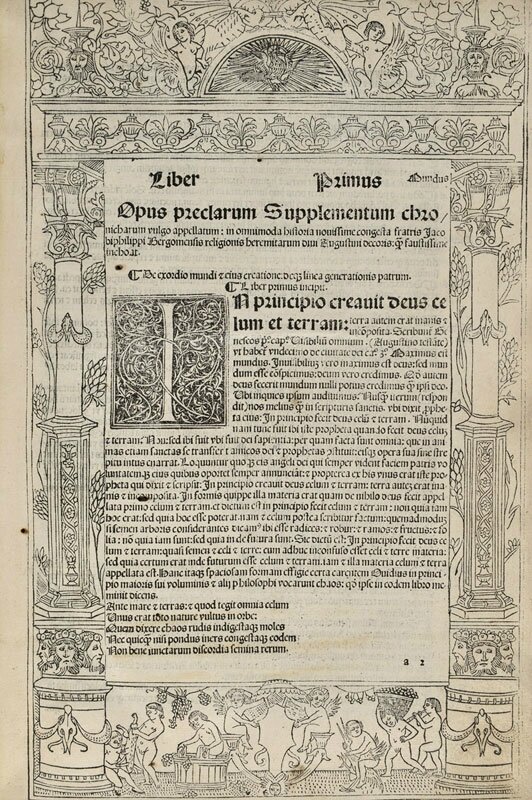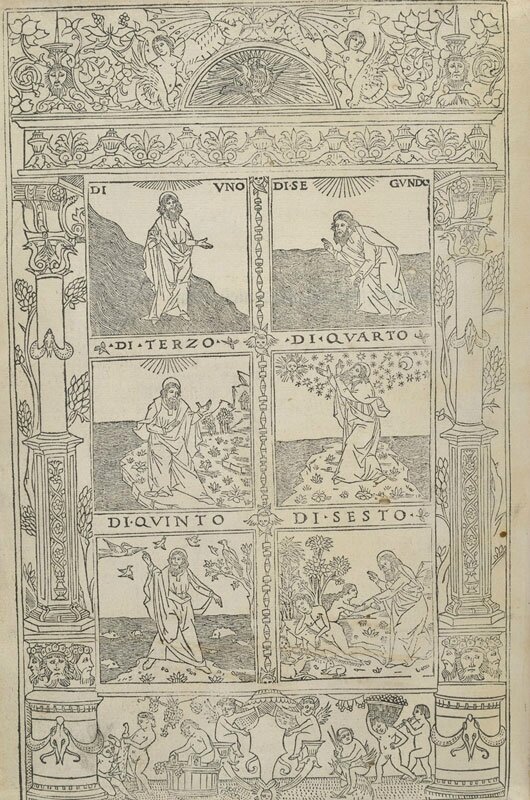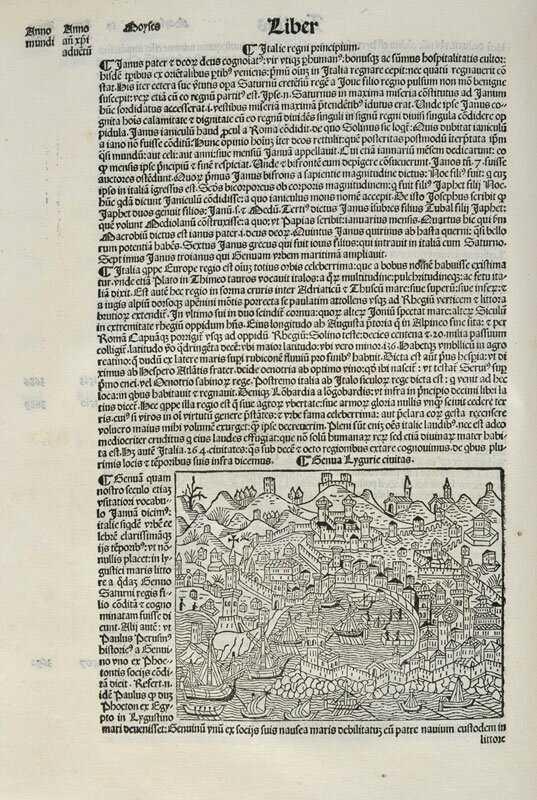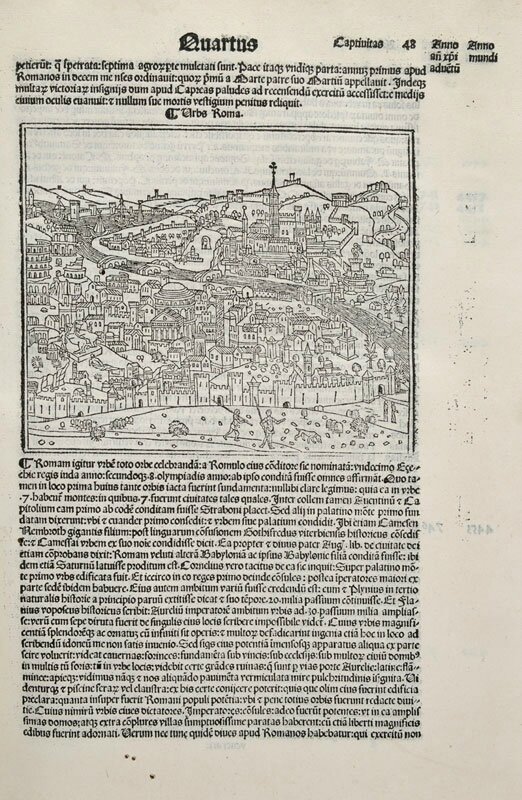 [INCUNABLE] - FORESTI (Jacopo Filippo). Supplementum Chronicharum. Venise, Bernardino Rizzi de Novaria, 1492. Estimation CHF 2'000-3'000. Photo courtesy Hotel des Ventes
In-folio, vélin souple à rabats, tranches rouges. Reliure ancienne. L'auteur, moine augustin né à Bergame en 1434, fut un des grands exégètes de la Bible. Il publia ce Supplementum pour la 1ère fois en 1483, à Venise. Il s'agissait de donner une suite à la Chronique Universelle. De nombreuses rééditions connurent le même succès. Edition illustrée de nombreuses vues de villes, gravées sur bois, dans le texte. On reconnaît, en particulier, les villes de Venise et de Rome. Annotations manuscrites à l'encre brune, en marge de certains feuillets. frontispice représentant la Création et bel encadrement de la première page du Livre I, gravés sur bois. Collationné: 256 feuillets numérotés. Registré a 10, b 8 - i 8, k 8 - F 8. Quelques feuillets intervertis et quelques erreurs de pagination. Rares piqûres de vers. Très bel exemplaire.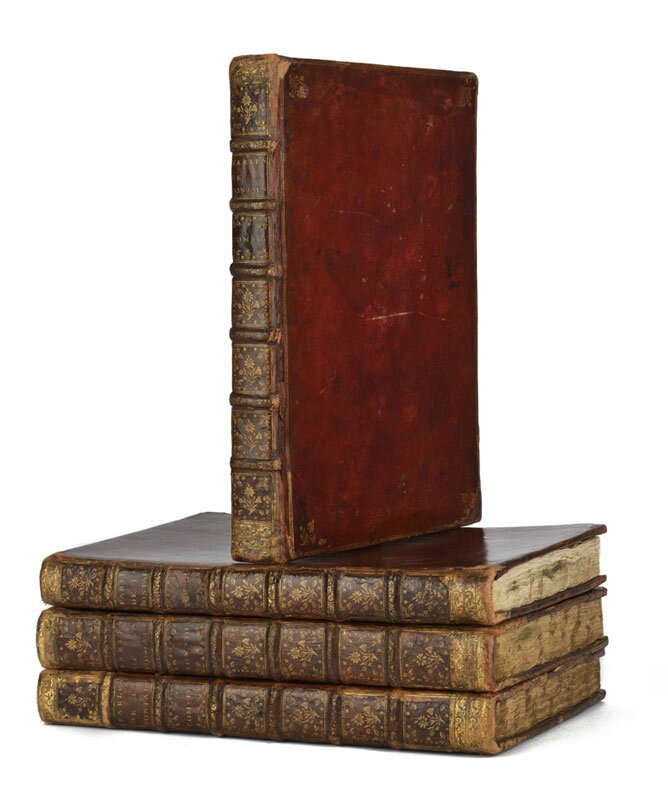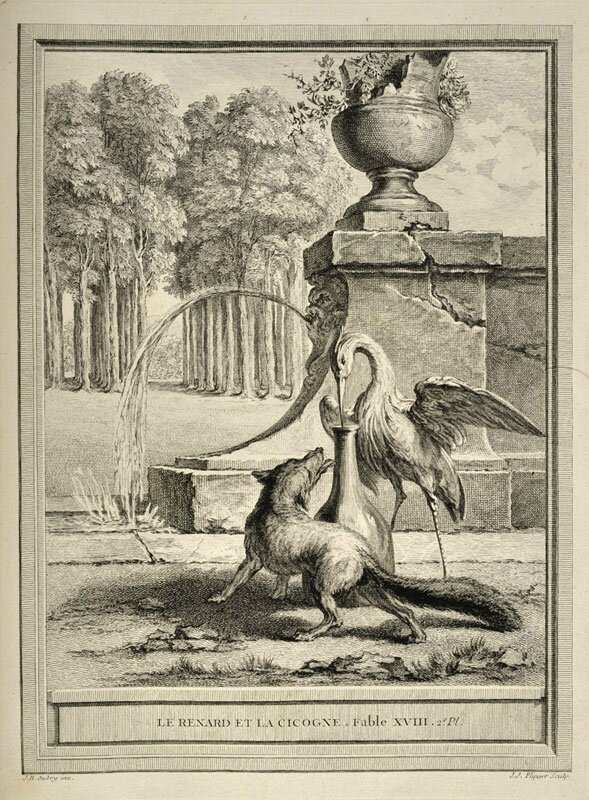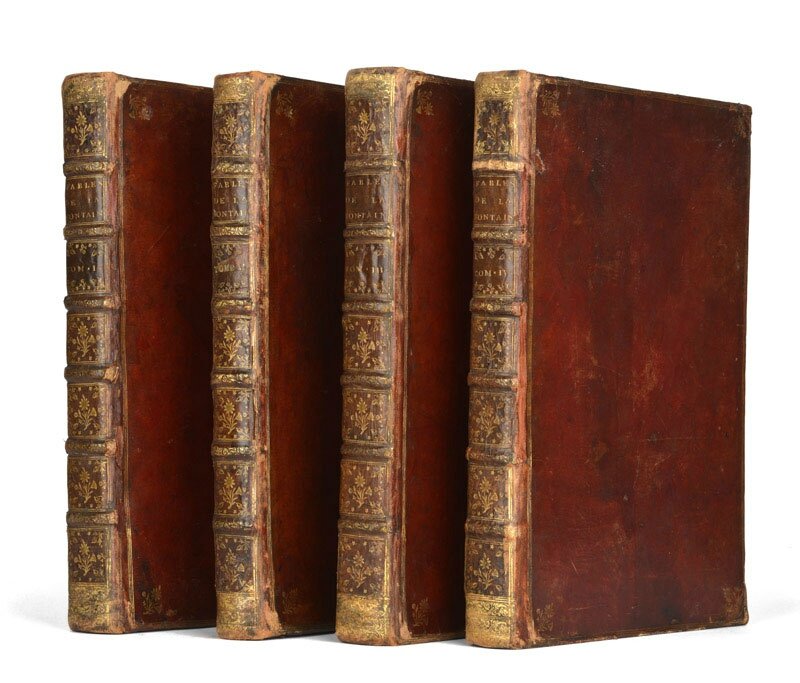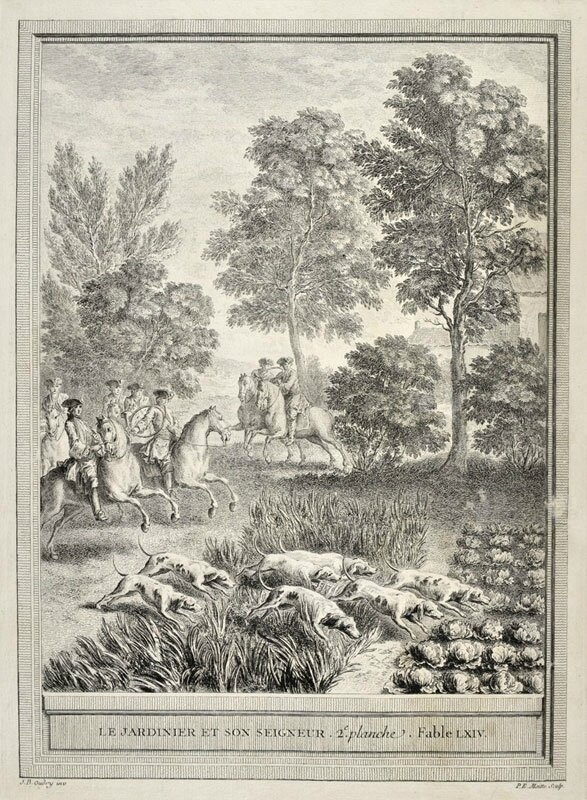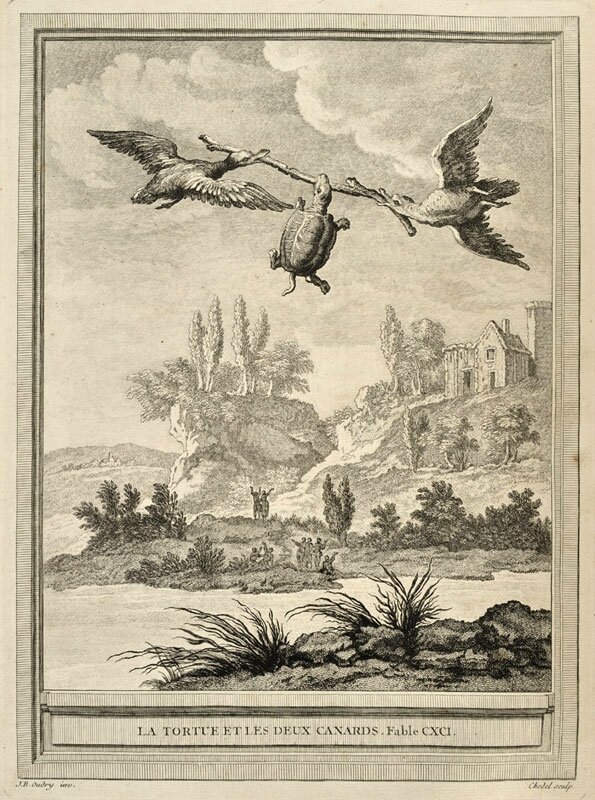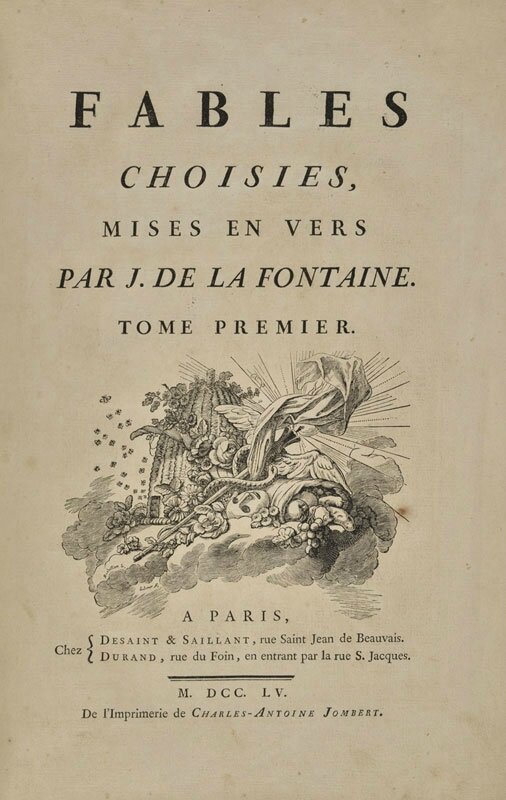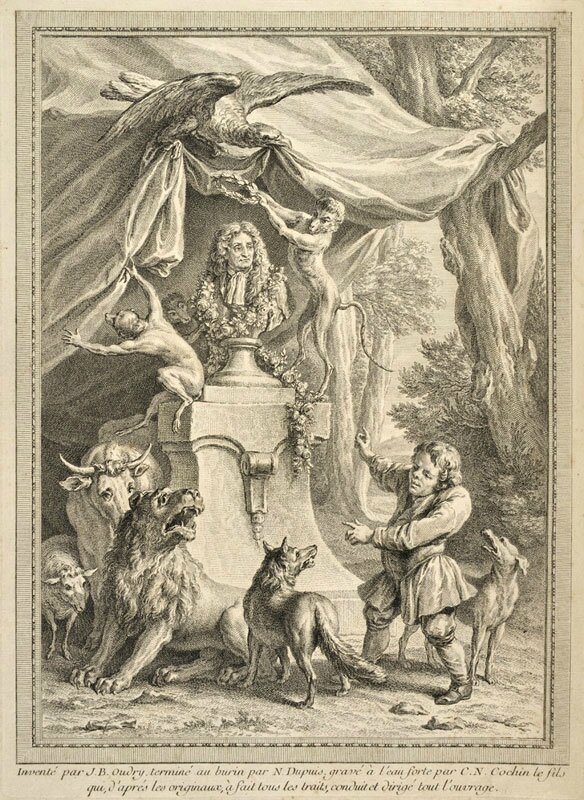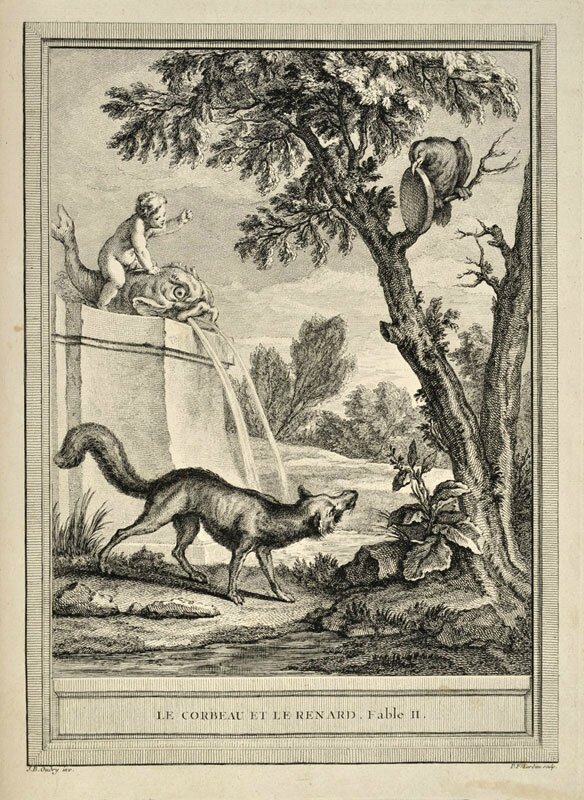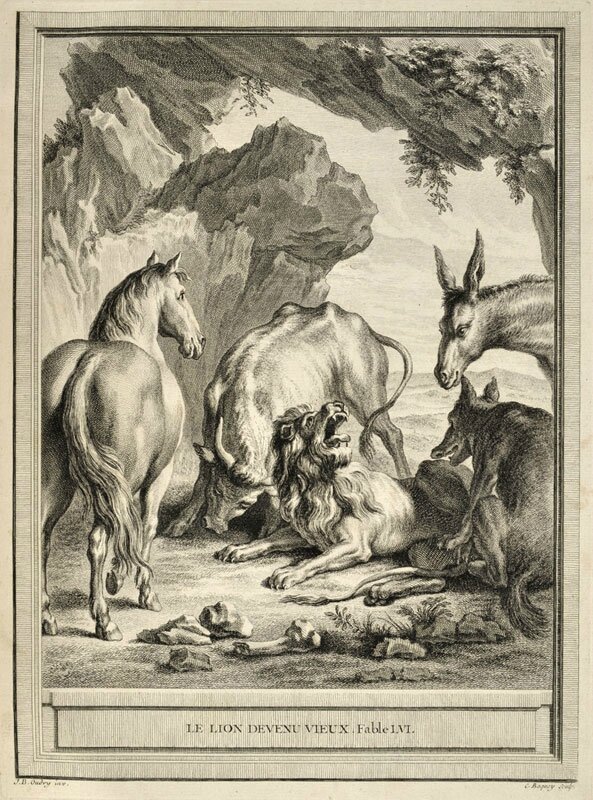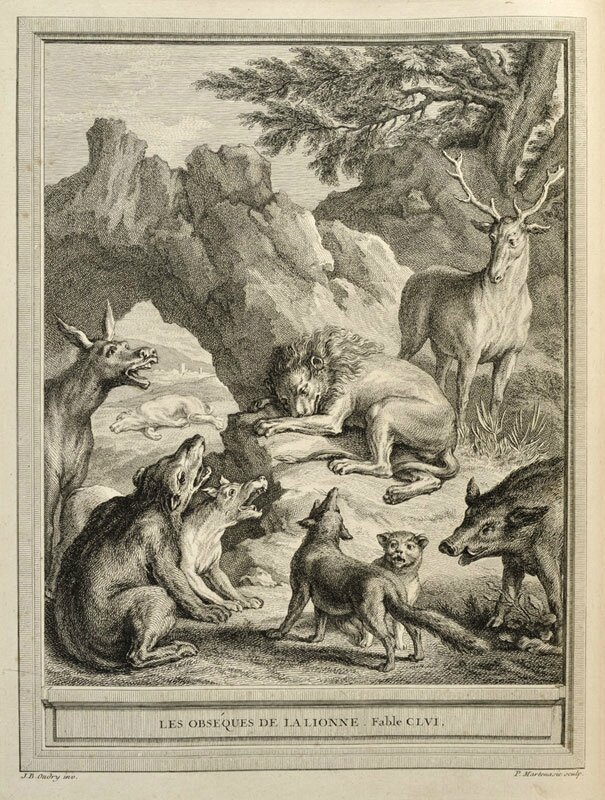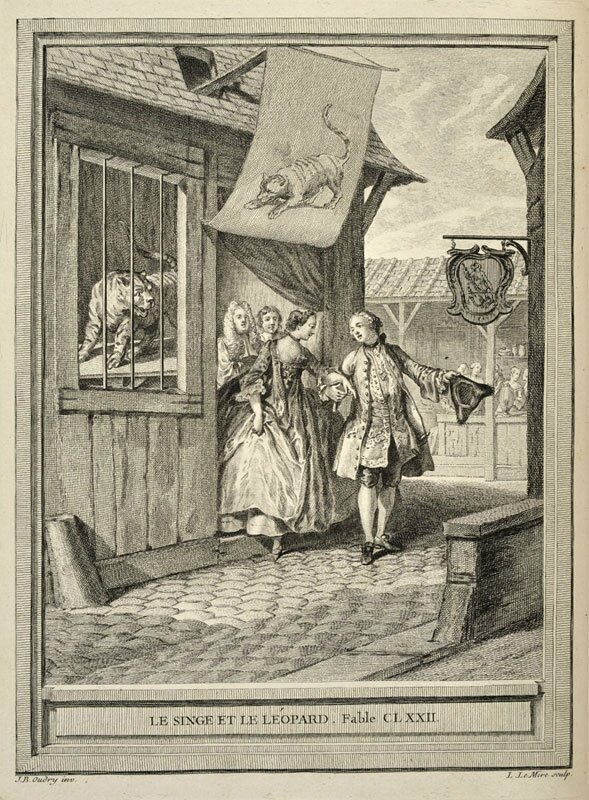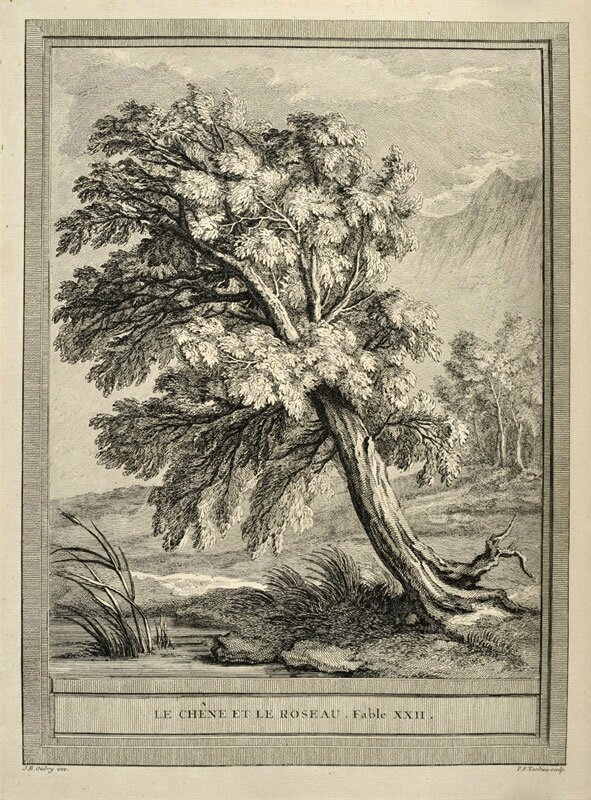 LA FONTAINE (Jean de). Fables choisies, mises en vers. Paris, Desaint & Saillant, Durand, 1755-1759. Estimation CHF 3'000-5'000. Photo courtesy Hotel des Ventes
4 vol. in-folio, maroquin rouge, dos à nerfs ornés et dorés, filets et fleurs dorés en encadrement sur les plats. T.1: 4ff., XXX, XVIII, 124 pp. T.2: 4ff., II, 135 pp. T.3: 3ff., IV, 146 pp. T.4: 3ff., II, 188 pp. Edition ornée d'un frontispice spécialement conçu par le peintre animalier Jean-Baptiste Oudry et terminé par Dupuis. 275 planches hors-texte par Cochin d'après les dessins originaux d'Oudry, gravés à l'eau-forte par les meilleurs artistes du temps et de 209 culs-de-lampe gravés sur bois à motifs allégoriques ou floraux. La planche de la fable Le Singe et le léopard avec l'inscription sur la banderole. Le brio avec lequel Cochin adapta les dessins d'Oudry fait de cet ouvrage l'un des plus remarquables livres illustrés du XVIIIe s. Cette édition contient, outre les Fables, une Vie de La Fontaine. Petites déchirures marginales, feuillets brunis, légères rousseurs, quelques feuillets restaurés, reliures fatiguées et restaurées. Très bel exemplaire.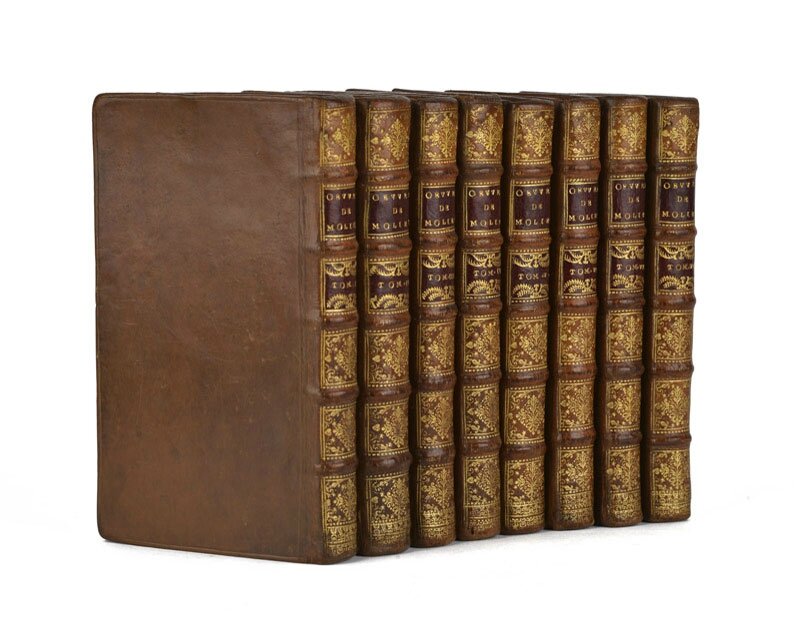 MOLIERE. Les Oeuvres de Monsieur de Molière. Paris, Denis Thierry, Claude Barbin et Pierre Trabouillet, 1697. Estimation CHF 10'000-15'000.Photo courtesy Hotel des Ventes
8 vol. in-12, veau blond, dos à nerfs richement ornés, pièces de titre et de tomaison en maroquin rouge. Reliure strictement d'époque. Très bel exemplaire de cette édition, qui reprend la composition de la première édition collective de 1682. Ex. bien complet des 30 figures gravées par Jean Sauvé, d'après les dessins de Pierre Brissart.
The Classical Archaeology session on Wednesday 12th March comprises bronzes, marble sculptures, ceramic and alabaster antiques. Among the star lots feature busts and low relief sculptures in marble from the Roman era as well pieces from Ancient Egypt.
In celebration of Easter, Hôtel des Ventes presents a beautiful collection of 38 Russian and Greek orthodox icons (lots 1050 à 1088) from private Swiss collections and characterised by the diversity of the iconography represented. Among the more important panels feature a Virgin and child dated to around 1700 (lot 1061 opposite estimated at CHF 2,000-3,000), an 18th century Greek icon of the Deesis (lot 1057 estimated at CHF 6,000-8,000), an 18th century Russian icon depicting the Birth of the Virgin (lot 1069 estimated at CHF 2,000-3,000) and a 19th century representation of the Nativity (lot 1081 estimated at CHF 3,000-5,000).
Vierge à l'enfant, icône italo-crétoise polychrome sur panneau avec fond doré, auréoles à motifs en pointillé en creux, circa 1700 ou avant, 51x40 cm. Estimation CHF 2'000-3'000. Photo courtesy Hotel des Ventes

Déesis, icône grecque polychrome sur panneau représentant le Christ, la Vierge et Saint Jean-Baptiste séparés par des arches dorées en relief, probablement XVIIIe s., 27x78 cm. Estimation CHF 6'000-8'000.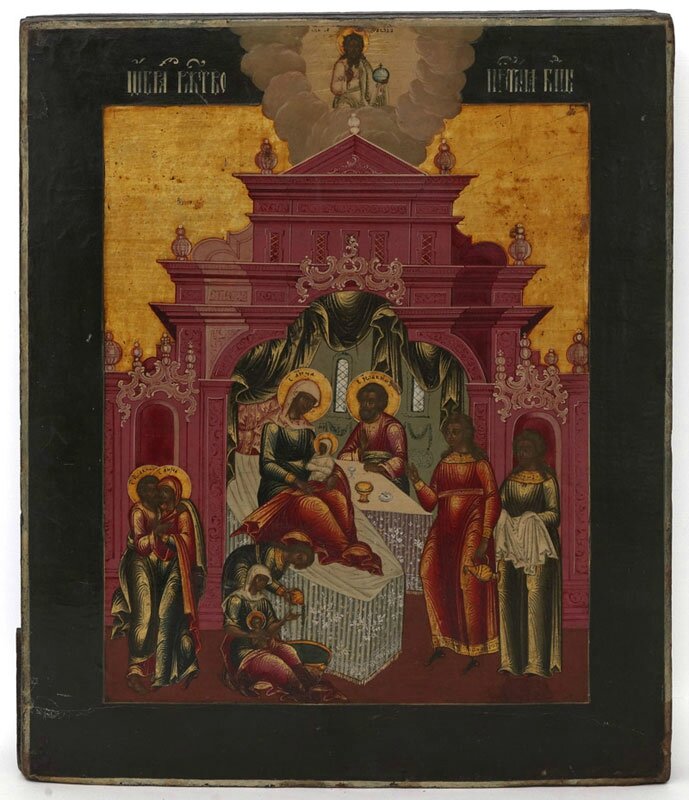 La Naissance de la Vierge, icône russe polychrome sur panneau avec fond doré représentant Anne et Joachim avec l'enfant Marie, probablement XVIIIe s., 32x17 cm. Estimation CHF 2'000-3'000. Photo courtesy Hotel des Ventes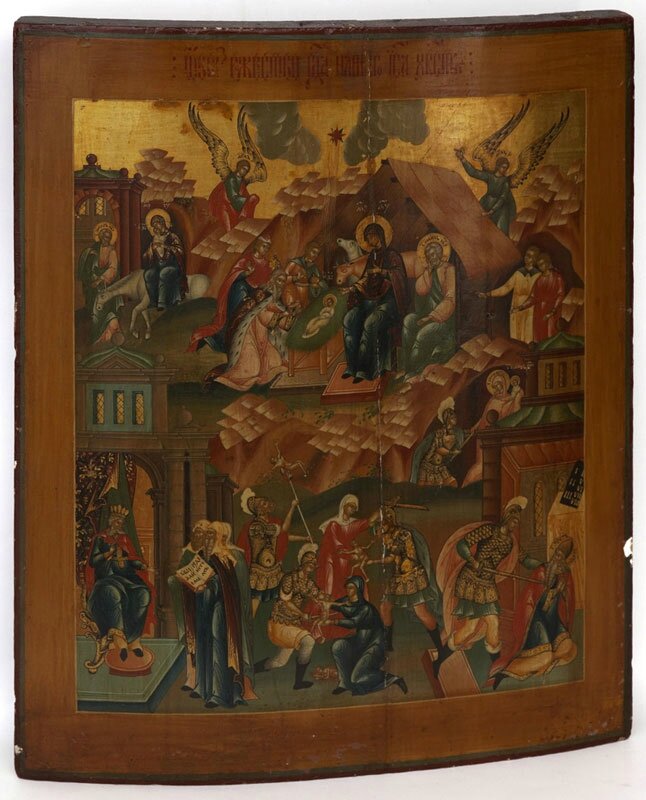 Nativité, icône russe polychrome sur panneau représentant la naissance du Christ avec la visite des Rois mages, le massacre des innocents par Hérode, le meurtre de Zacharie, Elizabeth cachant le jeune Jean-Baptiste, XIXe s., 54x46 cm. Estimation CHF 3'000-5'000. Photo courtesy Hotel des Ventes
Over 700 lots of jewellery and watches will be presented for sale at the March 2014 auction carrying estimates from CHF 200 to CHF 60'000. Two jewellery collections will benefit charitable organisations: an ensemble by Gilbert Albert will be sold for donation to the association SOS enfants whereas the funds from jewellery sold by Madame ZVR will benefit Cancer Research.
1960s Scandinavian furniture
This collection of Scandinavian furniture is just one of the nice surprises in line for the March 2014 auction. It comprises sitting room furniture and suite, dining furniture, some signed such as the Folke Palsson (lot 1030 estimated at CHF 300-500), the Poul Henningsen lighting (lots 1029, 1034 et 1035) and the corner bar and stools in vintage faux-leather (lot 1032 estimated at CHF 500-800). The 23 lots in this collection were purchased in Copenhagen and have remained in the same family since.
An auction tradition accessible to all
Though some lots in the December auction reached world record prices, almost 800 lots sold for under CHF 300. Behind the record hammer prices and celebrated collections, Geneva's Hôtel des Ventes continues in its efforts to open up the world of auctions and art to a greater public.
The March 2014 sales consist of over 900 paintings, furniture, rugs, jewellery, watches with auction estimates under CHF 300. These pieces have all been selected by the auction house specialists according to their historical value and the quality of their production. Falling into this category are a Cartier Must watch estimated at CHF 200-300 (lot 1347), a Prada handbag CHF 200-300 (lot 307) and a 19th century oil paintings offered at CHF 200-300 (lot 1288).