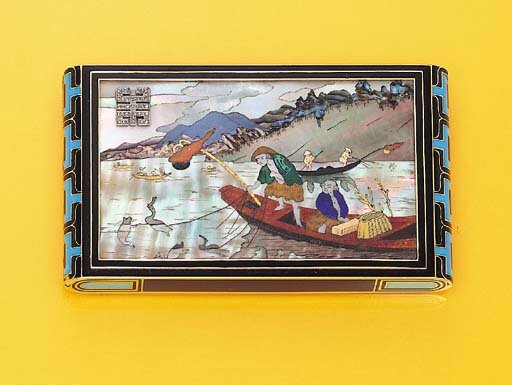 Mother-of-Pearl, Hardstone and Enamel Compact, circa 1928. Photo courtesy of Christie's.

The rectangular-shaped black and blue enamel case set with mother-of-pearl and hardstone panel depicting a Chinese fishing scene and a diamond-set shou to the concealed push-piece, opening to reveal two compartments and a fitted mirror, 8.5 x 4.8 x 1.1 cm. Panel signed M for Vladimir Makovsky.

The present vanity case is an exquisite example of Makovsky's inlay work. The movement of light on the water in the Chinese fishing scene is brought to life by the shimmering effect of the nacre. Makovsky's signature scribbly "M" can be seen to the far right at the middle.