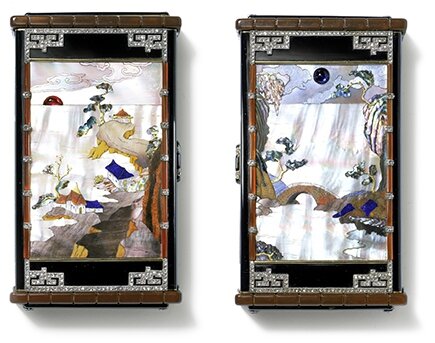 Day and Night Vanity Case, Cartier Paris, 1927. Photo courtesy of Cartier.
Yellow gold, platinum, two mother-of-pearl plaques with a daytime and a night-time landscape, a ruby half-cabochon (rising sun) and a sapphire cabochon (moon), gems, hardstone, nephrite, carnelian, baguette- and rose-cut diamonds, black enamel.
The interior fitted with a mirror, two covered compartments, a lipstick holder, and a place for a comb.
The landscapes are attributed to Vladimir Makovsky. Makovsky (1884–1966) was a Russian who moved to Paris where he specialized in recreating chinoiserie of lacquer and hardstone.