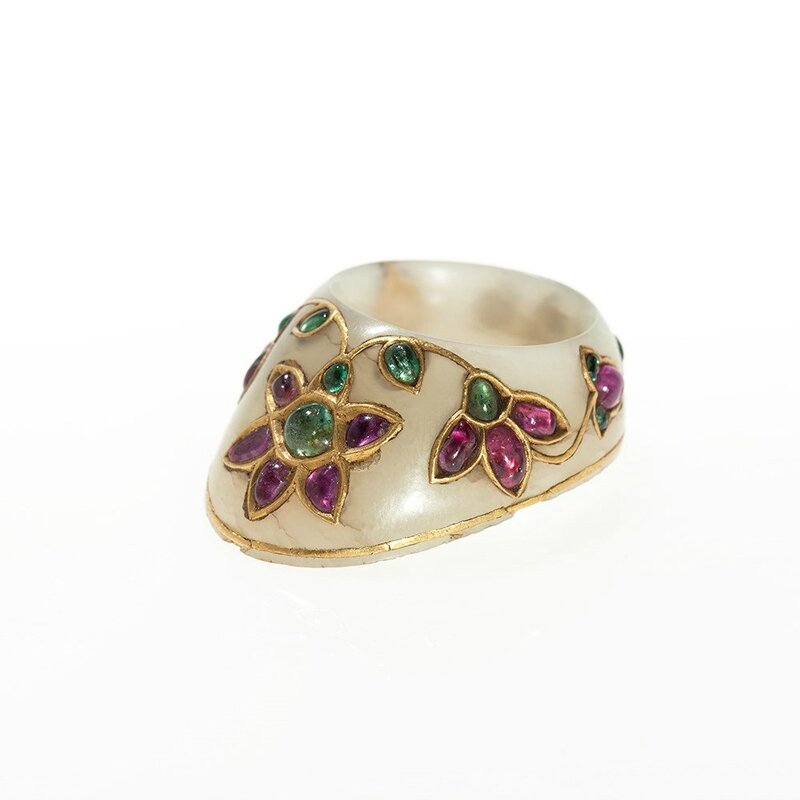 Kundan Jade Archer's Ring, Mughal Empire, India, 17th Century. Photo courtesy Auctionata.
A beautiful translucent jade ring with tendril decor. Pale green jade. Floral decor in kundan technique. Inlaid emeralds and spinels. Height: 4.2 cm. Ring size: 67. Very good state of preservation. The ring is in a very good state of preservation according to its age. There are only minor chips along the edge and some tiny nicks on the gems. Estimate €6,400 – €8,000
Provenance: ex-collection F.R. Martin, thence Austrian private collection
This magnificent archer's ring dates back to 17th Century India. Made from a pale green jade it features a floral decor in the so-calledkundan technique. Fine gold tendrils form little flowers inlaid with emeralds and spinels. Rings of this typical form were worn by archers on their thumb to protect the latter when drawing the bow string. Decorative rings of this kind were worn on a sash or a turban. A ring with the same floral motif can be admired in the Victoria & Albert Museum in London.
Collection F.R. Martin.
At the turn of the Century the Swedish scholar and art historian Fredrik Robert Martin (1868-1933) travelled through much of Persia. By the 1920s he had compiled an extensive and historically important collection of Islamic art, illustrating the craftsmanship of bygone dynasties. During his lifetime F.R. Martin authored many books on the subject of Islamic arts and crafts. Many of the items from the collection, about which an extensive catalogue was published, are nowadays held in the Medelhavsmuseet and the Ethnographical Museum in Stockholm.
Auctionata. Fine Asian Art. March 28. Kurfurstendamm 212, Berlin, 10719 Germany. www.liveauctioneers.com