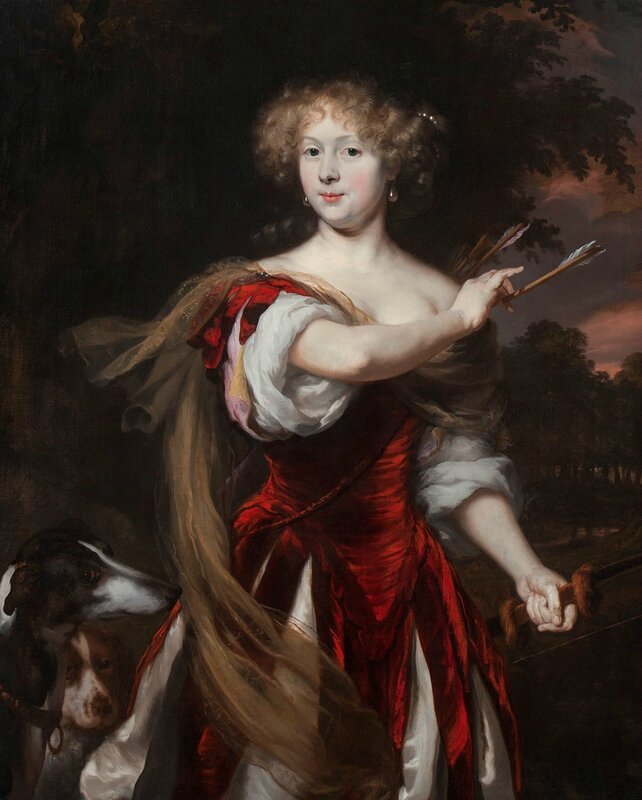 Nicolaes Maes (Dordrecht 1634 – Amsterdam 1693) , Portrait of a Lady as Diana. Photo courtesy Lawrence Steigrad Fine Arts.
oil on canvas; 44 ½ x 36 inches (113 x 91.5 cm.)
Gerrit Maes, a well-to-do silk merchant and soap manufacturer in Dordrecht, and his wife Ida Herman Claesdr were the parents of Nicolaes Maes. According to Arnold Houbraken in De Groote Schouburgh der Nederlantsche Konstschilders en Schilderessen (1718-1721) Maes first studied drawing in Dordrecht with a "mediocre master" ("een gemeen meester") and then went to Amsterdam to study painting with Rembrandt. He probably was in Amsterdam from 1648/50 until 1653, when he returned to Dordrecht to marry Adriana Brouwers. His work of the 1650s most closely reveals the influence of Rembrandt. Representing mainly scenes of domestic genre, with the employment of his master's brushwork, coloration and chiaroscuro, Maes invokes a stateliness not often associated with such subjects. His earliest portraits also date from the 1650s but show little of Rembrandt's style, rather reflect such Dordrecht artists as Jacob Gerritsz. Cuyp, Aelbert Cuyp, and Samuel von Hoogstraten. These works are characterized by a limited palette, austere backgrounds, frontal poses, restrained gestures and guarded expressions. After circa 1660 the subject paintings would be abandoned with the remainder of his career devoted exclusively to portraiture.[2]
In the 1650s painters such as Govaert Flinck, Adriaen Hanneman and Jan Mytens introduced the Flemish style of portraiture based on Anthony van Dyck into the northern Netherlands, from which Maes's mature style datable to the 1660s slowly evolved. Mytens's work in particular played an important formative role evidently inspiring the vivid reds, blues and facile brushwork that would characterize Maes's later portraits. After the deaths of the Amsterdam portrait painters Bartholomeus van der Helst in 1670 and Abraham van den Tempel in 1672; Maes seeing an opportunity for increased patronage moved there in 1673 and the gamble worked. Houbraken recorded, "so much work came his way that it was deemed a favor if one person was granted the opportunity to sit for his portrait before another, and so it remained for the rest of his life."[3]
Maes's clientele in Dordrecht and Amsterdam were drawn from the top echelon of society.[4] Cornelis Hofstede de Groot characterized the later portraits of Amsterdam as "Technically, these are among the most perfect of their time…The coloring has a piquant charm, especially for the fine reds and the skillful distribution of light and shade…Maes was specially gifted in the production of heads, half-length or three-quarter lengths, about half or two-thirds the size of life, in front of landscapes reddened by the setting sun, in rectangular or oval frames."[5] Portrait of a Lady as Diana, which William W. Robinson dates to circa 1675-78,[6] is an example of the veracity of Hofstede de Groot's pronouncement. Upon viewing this work the first word that comes to mind is elegance. A woman dressed as Diana the goddess of the hunt is depicted frontally posed in three-quarter length with her head turned slightly to the right. Her left hand grasps a bow while her right is caught in the act of withdrawing an arrow from the quiver strapped to her back. Set in a glade near a pool at sunset she is accompanied by a greyhound and pointer. Her striking beauty is matched by the exquisiteness of her costume. Her dress is a confection of the artist's imagination meant to evoke the antique. Wonderfully rendered, our sitter is regal in a slashed wine-red satin dress over a white satin underskirt with gossamer sleeves topped by a sweeping diaphanous camel-colored wrap. The employment of jagged strokes and sinuous brushwork in the dress combined with the application of silver and grey paint deepening and adding shine in its folds creates the sensation of three-dimensionality and movement concurrently. The trompe l'oeil of her jutting elbow thrust from the swirling funnel of the fabric of her sleeve along with the strategically placed arm is a feat of "painterly bravura."[7] The soft lighting of the background serves to simultaneously frame and push the sitter to the forefront of the picture plane.
Although the identity of our sitter is unknown, the manner in which Maes has portrayed her is extremely revealing. The artist's portraits of the 1670s and 1680s routinely featured sitters viewed in a garden or on a terrace at sunset.[8] Such imagery was intended to suggest ownership of a country estate. Land in the Netherlands was a highly prized commodity and in extremely limited supply. The second and third quarters of the seventeenth century saw a rise in the purchasing of country estates by wealthy townsmen and with the acquisition of an estate an elevation in social status followed. Life in the country was perceived as peaceful, contemplative, and free of worry or hardships, a time to pursue pleasure. If property was unaffordable, the assumption of ownership could be attained on canvas.[9] By painting the light in these works to reflect sunset, the suggestion of tranquility and the antique were heightened.[10] The inclusion of a reference to antiquity stemmed from the popularity of pastoral literature, which presented a vision of Arcadia as a paradise ruled by Pan, inhabited by nymphs, satyrs, shepherds, dryads and other acolytes, dedicated to the pursuit of love. It suggested a perfect world free of the mundane tribulations of daily life, particularly those encountered in town and court.[11] With the envisioning of our sitter as Diana she is elevated from a mere inhabitant to a goddess of paradise.
The subject of Diana as the goddess of the hunt would have been well suited to grace a country estate. The right to hunt had always been the privilege of the nobility but with the purchase of an estate and the accompanying rise in social status, wealthy burghers felt entitled to avail themselves of the pretense. The restrictive rules of hunting remained intact throughout the eighteenth century.[12] Diana was often depicted accompanied by dogs. Greyhounds were a breed known for their hunting prowess, while pointers were used for tracking and they often worked in tandem.[13] Their inclusion adds an element of realism to the portrayed privilege.
Diana was also regarded as the personification of virtue and chastity, traits that were obviously desirable to have associated with a lady's image.[14] Yet the imagery also provided a splendid opportunity to be portrayed in inventive costumes suggestive of the alluring state of dishabille. The additional advantage of such dress was the sense of timelessness it gave to the sitter.[15] According to Houbraken, Maes produced "an accurate likeness" of his sitters.[16] Thus in Portrait of a Lady as Diana, Maes records a woman who possessed an ethereal beauty yet simultaneously is evocative of the period in which she lived. Coiffed in the contemporary hairstyle of corkscrew curls on the sides with the back swept into a bun, her hair is bedecked with pearls.[17] Her large pear-shaped pearl earrings were the most popular type of pearls in Europe in the seventeenth and eighteenth centuries. They could range up to 20 millimeters in diameter and were called unions d'excellence, reflecting the difficulty of finding perfectly matched pearls of such large size.[18] The pearls are of course indicative of the sitter's wealth, but are also emblematic of purity, perfection and femininity as their pale iridescence was associated with the luminosity of the moon,[19] which further compliments her guise as Diana a goddess of the moon.
The earliest provenance given to this work is the collection of King William II of the Netherlands (1792-1849).[20] This painting was not included in either of William's estate sales that occurred on August 12, 1850 in The Hague and September 9, 1851 in Amsterdam.[21] However the 1851 sales catalogue does mention that William owned works by Nicolaes Maes that were not included in the sale. The collection's dissolution is viewed as the dispersal of "one of the most important Dutch collections ever assembled,"[22] but was necessitated by massive debts incurred by William. An avid collector, William sold paintings as well as made exchanges with dealers during his lifetime. After his death on March 17, 1849 paintings were sold privately prior to the auction sales. Also family portraits were designated as not to be sold at this point and it is unknown which works fell into this group. It is possible that our Maes, traditionally called Portrait of the Princess of Orange, Wife of Frederic-Henry of Nassau, was among the group and perhaps sold off later,[23] or had been sold by William, or by the family shortly after his death. Whichever the case, Étienne Le Roy (1808-1878), whose seal is affixed to the stretcher of Portrait of a Lady as Diana, had a history of purchasing works from important collections. A renowned expert and dealer in old master paintings, in 1846 by ministerial decree he was appointed commissaire-expert of the Museé Royal de Peinture et de Sculpture in Brussels, a position he maintained for the rest of his life. In this role the Brussels museum regularly asked his opinion on the attribution, quality and price of works of art under consideration for acquisition. Le Roy was responsible for some of the most important art sales that took place in Brussels from the 1840s through 1875, and maintained several locations in the city as well as a branch in Paris. In the nineteenth century tremendous weight was given to the history of a painting, as an illustrious provenance was viewed as a confirmation of the work's value as well as a positive reflection on the buyer's acumen. Each painting that Le Roy sold was accompanied by a handwritten guarantee that included biographical information on the artist, a very detailed description of the work, as well as information on previous owners.[24]
William Tilden Blodgett (1825-1875), an enthusiastic art collector, served as the Metropolitan Museum of Art's first chairman of the executive committee as well as its first vice president. He was also responsible for the New York museum's initial purchase of 174 paintings of mainly Dutch and Flemish old masters, which formed the core of the collection, finalized in 1871. One hundred of these paintings were sold to him by Étienne Le Roy with the Belgian art dealer Léon Gauchez (1825-1907) acting as agent. (Although extremely deteriorated, in all likelihood Gauchez's red wax square-shaped seal of a series of thin ornate lines forming his monogram is also affixed to our painting's stretcher.)[25] Well traveled in Europe, Blodgett was viewed as a man "to whom nothing of inferior merit could be offered with any hope of success,"[26] and must have acquired the Maes from Le Roy on a subsequent trip around 1875.[27] Blodgett possessed an impressive personal art collection housed at his home on Fifth Avenue and Fifty-Seventh Street. His intention had been to build a gallery onto his home, at the time just three blocks north of the Metropolitan Museum at Fifth Avenue and Fifty-Fourth Street, probably for public viewing. His death in 1875 put an end to these plans and his collection was sold at auction on April 27, 1876.[28] That night 93 paintings were sold for the impressive amount of $87,145 in front of a packed audience.[29] But the Maes was retained by the family and not sold until probably the early part of the twentieth century by a grandson.
During the course of the twentieth century the painting would be handled by two illustrious firms in New York, first Julius H. Weitzner, Inc. and later Hammer Galleries. In 1939 William R. Valentiner, the author of the first monograph on Nicolaes Maes written in 1924, wrote a glowing report on Portrait of a Lady as Diana, probably at the behest of Hammer Galleries as it is first noted in their documentation. Hammer Galleries sold it to Mrs. Frank E. Christopher of Millwood, Virginia, where it hung in her stately home called Carter Hall until September 18, 1976 when Parke-Bernet Galleries sold all the contents in a house sale held on the premises. There it would be acquired by a private collector from Barboursville, Virginia and pass by descent to a collection in Natchez, Mississippi until 2013.
Valentiner in his 1939 photo-certificate stated, "The painting is brilliant in color and technique and is in a fine state of preservation." William W. Robinson in a written communication from 2013 describes it as a "superb acquisition."[30] In his 1996 Ph.D. thesis he wrote, "Maes is regarded as the outstanding Dutch portraitist active during the last third of the century,"[31] for which Portrait of a Lady as Diana provides the undeniable proof.
We are indebted to William W. Robinson for his endorsement and dating of the work to circa 1675-1678. We would like to thank William Secord for his suggested identification of the breed of the dogs.
[1] Valentiner's photo-certificate states, "The painting reproduced in this photograph is in my opinion a characteristic original work by Nicolaes Maes. It represents Diana hunting, but the goddess is obviously a portrait of a Dutch lady who preferred to be painted in this allegorical manner. The painting is brilliant in color and technique and is in a fine state of preservation. It is executed in the later period of the artist, about 1670./ Detroit. W.R. Valentiner/Dec. 15, 39"
[2]Biographical information taken from William W. Robinson, "Nicolaes Maes" in The Grove Dictionary of Art, From Rembrandt to Vermeer, 17th- Century Dutch Artists, St. Martin's Press, New York, 2000, pp. 201-203; and Walter Liedtke, "Nicolaes Maes" in Dutch Paintings in the Metropolitan Museum of Art, volume I, Yale University Press, New Haven and London, 2007, pp. 430-431.
[3]Robinson, op. cit., pp. 202-203.
[4]Ibid, p. 204.
[5]C. Hofstede de Groot, "Nicolaes Maes" in A Catalogue raisonné of the works of the most eminent Dutch painters of the seventeenth century, volume 6, section XXIII, p. 475.
[6]Written communication with William W. Robinson, dated December 12, 2013.
[7]William W. Robinson, "The Early Works of Nicolaes Maes, 1653-1661," Ph.D. dissertation, Harvard University, 1996, pp. 84-85, 184, 187.
[8]Robinson, op. cit., 2000, p. 203.
[9]Alison McNeil Kettering, The Dutch Arcadia. Pastoral Art and its Audience in the Golden Age, Totowa, New Jersey, 1983, pp. 10-11, 18, 65, 70-71.
[10]Scott A. Sullivan, The Dutch Gamepiece, Rowmant Allenheld Publishers, Totowa, New Jersey, 1983, pp. 62-63.
[11]James Hall, "Arcadia" in Dictionary of Subject and Symbols in Art, Harper & Row Publishers, New York, 1979, pp. 30-31; and Kettering, op. cit., 10-11, 70-71.
[12]Sullivan, op. cit., p. 49.
[13]William Secord, Dog Painting 1840-1940, A Social History of the Dog in Art, Including an important historical overview from earliest times to 1840 when pure-bred dogs became popular, Antique Collectors' Club, Woodbridge, 1995, pp. 46, 149.
[14]Friso Lammertse, "Gerard Lairesse" in Dutch Classicism in Seventeenth-Century Painting, exhibition catalogue Museum Boijmans Van Beuningen, Rotterdam, September 25, 1999 - January 9, 2000, p. 324.
[15]Marieke de Winkel, Fashion and Fancy: dress and meaning in Rembrandt's Paintings, Amsterdam University Press, Amsterdam, c. 2006, pp. 222, 224.
[16]Robinson, op. cit., 2000, p. 203.
[17]Saskia Kuus, "Jan Mijtens" in Pride and Joy, Children's Portraits in the Netherlands, 1500-1700, exhibition catalogue Frans Halsmuseum, Haarlem, October 7-December 31, 2000, p. 223.
[18]"Pearls in Human History, The European Tradition" in Pearls: A Natural History, The American Museum of Natural History, New York, 2001, p. 82.
[19]Jack Tressidder, ed., "Pearls" in The Complete Dictionary of Symbols, Chronicle Books, L.L.C., 2004, pp. 376-377.
[20]Information taken from old documentation probably produced by Julius H. Weitzner, Inc. on the Nicolaes Maes here titled Portrait of the Princess of Orange, Wife of Frederic-Henry of Nassau.
[21]Tableaux anciens et modernes, de diverses écoles, dessins et statues: formant la Galerie de Feu sa Majesté Guillaume II, Roi des Pays-Bas, Prince d'Orange, Grand-Duc de Luxembourg, Jéronimo de Vries, held at the palace of King Guillame II, The Hague, August 20-20, 1850 and Tableaux anciens et modernes de diverses écoles, dessins et estampes encadrés formant la seconde partie de la Galerie de Feu sa Majesté Guillaume II, Roi des Pays-Bas, Prince d'Orange-Nassau, Grand-Duc de Luxembourg, Jéronimo de Vries, Amsterdam, September 9, 1851.
[22]Erik Hinterding, A Small but Choice Collection: the art gallery of King Willem II of the Netherlands (1792-1849), Waanders Uitgevers, Zwolle, c. 1989, pp. 5, 18, fn. 60.
[23]Ibid, p. 15, fn. 43; p. 39, fn. 152; p. 44, fn. 185.
[24]Katharine Baetjer, "Buying Pictures for New York: The Founding Purchase of 1871" in Metropolitan Museum Journal, 39, 2004, pp. 164-165, 172, 181, 183.
[25]All of the examples in the Metropolitan Museum's collection are in a similar state of illegibility and Katharine Baetjer in her 2004 article on the Blodgett purchase was only able to reproduce Gauchez's monogram from his stationary. See Baetjer, op. cit., p. 197.
[26]Ibid, p. 162.
[27]Information taken from old documentation probably produced by Julius H. Weitzner, Inc..
[28]Baetjer, op. cit., p. 162.
[29]The sale was held at Chickering Hall in New York by the Kuntz Gallery. "A Feast for Art Lovers: Sale of the Blodgett Collection of Paintings" in The New York Times, April 28, 1876.
[30]Written communication from William W. Robinson dated December 12, 2013.
[31]Robinson, op. cit., 1996, p. 48.
Provenance: Possibly King William II of the Netherlands
Étienne Le Roy, Brussels (stamped with his seal on the stretcher) from whom acquired by
William Tilden Blodgett, New York, circa 1875 and thus by descent in the family to his grandson
Julius H. Weitzner, Inc., New York (label on the reverse)
Hammer Galleries, New York, probably circa 1939 (as Portrait of the Princess of Orange, Wife of Frederick-Henry of Nassau), from whom acquired by
Mrs. Frank E. Christopher, Carter Hall, Millwood, Virginia
The Contents of Carter Hall, Parke-Bernet Galleries, Inc., Carter Hall, Millwood, Virginia, September 18, 1976, lot 276, illustrated (as Portrait of the Princess of Orange as Diana), where acquired by
Private Collection, Barboursville, Virginia and thus by descent to
Private Collection, Natchez, Mississippi until 2013
Literature: Photo-certificate from William R. Valentiner dated Detroit, December 15, 1939[1]
Lawrence Steigrad Fine Arts. MasterArt at TEFAF 2014 on stand 814. 14-23 march 2014 - http://www.masterart.com/