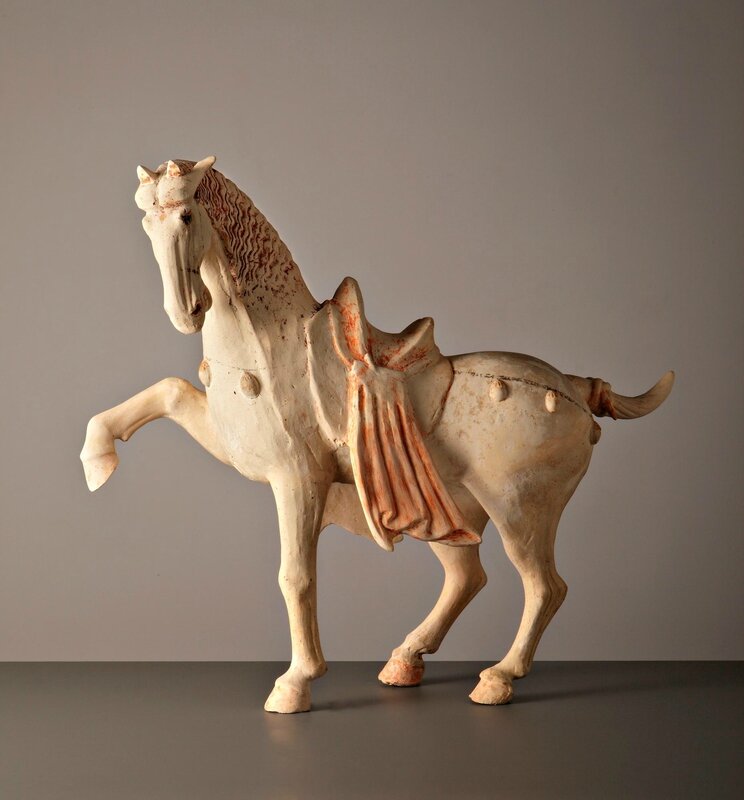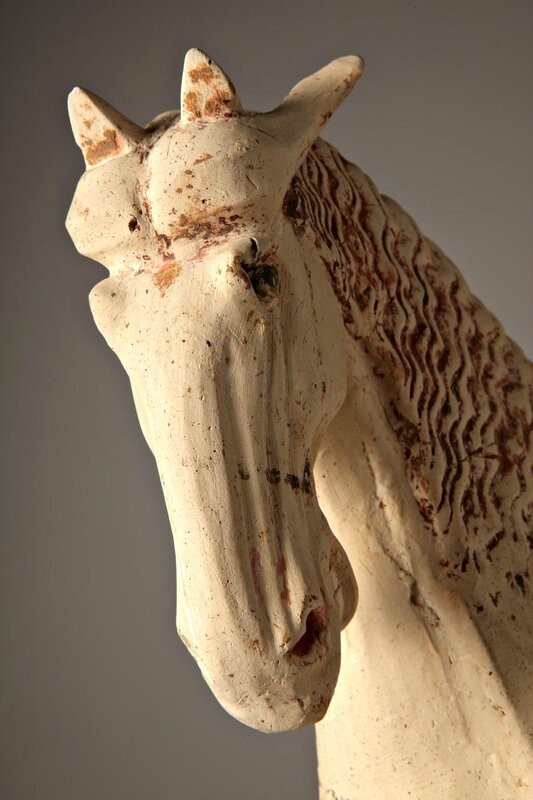 Dancing Horse, China, Tang dynasty (618-906). Photo courtesy Vanderven Oriental Art.
Height: 50 cm. Length: 58 cm. TL-tested by Oxford, U.K
Of pale buff earthenware, shown with right foreleg raised, this naturalistically modelled horse has its head turned to the the left. The saddle is covered with a cloth gathered on the sides atop the mud guard and tassels decorate the steed's chest and rump.
It is possible that this horse may have been represent one of the foreign dancing horses that performed for Emperor Xuanzong (r. 712-756 AD) on the occasion of his birthday, to wish him long life. According to Zhang Yue (667-731AD) - a leading court official - these heavenly horses came from west of the sea and danced with bent knees and holding cups in their mouths "…nimbly prancing, they keep in step with the music …" This horse was probably originally interred in a Tang dynasty high ranking burial. It was believed to bestow immortality on the occupant, just as it may have done to Xuanzong.
In 1972, similarly postured horses were excavated from the Tang tombs of Zhang Shigui, an attendant of emperor Taizong (r.629-649AD). Comparable examples can also be found in the collections of the Metropolitan Museum of Art, New York (Acc. No: 67.62.2), the British Museum, London and Ashmolean Museum , Oxford (LI1301.409)
Provenance: Private Collection, Europe
Previously with Vanderven 2007
Vanderven Oriental Art. MasterArt at TEFAF 2014 on stand 814. 14-23 march 2014 - http://www.masterart.com/