The "Liu Yun Xie" Root Wood Scholar's Rock, Qing Dynasty, 18th / 19th Century. Est. HK$300,000 – 500,000 / US$38,000 – 64,000. Photo: Sotheby's.
HONG KONG.- The sale of Contemporary Literati – A Gathering during Sotheby's Hong Kong Spring Sales 2014 will take place on 7 April at Hall 5, Hong Kong Convention and Exhibition Centre. It aims at providing an aesthetic experience by presenting side by side some of the most exciting artists working in the ink medium today such as Cai Xiaosong, Li Huayi, Liu Dan, Peng Wei, Xu Lei, Zeng Xiaojun, together with a wide array of objects that have for centuries inspired and continue to inspire painters today – grotesque tree roots, strange rocks and other abstract objects from nature. The sale offers around 100 lots estimated in excess of HK$40 million / US$5 million* in total.
Nicolas Chow, Deputy Chairman of Sotheby's Asia and International Head of Fine Chinese Ceramics and Works of Art, said, "The word gathering conjures up an assemblage of people or an informal grouping of things. For the Chinese literatus, the word is rich in historical allusions and evokes a lofty party of painters or poets, following the much celebrated Orchid Pavilion gathering (353 AD) where forty-two literati engaged in a drinking and poetry contest. The present sale freely explores these various connotations. In this sale, we have a fraternity of like-minded aesthetes, whether artists, collectors or dealers who are parting with some much cherished paintings and objects. From paintings of grotesque rocks to ancient Buddhist sculptures and strange roots, the sale focuses on contemporary paintings and ancient objects that continue to inspire artists in China today."
HIGHLIGHTS
Liu Dan (b. 1953), Taihu Rock of the Forbidden City, 2013. Ink on paper, framed, 58.4 x 86.4 cm. Est. HK$450,000 – 550,000 / US$58,000 – 71,000 (Sold to benefit the China Institute in America)
Liu Dan, The Master of Rocks in ink has in the past three decades produced an exhilarating legacy of physical grandeur, spiritual immensity and delicately rendered lyrical power, whether it be monumental landscapes, large-scale and multi-faceted portraits of individual rocks, or his distinctive paintings of flowers and traditional Chinese dictionaries. In the present painting, the artist captures vividly the many facets, twists and whorls of a fantastic rock from the Forbidden City, specially painted to benefit the China Institute in America.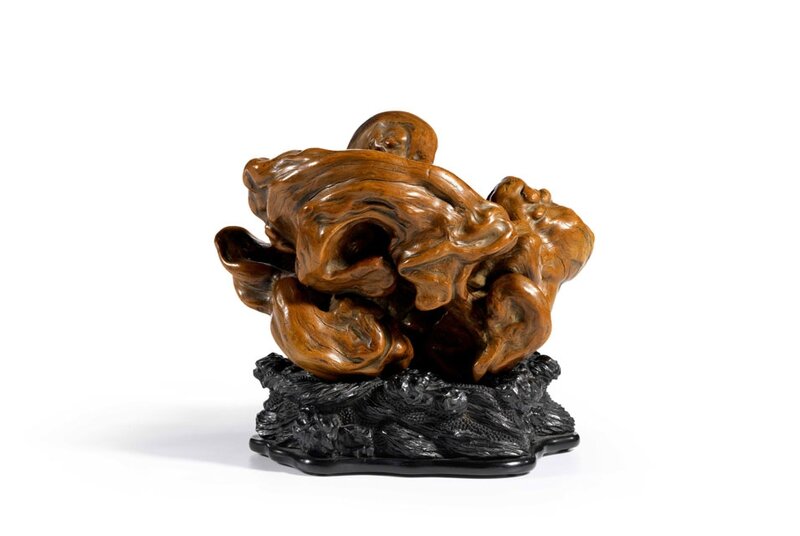 The "Liu Yun Xie" Root Wood Scholar's Rock, Qing Dynasty, 18th-19th Century. Est. HK$300,000 – 500,000 / US$38,000 – 64,000. Photo: Sotheby's
The thousand year old appreciation of rocks and roots among China's scholarly elite elevates the strange, clumsy and ugly produced by nature. Such objects have inspired the most celebrated artists throughout China's history and continue to do so today. The present root, shaped like a fantastical organ, is a pleasure both for the eye and for the touch.
A "Qilian" Limestone "Bridge" Scholar's Rock, Qing Dynasty, 18th Century. Est. HK$1 – 1.5 million / US$128,000 – 192,000
Naturally arched with two points resting on the zitan stand, the dark gray stone with concentrically swirling wrinkles bisected by a white and pink translucent vein running longitudinally and buff undertones. The present rock is delightful for its delicate small size and naturalistic quirky shape, in the form of what appears to be a rock bridge. It would have been placed on a scholar's desk to give inspiration and pleasure while its owner contemplated on aspects of life and nature. It is aesthetically pleasing and also small enough to be help in one's palm.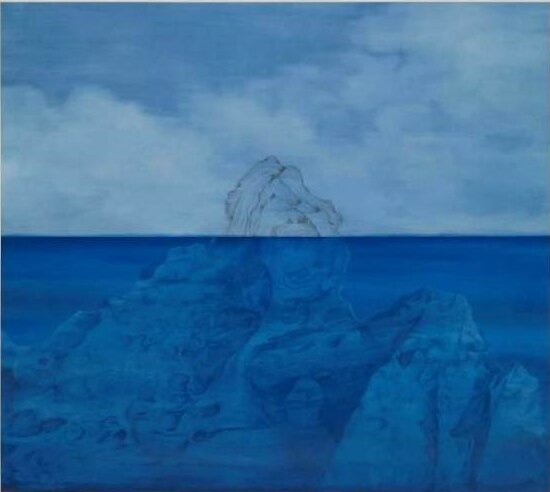 Xu Lei (b. 1963), Rock Island, 2012. Ink and colour on paper, framed, 118 x 131 cm. Est. HK$2 – 2.5 million / US$260,000 - 320,000
Xu Lei first gained fame from his work on paper and has perfected his mastery of ink on paper to a decidedly contemporary approach that retains the sublime spirituality of traditional Chinese art. Like an iceberg or an island, only a small percentage of the rock is visible above the water line. While that upper portion is rendered in an orthodox painting manner with clearly delineated texture strokes, below the water line the texture strokes are obscured. Xu has created a new kind of representation of a scholar's rock, one that acts as a metaphor for his belief that much of our world – particularly our mental world – is hidden or unknowable.
A Sandstone Head of Buddha, Northern Qi Dynasty. Est. HK$400,000 – 600,000 / US$51,000 – 77,000
This small sandstone head of a Buddha, formerly in the celebrated Wannieck collection in Paris, is stylistically close to Buddhist sculptures found in the Tianlongshan caves in Shanxi province. The almond-shaped, heavy-lidded eyes, the elegantly curved mouth and the hair dressed in rows of large rounded curls are all typical of this singularly beautiful period in Buddhist sculpture.
Li Huayi (b.1948), A Gathering of Pines and Clouds, 2007. Ink and colour on paper, framed, 63.5 x 101.6 cm. Est. HK$1.5 – 2 million / US$190,000 – 260,000
Li Huayi is known for his dramatic mountain-scapes, with broad washes of ink, finely wrought twisted pines and cascading waterfalls that combine a Northern Song monumentality with a Southern Song sense of space and intimacy. In starting his landscapes, as in the present work, Li Huayi abandons the brush entirely; he pours ink on his paper and moves the paper to create broad shapes and forms, then comes back with a very fine brush and fills in the details. The result is a stunning play of light and shadows conjuring the artist's vision of the spiritual Pureland.
A Root Wood Carving, Qing Dynasty, 18th Century. Est. HK$400,000 – 600,000 / US$51,000 – 77,000
This vertically oriented root wood carving has one side showing a dense array of irregular gnarled knots and nodes forming deep crevices and ridges. The extremities taper to smaller sections of roots, the reverse left plain, the wood of dark chocolate patina.