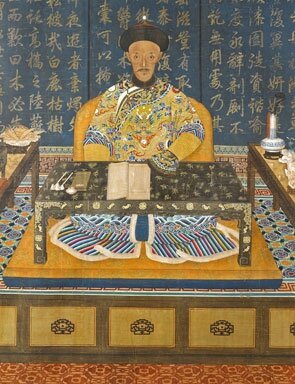 Anonymous, an Informal Portrait of the Daoguang Emperor (1782-1850) (detail). Early 19th Century. Ink and color on silk, now framed and glazed. 51 1/2 x 29 1/4in (130.8 x 74.3cm). Sold $389,000. Photo: Courtesy of Bonhams.
NEW YORK, NY.- An informal portrait of the Daoguang Emperor (1782-1850) from the early 19th century reigned at Bonhams Chinese Art from the Scholar's Studio sale on March 17. The vibrant composition sold for more than seven times the pre-sale estimate, reaching $389,000 after a lengthy bidding war. The portrait shows the Emperor at leisure, wearing semi-formal court robes (jifu), and gazing steadily as if to acknowledge the presence of the viewer. Unlike a formal depiction, this relatively casual view of the emperor in his study provides a window to the material culture and a more personal glimpse of the individual. Coming from a private family collection, the painting was acquired in China by an American missionary before 1945. A strikingly similar portrait of the Daoguang emperor seated in his study is in the collection of the Palace Museum, Beijing.
An anonymous portrait of a Royal Lady from the 19th century achieved $269,000, more than double its estimate. Although her identity is unknown, the regal sitter is depicted with exceptional detail in her winter robes, trimmed in otter fur. Her hat is further adorned with three gold filigree and kingfisher feather phoenix decorated with pearls, denoting her status as a princess or consort.
Anonymous, A Portrait of a Royal Lady, 19th century.Hanging scroll, ink and color on silk. 70 1/4 x 41in (178.4 x 104cm). Sold for US$ 269,000 (€193,441). Photo: Bonhams.
Modern and contemporary Chinese paintings also attracted animated bidding with works by Zhang Daqian and Liu Guosong demonstrating the market's continued enthusiasm for modern Chinese ink painting. Zhang Daqian's (1899-1983) self-portrait, "Return of My Sight" from 1964 surpassed its estimate to realize $365,000. The painting was a gift from the artist to his ophthalmologist as a sign of gratitude following successful treatment. Liu Guosong's (Born 1932) "Which is Earth? No.96" from the artist's 1970-1971 series, inspired by the moon landing, doubled its estimate to reach $125,000.
Zhang Daqian (1899-1983), Self Portrait, The Return of My Sight, 1964. Hanging scroll, mounted for framing, ink and color on paper, with a long inscription by the artist, dated jiachen duanwu (1964) and signed Daqian Zhang Yuan with two seals of the artist reading Zhang Daqian Changxing Daji You Rili and Zhang Yuan Changshou. 50 1/2 x 26in (127 x 66cm Sold for US$ 365,000 (€262,476). Photo: Bonhams.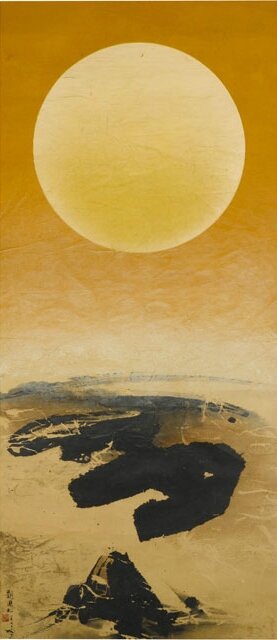 Liu Guosong (Born 1932) "Which is Earth? No.96", 1971. Hanging scroll, ink and color on handmade paper, signed Liu Guosong followed by a date of 1970-1971, with one seal of the artist, the title slip likely in the artist's hand, titled and dated in Chinese and English. 60 1/2 x 26 1/4in (153.7 x 66.7cm). Sold for US$ 125,000 (€89,889). Photo: Bonhams.
Hundreds of bidders on four continents participated in the auction, with interest concentrated in East Asia – particularly China, Hong Kong and Taiwan. Intent telephone bidders, determined attendees and those bidding live online all managed to bring home at least one of the top 10 lots.
Additional highlights in the sale included a reverse painted mirror from the late 18th century sold for $87,000; a late Qing/Republic period zitan mounted cinnabar lacquer table screen that fetched $62,500; and an impressive gilt copper melon-form box and cover with a Qianlong mark that reached $55,000.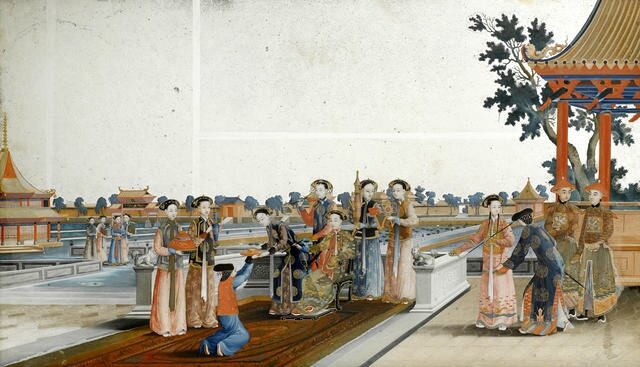 A reverse painted mirror. Late 18th century. Painted to the reverse with opaque pigments and touches of gold, the sky unpainted revealing the silvery mirror, in a gilt wood frame; 17 9/16 x 30 1/8in (44.6 x 76.5cm). Sold for US$ 87,500 (€62,922). Photo: Bonhams.