Qi Baishi(1864 – 1957), An Assemblage of Fruits. Photo Sotheby's
HONG KONG.- Sotheby's Hong Kong Fine Chinese Paintings Spring Sale 2014 will take place on 7 April at the Hong Kong Convention and Exhibition Centre. Exquisite works by such modern Chinese artists as Zhang Daqian, Wu Changshuo, Qi Baishi, Fu Baoshi, Xu Beihong and Xie Zhiliu will be offered, many of which come from private collections in Europe and North America and are fresh to the market. The sale will feature more than 400 lots in total, estimated in excess of HK$130 million / US$16.7 million*.
C.K. Cheung, Head of Sotheby's Chinese Paintings Department said: "This Spring, we continued to leverage on our unrivalled global network to assemble some of the most outstanding works from important private collections overseas. Headlining the sale is Zhang Daqian's Lotus in the Wind from the collection of Museum of Modern Art in New York. The painting exemplifies Zhang's transition from his freehand style to splashed-ink-and-colour technique and is one of the artist's most pivotal lotus-themed works from the 1960s. Regarded by the artist as an epitome of this genre, the work was on loan to a number of important exhibitions, including Exhibition of Paintings by Chang Da-Chien at Hirschl & Adler Galleries in 1963 and Chang Dai-Chien: A Retrospective Exhibition at the Center of Asian Art and Culture in 1972."
"Another highlight is Roaring Lion, an exceptional work by Gao Qifeng, one of the founders of the Lingnan School of Painting. The work once belonged to the private collection of Zhang Kunyi, student of Gao Qifeng, who brought with her a selection of Gao's paintings when she left China for the United States during the Second Sino-Japanese War, with Roaring Lion being the most representative of them all. Also worthy of note is Landscape in Afterglow, an outstanding splashed-colour masterpiece by Zhang Daqian from the collection of distinguished Chinese literature scholar Han Nan."
AUCTION HIGHLIGHTS
Zhang Daqian (1899 – 1983) Lotus in the Wind, signed YUANWENG, dated 1961, inscribed, and with two seals of the artist. Ink on Paper, Hanging Scroll, 179.1 x 96.5 cm. Est. HK$5 – 7 million / US$640,000 – 897,000. Property from the Museum Of Modern Art, New York, Sold to Benefit the Acquisitions Fund. Photo Sotheby's
Lotus in the Wind was a gift from Zhang Daqian to his good friend Dr Kuo Yu-shou, also known as Guo Zijie, who in turn donated the work to the Museum of Modern Art in New York in 1961. Kuo studied in France in his early years before returning to China, where he was offered a key appointment in the Nationalist government, which placed him in a position to form close ties with the art circle. Zhang and Kuo, both Sichuanese, became particularly close when the artist fled to Sichuan during the Second Sino-Japanese War. Following the change of political regime in China, Zhang Daqian left the country to reside abroad while Kuo stationed at a diplomatic post in Europe. From the mid-1950s to 1960s, Zhang travelled extensively in Europe and held exhibitions in a number of countries with the assistance of Kuo as his agent. The two then became very close friends. In 1961, Zhang Daqian painted this work during his sojourn in Japan and presented it as a gift to Kuo Yu-shou when he stayed at Kuo's residence in Paris later that year.
Lotus in the Wind is a signature splashed-ink lotus work by Zhang Daqian from the early 1960s, a period when the artist transformed from his freehand style to splashed-ink-and-colour technique. The composition is simple and bold and the brushstrokes are free and unfettered, unveiling a magnanimous breadth of aesthetic vision. The application of ink in balanced shades, executed in a robust and exuberant manner, reveals the delicate beauty of nature.
This work was exhibited in 1963 at the Hirschl & Adler Galleries, one the earliest solo exhibitions of Zhang Daqian in the United States. In 1972, it was again featured at Chang Dai-Chien: A Retrospective Exhibition at the Centre of Asian Art and Culture in San Francisco. Its appearance in various important exhibitions attests to its significance in the artist's oeuvre.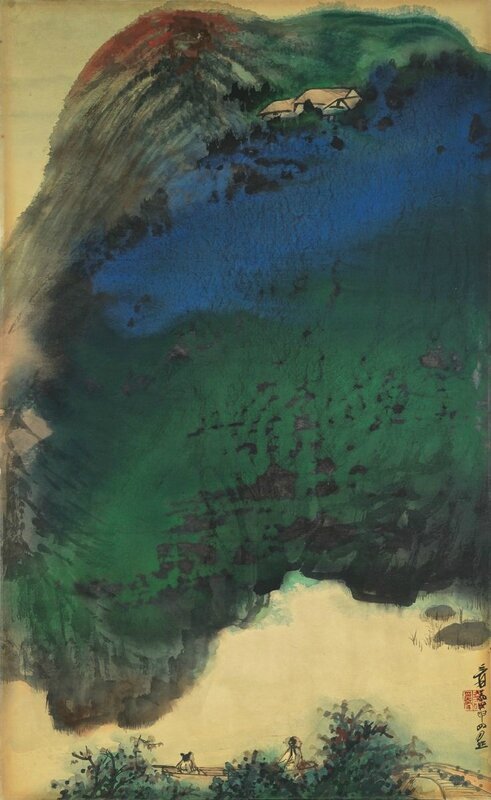 Zhang Daqian (1899 – 1983), Landscape in Afterglow, signed YUAN WENG, dated 1968, and with one seal of the artist. Splashed Ink and Colour on Paper Mounted on Board, Framed, 95.2 x 58.5 cm. Est. HK$5 – 7 million / US$640,000 – 897,000. An Important Splash Landscape By Zhang Daqian From The Collection Of Professor Patrick Hanan. Photo Sotheby's
Developed in Zhang Daqian's advanced years when he was suffering from deteriorating eyesight, the splashed-ink-and-colour technique is a testimony to the Zhang's versatility and imagination and unique to works created in the final years of the artist's artistic career. Executed in 1968 with mesmerizing colour application, Landscape in Afterglow exemplifies the artist's technique in maturity. Heavy coats of pigments in azurite blue and malachite green are splashed on the scroll repeatedly to create large, compact rock forms, resulting in a composition aglow with a gem-like sparkle. At the top left corner is a slight touch of red, suggesting the glow of a setting sun. In the foreground, a reclusive scholar can be seen on a boat in the waning light amidst green foliage interspersed with red flowers. Landscape in Afterglow is rendered in a semi-abstract style and Zhang used figurative brushwork to highlight the scenery in ink. Its melding of traditional and inventive techniques further reflects the artist's creativity and his painterly inspiration.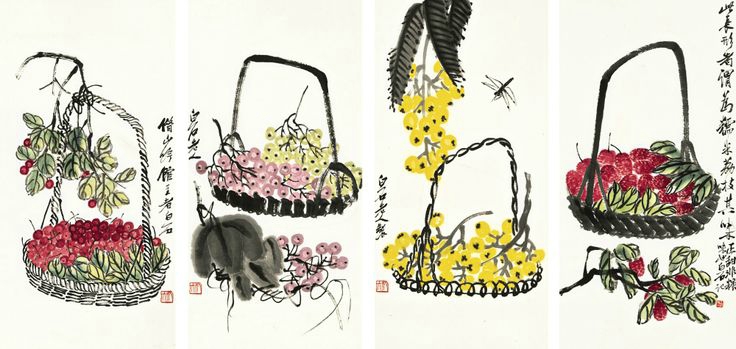 Qi Baishi(1864 – 1957, An Assemblage of Fruits. Ink and Colour on Paper, signed BAISHI, inscribed, and with four seals of the artist; ink and colour on paper, hanging scroll, set of four, each 68 by 33.5 cm. 26 ¾ by 13 1/8 in. (4) Estimate on request. Photo Sotheby's
Qi Baishi's four-panel paintings were mostly created in the 1920s and 1930s. Judging by its painting style and inscription, An Assemblage of Fruits was executed in the late 1930s or early 1940s. Featured in the work are four panels, each depicting a particular type of fruit, including lychees, grapes, cherries and loquats. Each panel portrays a basket of fruits and is adorned with the image of a tree branch, replete with leaves and fruits similar to those in the basket. Instead of appearing identical, all these depictions complement each other, demonstrating Qi's meticulous visual judgment. Alternated between the images of lychees and cherries in seductive red tones on both ends, are the golden-yellow depictions of loquats and the purplish-green portrayals of grapes. The contrasts and vibrant relationship between colour and ink are reinforced with the varying degrees of force and speed by which the artist implements his brushstrokes.

Gao Qifeng (1889 – 1933), Roaring Lion, signed QIFENG GAO WENG, dated 1927, inscribed, and with two seals of the artist. Annotation by Ye Gongchuo, ink and colour on paper, hanging scroll; 169.7 by 61 cm. 66¾ by 24 in. Est. HK$1.8 – 2.5 million / US$230,000 – 320,000. Photo Sotheby's
In 1926, Gao Qifeng's painting of a male lion, which epitomises the revolutionary spirit of his times, was selected for the collection of the Sun Yat-Sen Memorial Hall. At the request of his students, Gao repainted the subject in the following year, resulting in this work. Executed in 1927, Roaring Lion is monumental in scale, focusing on a robust lion which occupies more than half of the scroll. Ferocious in appearance, the lion is an awesome sight to behold, its teeth exposed in a growl, its eyes iridescent and its giant paws lifted in a pounce. The creature looks ready to leap down from a boulder, with a striking force too mighty to resist. Every part of the lion, from its menacing look to the tiniest detail of its physique, such as the fur, sharp paws and its intense glare, are delicately portrayed, either with fine brushwork or colour washes, to a life-like effect.
In 1939, during the Second Sino-Japanese War, Gao's student Zhang Kunyi left for the United States bringing with her a fine selection of the artist's work to save them from the Japanese troops. The collection included some of the most representative works from the Lingnan School of Painting and the present work tops them all in artistic significance.
Xu Beihong, Horse, signed BEIHONG, dated 1948, and inscribed. Signed again in 1950, with a dedication, and a total of three seals of the artist. Titleslip by the artist; ink and colour on paper, framed; 109 by 53.5 cm. 42 7/8 by 20 7/8 in. From a European Private Collection. Est. HK$3.5 – 4.5 million / US$449,000 – 577,000. Photo Sotheby's
Horse was executed in 1948, but it was only two years later that Xu Beihong added the recipient's name and a greeting atop the painting, when it was intended as a gift for the renowned Czech sinologist Jaroslava Průška. Průška studied in China during the 1930s and devoted the second half of his life to education and sinology research. Extremely knowledgeable in his field, he commanded high respect in the Czechoslovak academic circle. Xu Beihong befriended Průška in March 1949, when the artist travelled to Prague as part of the Chinese delegation to attend the first World Peace Conference where Průška worked as the interpreter. In the following year, Průška visited China as a member of a Czech cultural delegation. As president of the Central Academy of Fine Arts and chairman of the China Artists Association, Xu was the official host to the delegation and this painting was gifted to his erstwhile friend during the exchange.