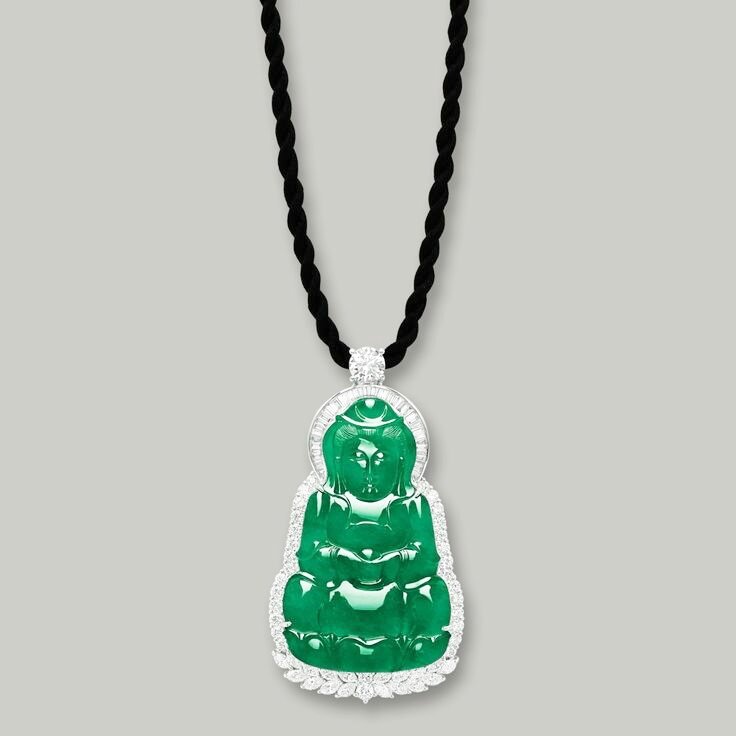 Jadeite 'Guan Yin' and diamond pendant. Photo Sotheby's
The jadeite of highly translucent emerald green colour, carved as a Guan Yin resting on a lotus pedestal, highlighted by a brilliant-cut diamond weighing 1.20 carat, surrounded by marquise-shaped, tapered baguette and brilliant-cut diamonds together weighing approximately 4.35 carat, mounted in 18 karat white gold. Guan Yin approximately 52.56 x 32.41 x 3.26mm. Estimation 8,500,000 — 10,000,000 HKD
Accompanied by Hong Kong Jade & Stone Laboratory certificate numbered KJ 83723, dated 7 January 2014, stating that the jadeite is natural, known in trade as "A jade".
The Compassionate Guan Yin
Guan Yin, commonly known in English as the Goddess of mercy, is one of the Trinities from the West associated with compassion. She is often rendered holding a willow garland in one hand and resting on a lotus flower. People who are in great suffering simply have to chant her holy name for her to come to their immediate rescue. The stories of Guan Yin overcoming perils and saving the public from pain have been passed down from generations in China, some families would place a Guan Yin carving at home to keep the members safe from harm, while wearing ornaments carved as Guan Yin has many different meanings. Carrying a Guan Yin close to one's skin dismisses vicious thoughts and selfish convictions, affording the wearer peace of mind. On the other hand, since Guan Yin and the word 'seal' in Chinese are homophonic, which was carried by high officials in the old days, it is believed that wearing a jadeite Guan Yin will bring great fortune and success in career. In folklore, Guan Yin also possesses the power to grant children to couples who have difficulty bearing their own child. Couples who pray sincerely will be rewarded with what they wish for.
Although Guan Yin comes in a variety of shapes and postures in Chinese culture, to fashion a top-quality jadeite Guan Yin, a highly translucent jadeite boulder of enticing colour is undoubtedly a pre-requisite, the meticulous craftsmanship is also a determining factor. The face of a Guan Yin must be clean and perfectly symmetrical, with well-proportioned features and an unostentatious posture, evoking a sense of tranquility. To be offered in Lot 1749 is a magnificent jadeite Guan Yin of impressive size, matched with excellent colour, translucency and texture, in addition to a flawless portrayal of the merciful Guan Yin, exuding an unworldly charm filled with blessings and kind wishes.
Sotheby's. Magnificent Jewels and Jadeite, Hong Kong | 07 avr. 2014 - www.sothebys.com