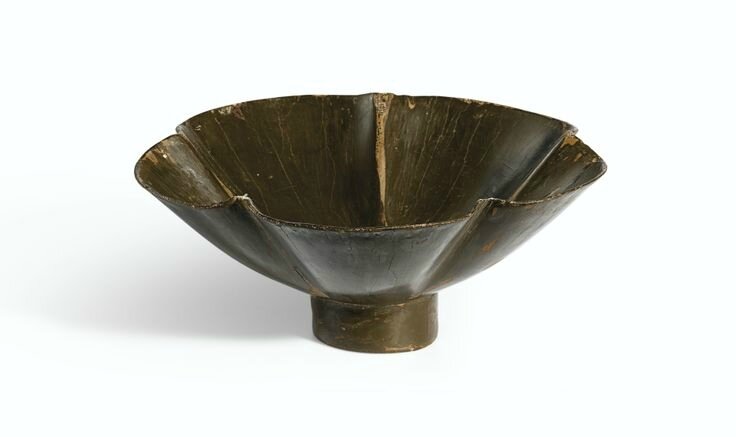 Lot 30. A brown lacquer lobed bowl, Northern Song Dynasty (960-1127); diameter 13.5 cm., 5 3/8 in. Estimate 60,000 — 80,000 HKD. Lot sold 162,500 HKD. Photo Sotheby's 2014
delicately constructed with deep flared sides rising from a slightly domed centre to a five-lobed rim resembling the petals of prunus flower, all supported on a tall footring, the lustrous lacquer of brownish-black colour, with thinning areas revealing the delicate wood body and jiazhu fabric beneath.
Exhibited: Layered Beauty: The Baoyizhai Collection of Chinese Lacquer, Art Museum, Institute of Chinese Studies, the Chinese University of Hong Kong, Hong Kong, 2010, cat. no. 10.
Note: This bowl stands out for its elegant and deep conical floral shape and for its feather-light weight. The lobed mouth and the high foot ring, according to Peter Lam in Layered Beauty, Hong Kong, 2010, p. 10, are inherited from Tang Dynasty gold and silver wares which are commonly seen in Song ceramics, especially Qingbai, Yue and Yaozhou wares. See a number of contemporaneous silver bowls of related lobed form, included in the exhibition So Gen no bi/ The Colors and Forms of Song and Yuan China, Nezu Institute of Fine Arts, Tokyo, 2004, cat. nos. 6-8.
A very similar red lacquer bowl was also included in the same exhibition, ibid., cat. no. 1, together with four smaller flower-shaped winecups made in red lacquer. A pair of black lacquer prunus bowls were also in the above mentioned exhibition, but of more rounded shape, with the bowl standing on a wider foot. Compare a further bowl exhibited in Toyo no urushi kogei,Tokyo National Museum, Tokyo, 1977, cat. no. 419, but with a slightly heavier foot and possibly of a more substantial weight than the current example; and another bowl of this type, in the Nihon Tenrikankokan, published in Hai-wai Yi-chen. Chinese Art in Overseas Collections. Lacquerware, Taipei, 1987, pl. 19.
Sotheby's. The Baoyizhai Collection of Chinese Lacquer, Part 1, Hong Kong | 08 avr. 2014