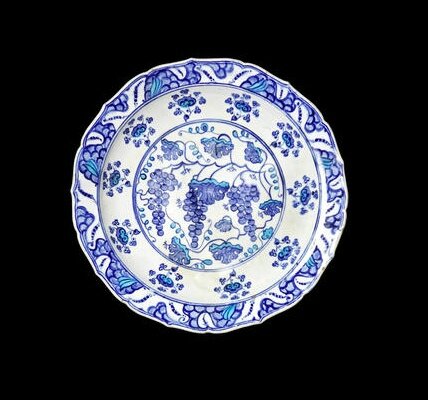 An Iznik pottery Grape Dish, Turkey, circa 1550. Photo: Bonhams.
of shallow rounded form on a short foot with everted cusped rim, decorated underglaze in cobalt-blue and turquoise on a white ground with a central roundel formed of two rings containing a leafy vine with spiraling tendrils and three large bunches of grapes, surrounded by a band containing a repeat design of floral sprays, the rim with a rock wave design, the reverse with a band containing a repeat design of floral sprays; 35.5 cm. diam. Estimate:£25,000 - 35,000 (€30,000 - 42,000)
Provenance: Formerly in a private collection, Lyon, France.
This collection was assembled by a doctor living in Lyon from 1945 until he passed away in 1978. The collection was then passed by descent to his family. The Lyon doctor purchased from various dealers in Paris, amassing a large group of Iznik objects, which included pieces belonging to the private collection illustrated in Bernard Rackham, Islamic Pottery and Italian Maiolica, London, 1959.
Grape dishes such as this were produced in the 'Potters Style' in around 1540-1550. The palette used was cobalt-blue and turquoise on a white slip, and the designs were a first tentative step towards the exuberant floral naturalism of the second half of the 16th Century. Their directness of theme is matched by a simpler and more spontaneous draughtsmanship.
The bold designs on this dish closely echo those of Chinese porcelain of the same era in a number of aspects. The use of bunches of grapes as a central design was directly copied from Ming and Yuan blue and white porcelain, as was the 'breaking wave' motif border, which became slowly more exaggerated in Iznik pottery towards the end of the 16th Century. The cusped floral motifs to the cavetto and underside also mimic the ruyi cloudbands often seen in Chinese decoration.
For similar dishes, see Hülya Bilgi, Dance Of Fire: Iznik Tiles and Ceramics in the Sadberk Hanim Museum and Ömer M. Koç Collections, 2009, plates 16, 17 and 18, pgs.76-81; and Nurhan Atasoy and Julian Raby, Iznik. The Pottery of Ottoman Turkey, London, 1989, pl. 183-192, pp.122-23.
Bonhams. ISLAMIC AND INDIAN ART. London, New Bond Street, 8 Apr 2014 - www.bonhams.com